Surge in abandoned cats — is microchipping the answer?
SINGAPORE — Amid a surge in cat abandonment cases over the past few years, regulators are considering microchipping felines here to combat the problem.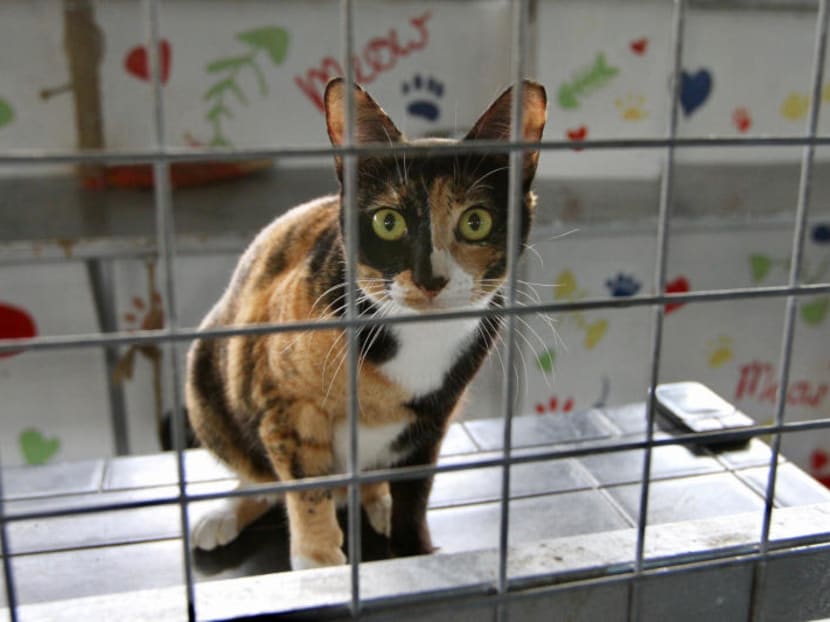 SINGAPORE — Amid a surge in cat abandonment cases over the past few years, regulators are considering microchipping felines here to combat the problem.
Animal activists say while this is a good step, it should be done in tandem with other measures, such as mandatory and subsidised sterilisation and a relaxing of Housing Development Board (HDB) rules on the keeping of cats as pets in flats.
In Singapore, the Agri-Food and Veterinary (AVA) currently mandates microchipping and licensing for dogs only.
The AVA told TODAY that there were 57 cat abandonment cases last year, up from 21 the year before and just nine in 2016.
During a parliamentary debate on the budget for the Ministry of National Development earlier this month, Senior Parliamentary Secretary for National Development Sun Xueling said that government agencies are supporting a pilot project in Chong Pang by the Cat Welfare Society, which involves microchipping cats.
The government will consider expanding the project, depending on the outcome of this pilot and when there is strong community support in other parts of Singapore, she said.
WHAT IS BEHIND THE SURGE IN CAT ABANDONMENT?
One major reason behind the concerning surge in cat abandonment is the rise of online marketplaces, which has created a black market of sorts for pedigree cats.
'Backyard breeders' breed pedigree cats in their homes and then sell them on platforms such as Facebook, Gumtree and Craigslist, said Ms  Joanne Cheong, 36, an independent cat rescuer.
On these platforms, the cats are priced at about a fifth of those offered in licensed stores, but many are left unsold because of sickness, while the female felines are abandoned when they are unable to breed anymore, she said.
Another factor is the fact that sterilisation is too pricey for some cat owners, rescuers said.
The high cost of the procedure, which costs up to S$500, deters some owners from sterilising their pets, which in turn leads to over-breeding and eventually abandonment, when those owners are unable to cope, said Ms Norsalawati Salamat, 46, an independent cat rescuer, rehomer, fosterer and mediator.
According to veterinarians who spoke to TODAY, microchipping costs between S$50 and S$90.
MICROCHIPPING — GOOD MOVE BUT NOT PURRFECT
The Society for the Prevention of Cruelty to Animals (SPCA) supports a regulatory regime that includes microchipping and registration for cats that is similar to the one in place for dogs, said executive director Dr Jaipal Singh Gill.
"This will lead to greater accountability on the part of those keeping pet cats and will also enable the tracing of ownership in abandonment cases."
He noted that since the Government enhanced rules on microchipping and licensing for dogs in recent years, the SPCA has seen a decline in the number of dogs that it has had to take in, whereas the number of cats it has taken in over the years has stayed stable.
However, animal activists said microchipping alone is insufficient and measures such as mandatory sterilisation, perhaps at subsidised rates, are needed too.
And for microchipping to be effective, HDB will have to relax its rules on the keeping of cats in flats, they noted.
"Cat owners living in HDB flats will hesitate (to microchip their cats) as their address will be tagged to the microchips, and there is a fear that HDB might go after them," said Mr Chan Chow Wah, the managing partner of Animal Humans Alliance.
The Government should also consider tighter restrictions on the breeding and selling of companion animals, and stepping up enforcement of animal welfare laws, said Ms Linda Cai, a volunteer with animal welfare organisation Keepcats.
Current regulations mandate that a pet farm licence from the AVA is required for breeding cats, while a pet shop licence from the AVA is required to keep or display for sale cats.
REGULATORS RESPOND
The AVA told TODAY that it "intends to undertake a holistic review of the regulatory approach for pet issues, including how to promote responsible pet ownership and deter abandonment".
This review will take into account the needs of various parties involved in the issue, it added.
The AVA also said that it had also observed a "greater awareness of animal welfare and members of public who are more willing to report suspected cases of animal offences and cruelty".
When asked whether the agency is considering mandatory and subsidised sterilisation, AVA said that it strongly encourages owners to sterilise their pets and will continue spreading this message in its responsible pet ownership outreach programmes.
The AVA currently works with the CWS and SPCA on stray cat sterilisation and subsidises the cost of sterilising and microchipping stray cats.
The agency added that it takes a stern view on pet abandonment. People who abandon their pets or fail in their duty of care toward their pets, are liable to a maximum fine of $10,000 and/or a maximum jail term of 12 months for first convictions.
When asked whether the HDB would review the rule on the keeping of cats in flats, a spokeswoman responded: "Presently, cats are not allowed in HDB flats. They are generally difficult to contain within the flat. When allowed to roam indiscriminately, they tend to shed fur and defecate or urinate in public areas, and also make caterwauling sounds, which can inconvenience your neighbours."
She added: "In setting and enforcing the rules on pet ownership, HDB's principal consideration is to preserve a pleasant living environment and maintain neighbourly relations. We need to strike a balance between residents who are pet lovers and those who are affected by their neighbours' pets."