Taxi, private-hire car drivers feel the pinch of the new normal; some see income drop by more than half
SINGAPORE — Six months since Singapore entered Phase Two of its reopening, allowing up to five people to gather and offices to reopen, taxi drivers and private-hire car drivers are still very much feeling the pinch, with a few reporting income drops of more than 50 per cent.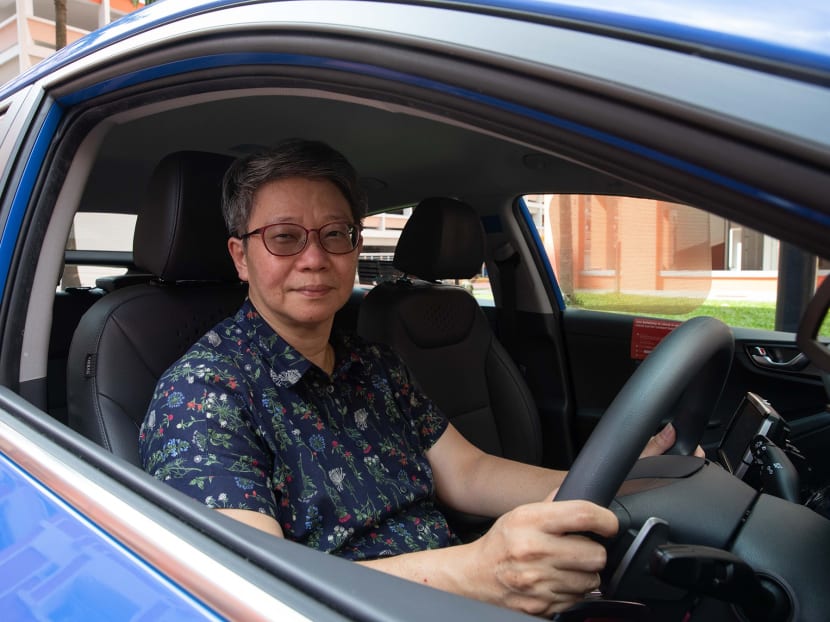 A taxi driver estimated that he now needs to work at least 75 to 80 hours a week to earn his pre-Covid income
Some drivers said their income has more than halved as private hire incentives fall and peak hours still rarely attract surge fares
Some drivers are fast losing hope and desperately looking for another job
Some regret signing vehicle rental contracts that would cost them thousands to void
SINGAPORE — Six months since Singapore entered Phase Two of its reopening, allowing up to five people to gather and offices to reopen, taxi drivers and private-hire car drivers are still very much feeling the pinch, with a few reporting income drops of more than 50 per cent.
Among them is ComfortDelGro taxi driver Kirsty Foo, 60, who is now taking home only about S$1,000 after deducting rent, petrol and parking fees, compared to about S$3,000 during pre-Covid days. She relies mainly on street hails and regular customers.
Another is a private-hire car driver on the Gojek platform who wanted to be known only as Mr Soon. The 50-year-old resorted to doing delivery work and working the night shift at Pizza Hut at a base rate of S$4 an hour during the circuit breaker in April and May when his driving income could not even cover his vehicle rental, even at subsidised rates of S$65 a day.
His income had improved to about S$2,000 now. He has stopped delivering pizza but a third of his revenue still comes from delivery platforms like Lalamove and Gogovan.
As income from driving is no longer as attractive or sustainable for the long hours that they put in, both of them — as well as many of the 10 drivers TODAY interviewed — are seriously considering leaving the trade.
However, it is not as easy as taking the time to upgrade their skills or switch to other careers. Some are bound by taxi or car rental contracts that would cost them thousands if they would like to return their vehicle quickly.
For instance, Ms Foo's contract with ComfortDelGro ends only next September, so she would have to continue being a cabbie although she wants to get into e-commerce, having taken a course on it in the past two months.
Meanwhile, Mr Soon, who was thinking of becoming a bus driver or security guard, had signed a one-year contract with a partner of Gojek's rental initiative GoFleet to secure a better rental deal in August. It was supposed to help him cut down his operating cost by paying a "Covid special price" of S$77 a day, instead of S$92.
If he bails now, he will have to forfeit a S$1,500 security deposit, plus pay an early termination penalty of up to six months of his rental fees, he said. That could add up to more than S$15,000.
'NOT THE SAME' IF BORDERS ARE CLOSED, WFH STAYS
"I need to tahan (endure) eight more months," said Mr Soon, pointing out that he still has to wait up to 30 minutes before an online booking comes in, far from pre-Covid days when he could fulfil at least two trips in an hour.
Mr Soon is not optimistic that business will substantially improve in Phase Three, which begins on Dec 28. Demand will go up, but "it will never be the same so long as not all workers go back to work and we have no tourists", he said.
The reasons he cited have been well documented. Many offices continue to practise work-from-home arrangements despite a relaxation of rules, while tourism and business travel remain muted, cutting out a once-lucrative source of income from fetching travellers to and from the airport.
For these same reasons, a 38-year-old Prime Taxi driver who wanted to be known only as Andy temporarily returned his cab in May, despite having to support his wife, four children and in-laws.
He said that it "does not make economical sense" for him to be paying S$120 a day for rent, or even a subsidised rate of S$97 a day, until borders fully reopen as 90 per cent of his income used to come from airport pick-ups and his regulars who are frequent business travellers.
"If the airport is not open, our slice of the cake is only that big," Andy added, pointing out that local clientele are generally attuned to comparing prices across online ride hailing platforms to beat the metered fare.
Prime Taxi allowed him to suspend his five-year contract, which he signed last September, and he is now mainly doing deliveries for Lalamove using a car which he rents for S$1,400 a month, or less than S$50 a day.
Andy said he noticed a trend among drivers exiting the industry by taking up security courses, but although he thought that it could be a viable option, he is already exhausted from doing deliveries nine to 10 hours a day, seven days a week, for a keep of about S$2,000.
Besides, he does not wish to forfeit a S$4,000 security deposit that is tied to his taxi contract.
LONGER HOURS, SMALLER RETURNS
ComfortDelGro taxi driver Peter Quek, 44, estimates that he will need to work at least 75 to 80 hours a week in order to earn the same amount as he did last year, when he worked 60 hours a week.
But the single parent of two children aged 14 and 16 kept his working hours as he does not want his health and family time to suffer.
With this, Mr Quek projected that he would collect S$55,300 in fares for the whole of this year, down more than 30 per cent from last year's S$100,000, even after factoring in the S$9,000 self-employed person income relief scheme (Sirs), he pointed out.
"That's why I am desperate to get a new job," said Mr Quek, who had sent out more than 100 job applications this year. "I am not looking out for another Sirs. I am looking for something more permanent and long term."
Grab driver William Ong, 48, said he was still not seeing any surge fares during the usual morning peak hours. It used to kick in as early as 6am before Covid-19, but now he would be sending someone from Serangoon to town at 8.30am at normal rates, he pointed out.
He is also job hunting since his monthly income had fallen from about S$3,500 to S$1,500.
Grab driver Shaik Kather said he is giving himself the next three months to decide whether to leave the industry as he finds it much more difficult to earn a meaningful income on top of his monthly S$2,000 cost covering rent, petrol and parking fees.
The 44-year-old father of two aged nine and 12 said he is earning S$2,300 to S$2,500 now only because he is working as a relief security guard three days a week and putting in more driving hours by cutting his meal and tea times, and working on weekends.
He is currently taking part-time security courses so that he could be hired as a senior supervisor.
Meanwhile, many private-hire car drivers told TODAY that the Covid-19 situation was just a push factor. Many said their earnings have also been impacted by drastic changes to incentive schemes.
Mr Ong, who drives Grab, said incentives and other bonuses used to make up 45 per cent of his S$4,000 monthly income, but they are now negligible.
Mr Maverick Tsao, a private-hire car driver in his 30s who is on the Grab and Gojek platforms, said incentives used to form a quarter of his earnings last year, but now make up less than 10 per cent of it.
TAXI AND PRIVATE HIRE COMPANIES RESPOND
TODAY asked taxi and private-hire companies how their drivers' earnings have fluctuated over this past year, whether driver attrition had been on the rise due to the shortfall in earnings, and what they are doing to help drivers.
Grab said that it is still seeing a "steady supply of drivers" on its platform this year, but could not give an assessment as to how far earnings have fallen.
It attributed this to drivers being "self-employed individuals who have full flexibility on when and where they'd like to work". Their earnings are "dependent on many factors and vary based on how they choose to work", it added.
From Phase Three onwards, Grab said it will update its drivers' benefits and incentive programme in a way that addresses their needs "in a holistic manner". That points to a need to include coverage and training for the longer term, it added.
Changes include:
A new safety and service quality bonus for the top 1,000 drivers under Grab's performance rebate programme. This is to reward drivers who "consistently maintain high quality service, with a safe driving record", it said.

A new course completion bonus scheme to reward drivers who complete pre-approved training courses. This will further encourage drivers to pick up new skills, it said.
Grab also said that it had broadened the earning sources for its drivers by partnering with the Land Transport Authority to expand its GrabExpress Car pilot programme to allow all drivers to support food and parcel deliveries. Thousands have signed up for this, and the programme has been extended to next September, it added.
Mr Lien Choong Luen, general manager of Gojek Singapore, said its driver numbers had remained steady, and did not comment on how drivers' earnings were affected other than saying that they had seen a "healthy recovery" since the circuit breaker ended.
He, however, stressed that the firm has continued to adapt and enhance its support measures for drivers, including continuing to introduce or administer incentive schemes that let drivers carry on receiving "competitive earnings" as trip volumes progressively increase.
Mr Lien also pointed out that Gojek had provided drivers with access to more competitive fuel rebates and enhanced health benefits since June, under a programme called GoalBetter 2.0. This is to safeguard drivers' earnings stability and their families' well-being, he said.
ComfortDelGro's group chief corporate communications officer Tammy Tan also did not comment on earnings and attrition.
She only said the taxi company has seen a steady increase in taxi demand since the Phase Two reopening started on June 19, although it has still not returned to pre-Covid levels.
Compared to Phase One, from June 2 to 18 when many were still working from home, average daily trips have increased by more than 60 per cent thus far, she noted. This is close to 75 per cent of the typical number of trips seen before Covid-19 disrupted business.
Ms Tan reiterated that ComfortDelGro taxi hirers are currently getting a rental waiver of 20 per cent, or at least S$20 a day.
With the Covid-19 Driver Relief Fund, which was announced on Dec 16, the company will increase the rental waiver by another S$10 a day, "thereby fully passing on the savings to our hirers", she said.