Teaching sexism during NS, allowing more men to receive alimony among suggestions by WP MPs on how to achieve gender equality
SINGAPORE — Using National Service as a platform to teach men about the harms of sexism, conducting a review of female genital cutting procedures in private clinics, and allowing more men to receive alimony.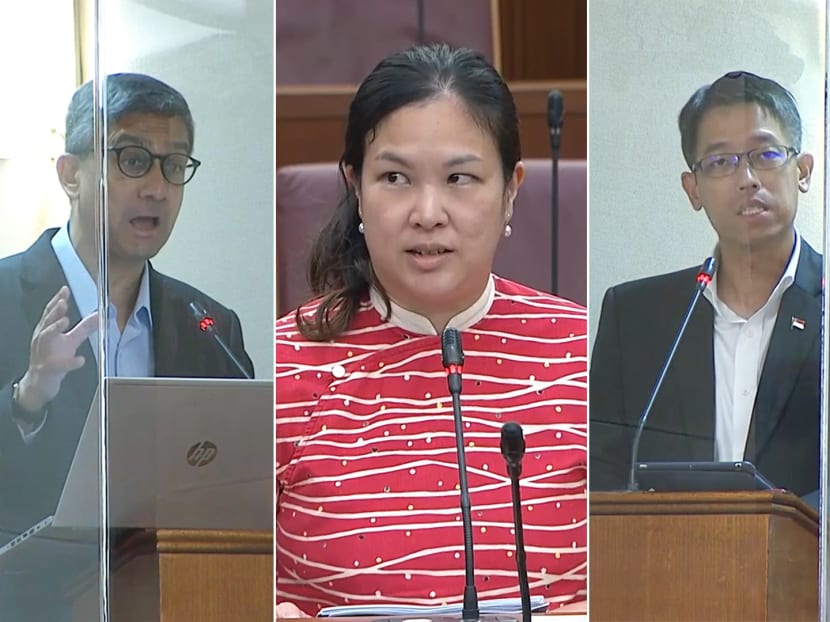 Workers' Party Members of Parliament provided several suggestions on how to achieve gender equality in a parliamentary motion on empowering women
Some ideas include using national service to teach sexism, reviewing gentical cutting procedures and streamlining immigration process for migrant spouses
The motion was filed as part of the party's contribution to the national discourse on women's issues
SINGAPORE — Using National Service as a platform to teach men about the harms of sexism, conducting a review of female genital cutting procedures in private clinics, and  allowing more men to receive alimony.
These are some of the suggestions that various Members of Parliament (MPs) from the Workers' Party (WP) brought up on Tuesday (Aug 3) in a parliamentary motion on empowering women.
This private member's motion was filed by Ms He Tingru, MP for Sengkang Group Representation Constituency (GRC), and Mr Leon Perera, MP for Aljunied GRC.
It called on Parliament to affirm that "gender equality requires a whole of society effort to remove all barriers, in order to empower every woman to freely realise her full potential and participation in society".
For about five hours, 12 MPs and two political office-holders from both sides of the House rose to speak on the topic. 
The motion was passed with an amendment proposed by Sembawang GRC MP Vikram Nair to add the phrase "and looks forward to action plans in the upcoming Government White Paper arising out of the conversations on Singapore's women development".
Ms He said that the ideas put forth in the motion by WP members would be the party's contribution to the ongoing nationwide discussions on gender equality.
The Government launched an initiative to review issues facing women in September last year.
Mr K Shanmugam, Minister for Home Affairs and Law, said then that the purpose of this review is to shift the Singaporean culture and mindset on gender equality and respect for women, and it would culminate in a landmark White Paper on gender equality, which is due later this year.
The women issues raised by the WP MPs cover a wide range, including challenges faced by Muslim women as well as those who are marginalised such as disabled women and single unwed mothers.
In introducing the motion, Ms He questioned the traditional notion that work stereotypically done by women, such as caring for their family and home, is inferior to economic work and said that women should be able to freely choose their own paths, be it to get married and have children or choosing to stay single.
"Instead of jumping to conclusions and assuming there must be something wrong if someone — especially a woman — is unmarried or does not have children, perhaps it is time we accept these as one of life's outcomes and move on, instead of constantly questioning what went wrong to lead to it," she said.
Ms He also spoke about how women have been disproportionately affected by the disruptions brought about by the Covid-19 pandemic, with more women suffering income loss than men, or taking on more unpaid work at home.
Mr Perera said that deep-seated mindsets of gender roles should be changed through education.
This can be done through teaching secondary school students the principles of gender equality and using National Service as a platform to educate men on how sexist attitudes and behaviour harms everyone, including men.
"This should be looked into. Efforts should be made to ensure that most batches of full-time national servicemen train under at least one or a few female instructors," he added.
He said that when women faced fewer opportunities at work, it would mean that men bore a greater responsibility of providing financially for the household.
"Gender stereotypes also hurt men — for example, the societal stigma against men who earn less, who are carers, and who make non-mainstream career choices." 
As part of his wider point about how single unwed parents, who mainly consist of women, and their children should be seen as a family nucleus to ensure equal access to housing, MP Gerald Giam said that single fathers should get the same benefits as single mothers, as they face similar challenges in raising children alone.
The Aljunied GRC MP noted that the Women's Charter allows only divorced men to apply for alimony from their former spouses if they are incapacitated. This "high bar" should be removed, Mr Giam added.
"A man should be allowed to apply for maintenance from his ex-wife if he has custody of their children and has a much lower earning power than her." 
He also suggested that the processes be streamlined for migrant spouses, who often face the stress of having to leave Singapore and their local husbands or children to obtain a long-term visit pass, permanent residency or citizenship.
Ms Raeesah Khan, WP MP for Sengkang GRC, talked about the various challenges that Muslim women still face, such as polygamy and female genital cutting.
In addition to urging the Ministry of Health to review the procedures administered by private clinics for female genital cutting, she said that the ministry should also commission a study to find out the prevalence of this practice.
Other WP MPs brought up other suggestions such as providing more flexible work arrangements, equalising childcare leave and having more female political representation.
They also repeated its previously made calls to introduce anti-discrimination legislation and criticised the higher premiums women have to pay for CareShield Life, a compulsory national insurance scheme that provides financial support for those who become severely disabled.
In response to some of these points, Ms Sun Xueling, Minister of State for Education as well as Social and Family Development, provided some updates on the Government's efforts to tackle gender issues.
For example, the Ministry of Home Affairs recently increased the penalties for three sexual offences.
She added that the Ministry of Education would be updating the Character and Citizenship Education curriculum to include respect for both genders and why it is important to not subscribe to gender stereotypes.
The Ministry of Manpower has also set up a tripartite committee to study whether laws can be enacted to counter workplace discrimination.
Ms Rahayu Mahzam, Parliamentary Secretary for Health and for Communications and Information, also joined the debate, outlining previous and ongoing efforts to empower and support women.
Other People's Action Party (PAP) MPs who spoke included Mr Zhulkarnain Abdul Rahim of Chua Chu Kang GRC, who suggested that spousal tax relief could be increased to reflect the contributions of the parent who chose to stay at home to care for their family.
Several other MPs from the ruling party spoke about how they have also been advocating gender equality initiatives in the past few years and highlighted some actions that have been taken.
For example, MacPherson MP Tin Pei Ling highlighted how eldercare and childcare facilities are now located in the same area at new public housing estates, making it more convenient for caregivers.
ALLEGATIONS AGAINST POLICE ARE SERIOUS: DESMOND TAN
During the debate, in calling for police officers be equipped with sexual violence training to handle sexual assault cases, Ms Raeesah recounted an experience when accompanying a rape victim to make a police report.
Ms Raeesah told the House that the victim came out of the police station crying because an officer made comments about her dressing and commented on the fact that she was drinking.
Mr Desmond Tan, Minister of State for Home Affairs, then pressed Ms Raeesah for details of the case, adding that the Government takes any claims of how the police might have mishandled a case seriously and would investigate the matter.
"You have made a very serious allegation of the mishandling of police in the House through your speech, and we take this seriously," he added.
Ms Raeesah responded that the incident happened three years ago and she did not want to re-traumatise the victim. 
Later in the debate, she clarified that she was not trying to cast aspersions on the police during her speech and it should not be interpreted to be so.
"The police are part of the solution, not the problem," she said, adding that she had been unsuccessful in getting in touch with the victim.
She also said that she will communicate directly with the Ministry of Home Affairs if she comes across incidents where a sexual assault victim has been processed inappropriately by the police.
Leader of the House Indranee Rajah then reminded all MPs that they have parliamentary privilege and that it must be exercised responsibly.
"When assertions and allegations are made, members must be prepared to substantiate them," she said.
"This is just a reminder to members so that, in future, they will understand that if you make an assertion, you may be called upon to substantiate it, especially if an assertion is made against an agency that is not in a position to defend itself."