#trending: Teen gains traction on TikTok for looking like 'Gen Z version' of Lawrence Wong
SINGAPORE — Singaporean TikTok user Cyrus, who bears a striking resemblance to Deputy PM Lawrence Wong, is gaining traction on the video-sharing platform for posting videos of himself "morphing" into politician Lawrence Wong.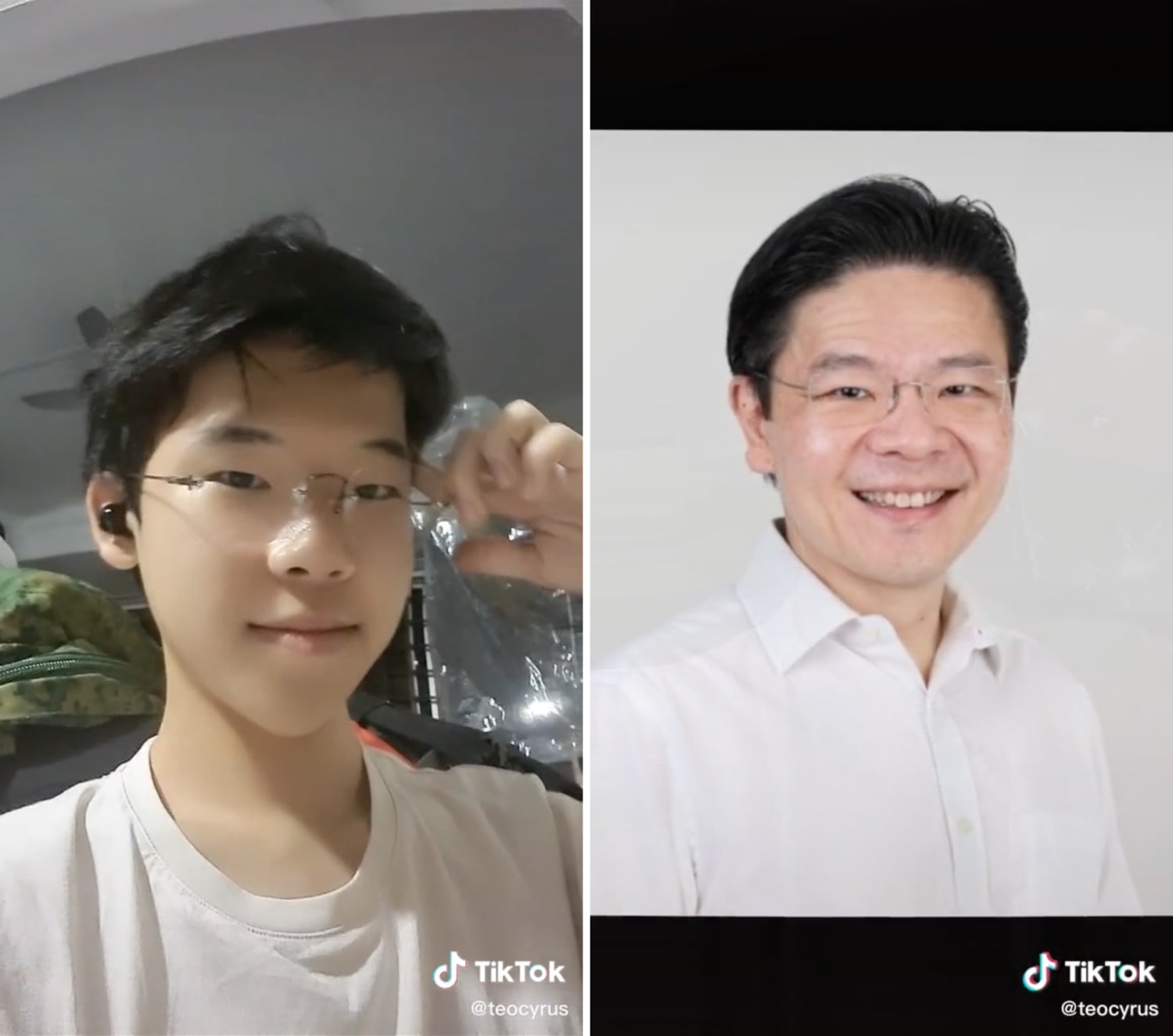 SINGAPORE — Have we found a Gen Z version of Singapore's Deputy Prime Minister Lawrence Wong?
A Singaporean TikTok user, named Cyrus, who bears a striking resemblance to Mr Wong, is gaining traction on the video-sharing platform for posting videos of himself "morphing" into the politician.
The four videos posted over the past two months feature the bespectacled teenager taking a video of himself and then superimposing Mr Wong onto it, seamlessly combining their facial features into a photo of the minister at the end of the video. This shapeshifting effect — where content creators were seen transforming themselves into celebrities to see which famous face they bore a resemblance to — was a popular trend on TikTok in 2020.
Needless to say, the online community was amused by Cyrus' morphing videos, with many commenting how alike both the youth and the minister look. One top comment with more than 700 "likes" has dubbed him "Lawrence Wong Gen Z version".
Some online users have even tried to capture the attention of Mr Wong by tagging him in Cyrus' videos, asking him to watch the shapeshifting creations of his "long-lost son".
"Sir, can increase budget for 2022?" one TikTok user asked.
"Lawrence Wong from Taobao," another joked, referring to the China-based e-marketplace.
Playing along with the joke, Cyrus then began to post more TikTok content of himself playing as Mr Wong in hypothetical scenarios, such as unlocking Apple Pay using facial recognition if he had his hands on the minister's iPhone, for instance.
On Tuesday (June 14), he released the first video of a new series, captioned "Morphing into Mr Lawrence Wong until he notices". In each video, he re-enacts a different photo of the politician before using the shapeshifting effect to blend the frames together.
Cyrus continues to draw attention for his lookalike videos and has also been urging his viewers to tag Mr Wong's TikTok account on his recent videos. The teenager also claimed that even his schoolmates and teachers have already found his TikTok account.
As for those who are wondering how Mr Wong used to look like in his teenage years, the minister responded on TikTok on Friday with his own video, using a school yearbook photo of himself while he was in Secondary 4.
He said: "I understand that some on TikTok have done #morphing videos of me. So here's one from my social media team."