Tertiary education has been 'over-academised'; applied education also important: Tharman
SINGAPORE — Calling for a rethink of higher education, Senior Minister Tharman Shanmugaratnam said on Friday (Oct 18) that tertiary education around the world has been "over-academised".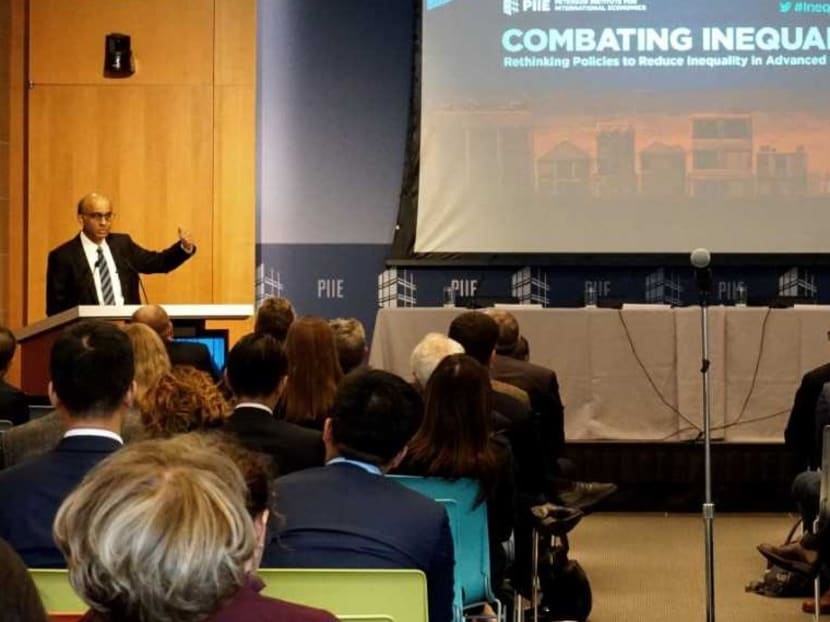 SINGAPORE — Calling for a rethink of higher education, Senior Minister Tharman Shanmugaratnam said on Friday (Oct 18) that tertiary education around the world has been "over-academised".
Speaking at a conference in the United States capital, Washington DC, Mr Tharman said that applied education, such as technical and vocational training, can also help students develop both hard and soft skills.
The conference, called Combating Inequality: Rethinking Policies to Reduce Inequality in Advanced Economies was organised by the Peterson Institute for International Economics.
Mr Tharman, who is also Coordinating Minister for Social Policies and served as Education Minister from 2003 to 2008, said: "We have over-academised tertiary education."
He added: "I would say, liberal arts education, which has a lot of appeal to it, is not the only way to develop soft skills. It is not the only way we develop creativity, team skills, or cross cultural skills."
Citing the US as an example, he said that the college wage premium — which refers to the additional average salary a college graduate earns compared to a high school graduate — is being taken "too seriously".
He also said that there is "massive inefficiency in tertiary education and transitions into the workforce, a massive mismatch of the demand and supply for skills, and a mismatch between the abilities of students and the type of pathways that they are proceeding on at the tertiary level".
Mr Tharman has been in Washington since Tuesday on a six-day visit to attend the 2019 Annual Meetings of the World Bank and the International Monetary Fund (IMF) and also to receive a Distinguished Leadership and Service Award given by the Institute of International Finance in recognition of his contributions to global financial governance and public service.
HOW EDUCATION CAN STILL BE A LEVELLER
Mr Tharman's remarks on tertiary education is one of three points he made on how education still has "tremendous potential" to tackle social inequality.
This is over increasing concerns that current education systems are not able to:
prepare a broad spectrum of young people to do well, and to satisfy their future aspirations

close the gap between the haves and the have-nots
"We are no longer sure that meritocratic education systems are going to be able to blunt the advantages and disadvantages that kids bring with them from their home and social backgrounds, in the same way that they did at some point in the past in many countries," said Mr Tharman.
Rethink higher education
Elaborating on why the college wage premium in the US is being taken too seriously, Mr Tharman said the bottom 25 per cent of college graduates do not have much of a significant wage premium over a high school graduate.

40 per cent of those who graduate from college in the US work in jobs that do not require a college degree resulting in what Mr Tharman called "a massive mismatch of abilities and the needs of the marketplace".

The type of post high-school education one receives that allows an individual to accumulate a premium in skills is more important than a college degree.

For that type of education to be implemented, public funding and companies' involvement is required.
Public school systems
The starting point of most problems plaguing education systems, especially in countries with a decentralised school system, is that education had been left too much to the social and economic marketplace, said Mr Tharman.

Though not all centralised public school systems are run well, those that are well-governed and well-funded are superior.

He cited examples of how countries that have a largely public school system, such as Singapore and Finland, tend to do better in international test scores, such as the Programme for International School Assessment (Pisa) run by the Organisation for Economic Cooperation and Development.

In a decentralised system where individual schools have autonomy, there is "extreme unevenness" and there is no levelling up of quality.
Differentiation
Mr Tharman said different pathways, modes of learning and specialisations need to be part of the school system.

That's because it caters to each student's ability and helps them to gain confidence.

"If we are overly standardised, someone loses out – those who come from less advantaged backgrounds," he said.