#trending: Fans flock to Changi Airport to welcome Thai actors, Liverpool FC
Twitter was abuzz with fan videos of three Thai actors arriving in Singapore on Wednesday (July 13).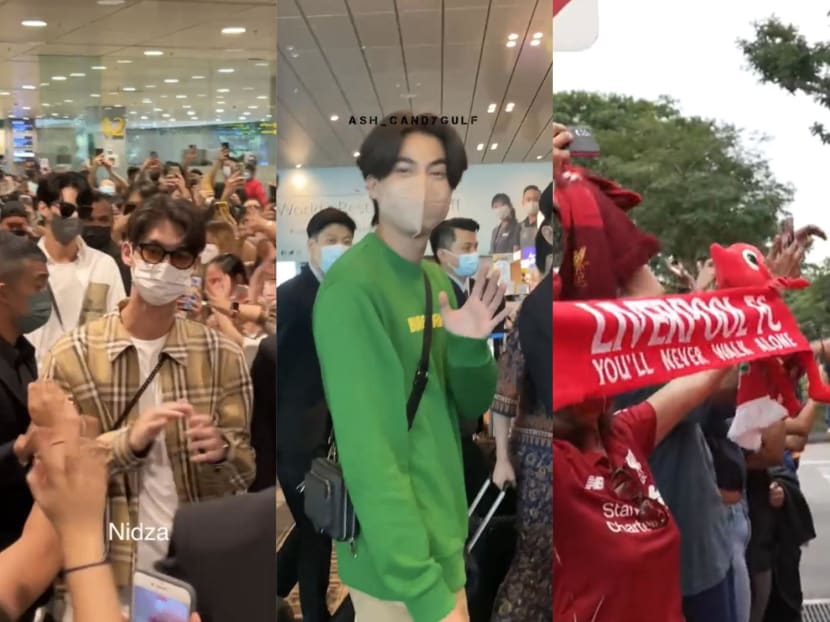 SINGAPORE  — Arrival halls at Changi Airport were packed with large crowds on Wednesday (July 13) as fans flocked there to catch a glimpse of some famous faces who arrived in Singapore for separate events.  
Twitter was abuzz with fan videos — mostly of three Thai actors arriving here — causing the phrase "Welcome to Singapore" to trend on the social media platform for over a day.
The trending topic was largely dominated by fan videos of actors Vachirawit Chivaaree and Metawin Opas-iamkajorn arriving together at Terminal 3 on Wednesday afternoon. Hundreds of fans can be seen excitedly welcoming them from behind barricades as the duo exited the arrival hall.
Twitter user @whtpffls wrote: "Welcome to Singapore, my boys. I still can't believe this is real", while many other fans wished them a pleasant stay.
Vachirawit, who also goes by the nickname "Bright", and Metawin, or "Win" for short, catapulted to fame in 2020 after starring opposite each other in the hit Thai drama series titled, 2gether: The Series.
The show is of the "Boy Love" genre and depicts a romance between the two male characters.
The duo are commonly referred to as BrightWin on Twitter.
Arriving from Bangkok as well was fellow Thai actor "Gulf" Kanawut Traipipattanapong.
The 24-year-old is known for his role as Type in another popular "Boy Love" drama named TharnType: The Series.
The three actors are in Singapore to attend an event by luxury fashion house Burberry. 
On Wednesday, members of the Liverpool Football Club also touched down in Singapore to much fanfare. A video published on Liverpool's official Twitter account showed the English football team arriving at JetQuay's Commercially-Important-Person (CIP) terminal.
Liverpool supporters, who could only wait outside the terminal gates, however, were unable to get a clear view of their favourite players as the team departed in two excursion buses fully wrapped in the club's signature red.
Several videos on TikTok showed an even larger crowd waiting for the ENGLISH Premier League giants at The Ritz-Carlton hotel's entrance and lobby.
Exuberant fans broke into song as the team members alighted from their buses.
Some TikTok users, however, were quick to criticise the players for allegedly looking disinterested and not acknowledging their fans' presence.
One comment read: "It's sad the players aren't signing autographs for fans after they waited hours for their arrival."
Another user wrote: "That's all... shout here and there. No signing or photo taking? Waste time."
Many non-fans wrote "4-0" in the comments, presumably a jab at Liverpool's 4-0 loss to its longtime rival Manchester United during a pre-season friendly in Bangkok last Tuesday.
Liverpool's return to Singapore was much anticipated because the last time they played here was in 2009. They will play against Crystal Palace in the Standard Chartered Singapore Trophy 2022 at the National Stadium on Friday.