3rd national swimmer, Teong Tzen Wei, took drugs overseas; SportSG suspends support to errant swimmers
SINGAPORE — An internal review on Team Singapore swimmers found that a third athlete, Commonwealth Games silver medallist Teong Tzen Wei, 24, had admitted to consuming controlled drugs overseas, in addition to national swimmers Joseph Schooling and Amanda Lim having done so.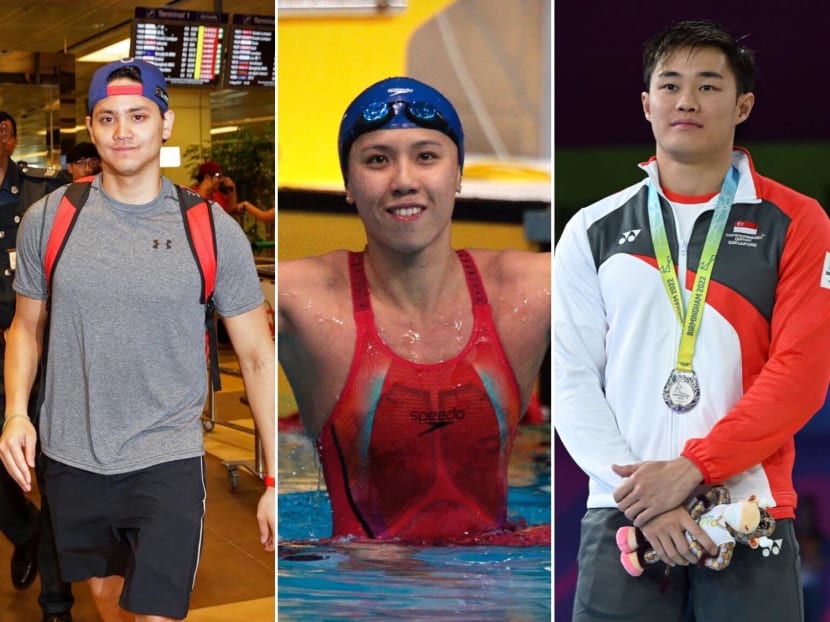 Commonwealth Games silver medallist Teong Tzen Wei, 24, admitted to consuming controlled drugs overseas
This is in addition to national swimmers Joseph Schooling and Amanda Lim having done so
Sport Singapore revealed Teong's misconduct upon completing its internal review on errant national swimmers
It is suspending support for the three swimmers for one month from Oct 1
SINGAPORE — An internal review on Team Singapore swimmers found that a third athlete, Commonwealth Games silver medallist Teong Tzen Wei, 24, had admitted to consuming controlled drugs overseas, in addition to national swimmers Joseph Schooling and Amanda Lim having done so. 
In a statement on Wednesday (Sept 28), national sports governing body Sport Singapore (SportSG) said that it has concluded its internal review and has issued letters of warning as well as suspended support for the three national swimmers for a month from Oct 1. 
The three athletes had been investigated by the Central Narcotics Bureau (CNB) for drug-related offences, SportSG said. 
"In each case, their urine tested negative for controlled drugs. However, all three athletes have admitted to consumption of controlled drugs overseas, while they were Team Singapore athletes." 
In addition, SportSG noted that CNB gave Lim a stern warning for the offence of possession of a drug utensil.
The authorities first revealed in August that Schooling had admitted to taking cannabis in May this year while overseas and Lim was also investigated for possible offences related to the consumption of cannabis.
SportSG said then that it intended to thoroughly review the circumstances behind these cases and determine the appropriate steps to be taken.
"In considering the appropriate steps to take, SportSG met with each of the athletes and conducted an internal review. The review was concluded last week," it said on Wednesday. 
SportSG had decided to suspend all support to Schooling, Lim and Teong as carded athletes under the High Performance Scheme, for a period of one month, starting from Oct 1.
"Accordingly, the three athletes will not receive training assistance grants and access to sports science and sports medicine facilities and services in this period," it added.
Teong, who is also under the Sport Excellence Scholarship (SpexScholarship) programme, will also have his scholarship benefits withdrawn for one month.
The SpexScholarship by SportSG provides financial support for high-performance athletes, as well as more opportunities to train and compete at major games, among other benefits. 
All three athletes have also been issued a formal letter of warning against any future misconduct, SportSG added. 
Apart from the SportSG internal review, the Singapore National Olympic Council (SNOC) had also convened a disciplinary committee at the end of August. The Straits Times reported that this was to look into Schooling and Lim's conduct. 
With the disciplinary committee's decision still pending, Schooling and Lim had prize money for their Southeast Asian Games gold medals under the Major Games Award Programme (MAP) withheld. However, Teong had on Sept 14 received S$35,000 in prize money under the MAP for his silver medal in the 50m Butterfly in the Commonwealth Games and two gold medals at the SEA Games, both this year. 
In response to queries from TODAY on Wednesday, SNOC said that the disciplinary proceedings are still ongoing. "The disciplinary committee will meet with the involved athletes soon and is projected to complete its findings in the next week." 
TODAY understands that Teong will also be part of the investigations.
"A decision with regards to the prize money will be determined after the disciplinary proceedings are completed," SNOC added.
SportSG said that the actions taken against the athletes "underscore their responsibility and accountability as national athletes".
In deciding on this course of action, SportSG took into account "a range of factors including the findings by CNB".
"SportSG also noted that all three athletes cooperated fully throughout the internal review process and readily admitted to the consumption.
"They had expressed remorse for their lapses in judgement, and have appealed to be given a second chance to prove themselves and fulfil their roles and responsibilities as national athletes."
It added that all three athletes have resolved not to abuse controlled drugs in the future, and are also committed to making amends by contributing back to the sporting community and playing a part in education and other efforts to prevent others from making the same mistake.
"SportSG will continue to support all three athletes after the period of suspension, in both their sporting endeavours as well as their continued rehabilitation from this episode." 
The Singapore Swimming Association (SSA) said in a statement on Wednesday that it will "continue to support the three national swimmers" after the end of their support suspensions.
During their one-month suspension, the three athletes will not be able to  train at the National Aquatics Centre or have access to any facilities, benefits or services accorded to high-performance athletes.
SSA president Mark Chay said while the association has zero-tolerance on the use of controlled drugs, the swimmers should not be ostracised from the community.
"The three swimmers have realised their mistakes and are remorseful for their actions," said Mr Chay.
"They will face the consequences for their actions. More importantly, the Association is taking steps for us, as a swimming community, to come together and help our own get back on their feet."
'I SHOULD HAVE KNOWN BETTER': TEONG
Teong apologised for his actions on Wednesday in a statement, saying that he "should have known better". 
"I would like to apologise to my family, my fellow swimmers and the SSA. This is something I deeply regret doing and as an elite athlete (and) I should have known better," he said. 
"I accept the sanctions given to me and I understand that as a national athlete, I have to adhere to a code of conduct that governs all athletes who wear the Singapore flag. I will strive to be a better version of myself and come back from this stronger."
Both Lim and Schooling told TODAY on Wednesday that they are presently training on their own. 
Olympic champion Schooling also acknowledged that he is disappointed at the suspension of support by SportSG.
"It's disappointing, of course, to receive news of the suspension of support," the 27-year-old said. "As a national athlete, we need all-round support to help navigate us in our journey in all aspects of life."
"I made a mistake and I accept the consequences," he said, adding that he had been training on his own for the last five to six weeks in his spare time outside of his commitments to National Service.
"I'll continue to do so and thank you to everyone who has stood by me," he added. 
Lim, who is an 11-time Southeast Asian Games gold medallist and an Asian Swimming Championships bronze medallist, said that she had "deeply reflected on this lesson and distress I have caused, especially to my loved ones". 
"Training on my own has been challenging but I am still very determined to achieve my goals in the next coming years," she said. She had told TODAY last month that her goal remains to qualify for the Paris Olympics in 2024 by meeting the "A" qualifying time. 
"I am still a work in progress with much more to learn... Thank you to everyone who has stood by me and I will give my all to make Singapore proud again," she added. 
TODAY has reached out to Teong.