Thousands of people queue to get S$500 financial aid at social service offices and CCs as applications open
SINGAPORE — With borders closed and airlines around the world grounded due to the Covid-19 pandemic, Mr Muhammad Ridhwan, 28, who works as an aviation security staff member at Changi Airport, saw his income plummet by 40 per cent since February because his allowances have been cut.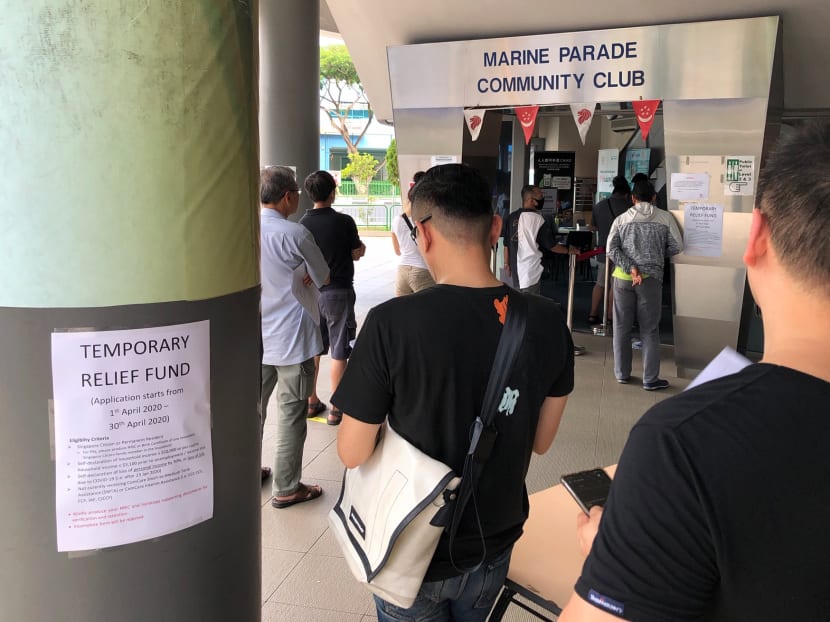 SINGAPORE — With borders closed and airlines around the world grounded due to the Covid-19 pandemic, Mr Muhammad Ridhwan, 28, who works as an aviation security staff member at Changi Airport, saw his income plummet by 40 per cent since February because his allowances have been cut.
Though his 27-year-old wife, who gave her name as just Ms Nadhira, is drawing a salary as an administrator at a public hospital, the couple have seven mouths to feed in their household, including their three-month-old toddler.
Being the oldest child in their respective families, the couple also feel greater financial pressure to support their siblings, Ms Nadhira told TODAY.
"The situation is bad, because when he has lower income, I have to put in more effort to support the family," she said.
The couple were among thousands of people who queued at community centres (CCs) and social service offices run by the Ministry of Social and Family Development (MSF) on Wednesday (April 1).
Applications are open for the whole month for the Temporary Relief Fund. It allows lower- to middle-income Singaporeans and permanent residents facing difficulties during the Covid-19 crisis — due to job or income loss — to get a one-time cash assistance of S$500 to support basic living expenses.
MSF told TODAY that as of 3pm on Wednesday, it had received 3,500 applications.
The Temporary Relief Fund was announced by MSF on March 27, in line with the Resilience Budget that Deputy Prime Minister and Finance Minister Heng Swee Keat unveiled in Parliament last week to support various individuals and businesses during the pandemic.
To be eligible for the fund, applicants must first provide documents proving that they have suffered at least a 30 per cent drop in income or have lost their jobs, and must not be ComCare assistance recipients.
Those who are on ComCare assistance, also a scheme under MSF, already get support for their basic living expenses, including cash assistance as well as assistance with household and medical bills.
MSF said on its website that it would take one to three days for social service offices and CCs to process the applications.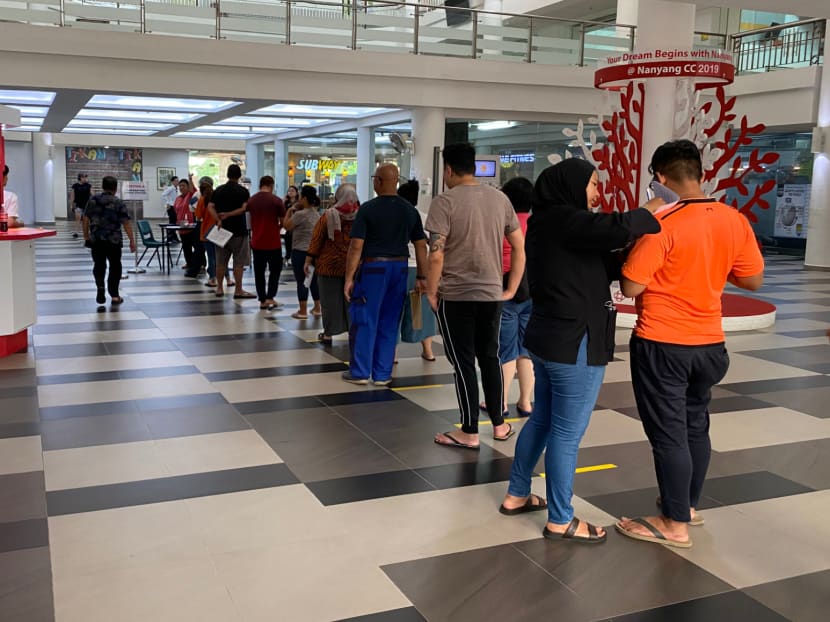 A Grab driver who wanted to be known only as Mr See, 30, told TODAY that he immediately went to the Pasir Ris East CC to apply for the fund after he heard about it from his friends on Wednesday.
Mr See, who lives with his parents, said that there has been a 75 per cent drop in the number of passengers he picks up a day since the end of January.
"It's been stressful. It's been hard to find the income to pay my bills," he said, adding that he barely takes home any money after making his weekly car rental payments of S$400.
Another applicant, single father Muhammad Fadzli, 33, said that he has stopped getting an income as a public relations worker at a nightclub after the Government ordered the closure of entertainment venues until the end of April.
His chief worry during this period is providing for his two children who are still in primary school.
"I am worried about feeding them, about sending them to school."
The S$500 from the fund may not be enough to support his family for now, but he is grateful for whatever aid he could get.
Similarly, a 50-year-old Singapore Airlines flight attendant who wanted to be identified only as Mr A, said he feared that S$500 would not be enough to tide his family through even two weeks, but if he receives it, he will be thankful for the support.
The sole breadwinner for his wife, father and three children, he applied for the fund because a drop in his work allowances meant that his overall pay had dived by 60 per cent, and he is anxious about not being able to pay housing bills and insurance loans.
"(My family) is on their toes and very sober. It is worrying for my kids to see that their father is not working, that he is not earning enough to support them," he said.
Singapore Airlines announced last week that it is grounding 138 SIA and SilkAir planes, out of a total fleet of 147 until end-April.
NEED FOR PROOF
Mr Zainal Sapari, Member of Parliament for Pasir Ris-Punggol Group Representation Constituency, told TODAY that the Pasir Ris East CC had received around 200 residents applying for the fund on Wednesday.
He said that one of the issues faced by staff members there while receiving applications was that many residents had not submitted the relevant documents to support their claims.
"We do have self-employed people who have their own home businesses. It's a bit difficult to prove, where they claim that because of Covid-19, they now have less orders. But they do not have any documents to show that is the case," he said.
"We also have cases where people are doing casual jobs. When the jobs are available then they are called up, but now they claim that there are fewer jobs available and that it has affected their income. So, I think one of the greatest challenges is verifying the financial situation that they are in."
Singapore citizens and residents who continue to struggle finding employment because of the pandemic may also apply for the Covid-19 Support Grant under MSF. The ministry said that this would provide successful applicants S$800 monthly for three months, with applications starting on May 1.
To be eligible for this grant, applicants must also commit to receive employment and training support from Workforce Singapore and the Employment and Employability Institute.