Thousands throng One Pearl Bank launch, including former residents keen to return
SINGAPORE — Dozens of familiar faces were among the some 2,300 prospective homebuyers and 400 property agents who flocked the sales gallery of the new One Pearl Bank on its opening day on Saturday (July 13).
SINGAPORE — Dozens of familiar faces were among the some 2,300 prospective homebuyers and 400 property agents who flocked the sales gallery of the new One Pearl Bank on its opening day on Saturday (July 13). 
They are old neighbours at the iconic horseshoe-shaped Pearl Bank Apartments, which was sold to CapitaLand en bloc for S$728 million, paving the way for this new 39-storey condominium.
At least two of these former owners have registered their intent to buy units by submitting cheques even though bookings only open on July 20.
Others, however, said they found the prices of the new units to be "beyond reach", even after receiving the windfall from their en bloc sale.
A 77-year-old looking to snag a replacement unit for his 29th-floor flat at the old Pearl Bank Apartments left the gallery disappointed when he found prices in the new development to be "far beyond (his) range".
The retiree, who only wanted to be known as Mr Chua, said he received a S$1.8 million payout for his 1,324 sq ft two-bedder in the en bloc. 
But a unit of a similar size at the new One Pearl Bank, a 1,098 sq ft to 1,281 sq ft three-bedroom unit, would cost more than S$2.5 million. 
With his S$1.8 million, he can only afford a 700 sq ft two-bedroom apartment in the new development after taking into consideration buyers' stamp duties and other costs, he noted.
CapitaLand on Thursday revealed that the indicative price for a two-bedder with sizes ranging from 700 sq ft to 893 sq ft is at least S$1.5 million, while prices for 431 sq ft studio apartments will start from S$970,000 and one-bedders will cost at least S$1.1 million.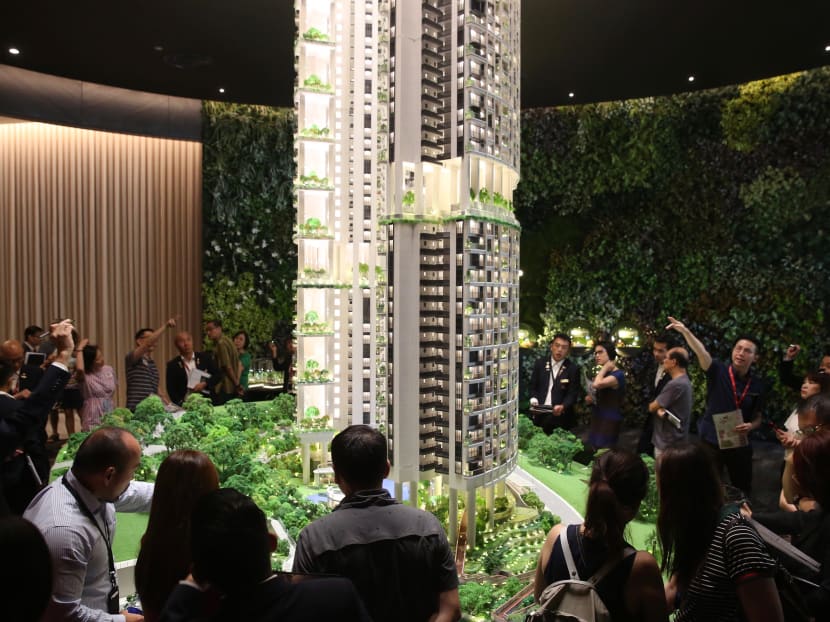 "Prices have now shot up so high. It is beyond reach. Anything below S$2,000 per square foot is too much," said Mr Chua. 
"A lot of people who signed up for en bloc (saw it coming as well), but we had no choice."
Efforts were made to get conservation status for Pearl Bank Apartments, but the law requires unanimous consent for such a status to be conferred, and the building ended up in a decrepit state.
But a former neighbour of Mr Chua's, Mr Alex Poh, who was also the chairman of Pearl Bank Apartments' collective sale committee, said the homeowners from the old development should not expect a brand new home, with a topped-up lease of 99 years, to come at no extra cost.
Mr Poh was also present at the condo launch on Saturday, where he was working as a property agent. He had brought with him four other former Pearl Bank owners.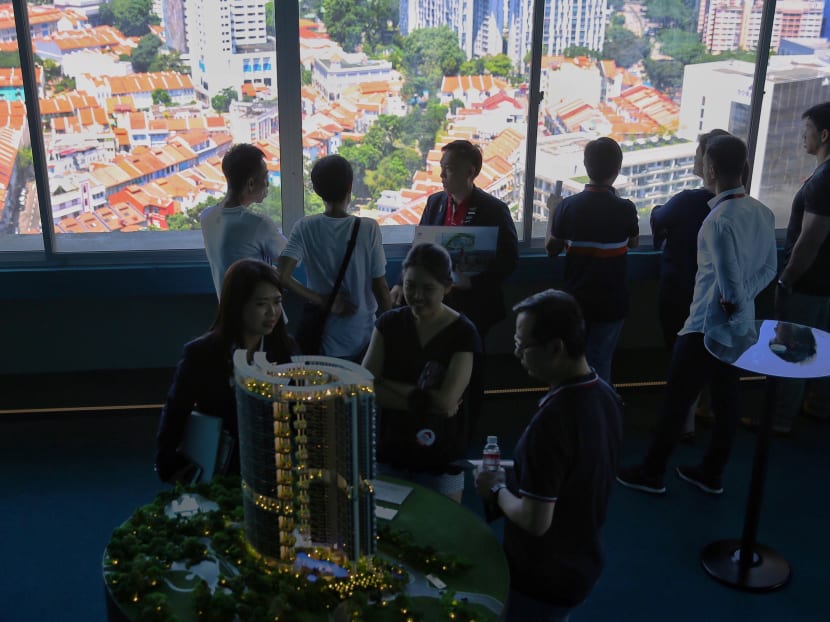 "You walk into a Mercedes showroom, you cannot say I want to buy at a second-hand car price. It's very clear cut. Or if you walk into your Mercedes showroom you want your seller to sell you at Toyota car prices? Simple equation." 
The 65-year-old is considering investing in a million-dollar studio unit at One Pearl Bank himself, subject to whether the bank would extend him a loan.
He had gotten a total of S$5 million from the en bloc of Pearl Bank Apartments, where he owned two three-bedroom units. 
For investors like him, snagging a "first-mover advantage" matters as he expects units there to fetch even higher prices in the future, Mr Poh added.
More former owners of Pearl Bank Apartments units are expected at the sales gallery next Friday – the day on which CapitaLand has formally invited them to view the show flats.
DESIGN PAYS HOMAGE TO ICONIC BUILDING
Prospective buyers who were at the launch largely had good things to say about the design of One Pearl Bank. 
Many felt it cleverly pays homage to the design of the former C-shaped condo, which featured two gently curved towers that was joined at the roof by sky bridges. 
Even Mr Chua was convinced. The new development could stand as a "new icon" of Singapore architecture with the way it blends the old and the new, while also being the tallest building in the Outram area at 178m above sea level, he said.
Still, several lamented how condo units are "getting smaller and smaller". 
One Pearl Bank will pack in 774 households – almost triple the 280 homes that were in Pearl Bank Apartments.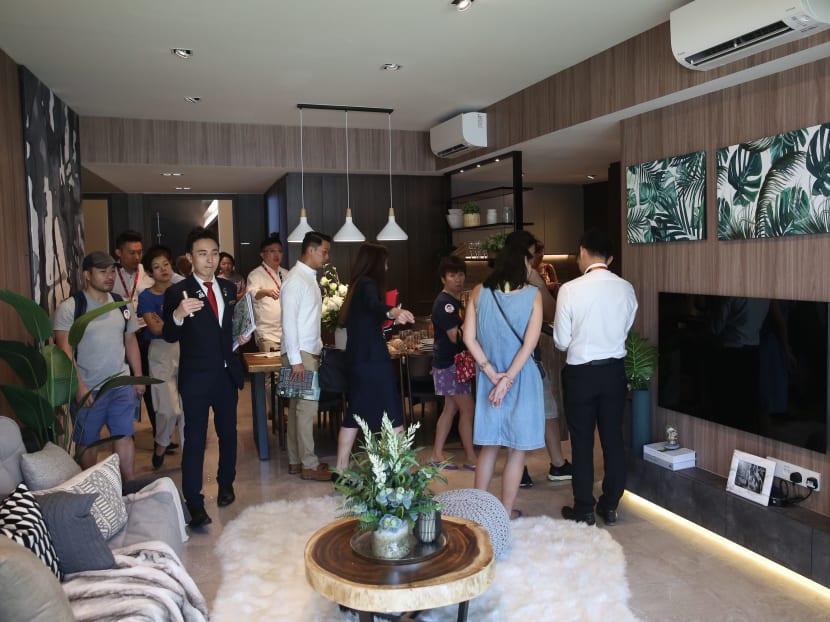 Scrutinising the 4m mock-up of the new condominium's facade at the showroom, former Pearl Bank Apartments resident Wendy Hui, 66, said the new units will likely not be as windy as her old home. 
Her old unit had windows that could channel air in from the corridor and out of the living room window freely, whereas the units at this new development will face each other and create a barrier to the flow of air, she said. 
Still, Mdm Hui submitted two cheques on Saturday to confirm her interest in two units – one for her own use, and another for her son. 
She said she did not mind the smaller size of the units since her sons are now adults, and she and her husband are looking for a retirement home.