'Spicy' romance novels find new young fans on the back of TikTok reviews
SINGAPORE — Book lover Fatin Fathiah, 20, was visiting the bookstore in search of a new read recently when she did a double take. Ms Fathiah is not just any reader. She is a book reviewer or "booktoker" on the social media platform TikTok, going by the user name @thianslibby.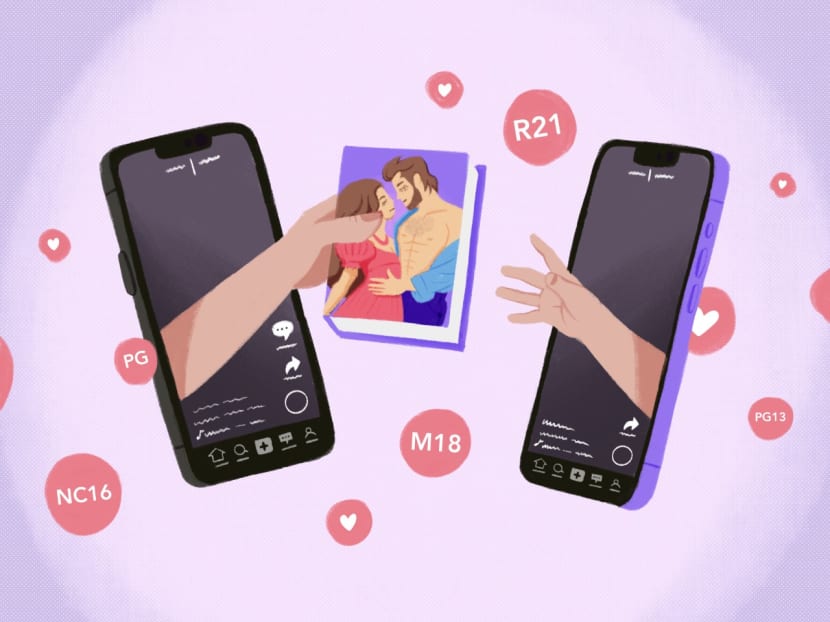 Users of social media platform TikTok use the term "spicy" books to refer to sexually explicit romance books
Some young teenagers in Singapore have been buying these titles at local bookstores
Some of these young readers told TODAY that they have become desensitised to such content even though it is inappropriate for their age group
Parents have expressed concern over spicy novels but believe that communication is key in helping young teenagers better understand the content they are reading
SINGAPORE — Book lover Fatin Fathiah, 20, was visiting the bookstore in search of a new read recently when she did a double take.
Ms Fathiah is not just any reader. She is a book reviewer or "booktoker" on the social media platform TikTok, going by the user name @thianslibby.
As she browsed titles on the full shelves of the romance section, she was surprised to find a group of young teenagers huddled around a copy of Twisted Games by Ana Huang.
The popular romance novel is known as a "spicy" book on TikTok as its plot features explicit sexual content between the main characters, peppered with "dirty talk" meant to excite the readers.
The book is so popular that the United States author is visiting Books Kinokuniya later this month to meet her fans.
Recalling the incident, Ms Fathiah told TODAY: "Oh, it was concerning for sure, but I didn't know if I should stop them."
"If I could go back in time, I would tell them it's not the time for them to read (such a book) as the scenes in the book are just not appropriate for their age group."
Teens picking up romance novels with sexually explicit themes is becoming a more common sight at bookshops these days, thanks to the influence of #BookTok: Book reviews on TikTok, some of which focus on #spicybooks.
On TikTok, hashtags draw together posts on trending topics.
The New York Times reported that in early 2021, the publishing industry began to notice that the books that readers were "gushing" about on TikTok were showing up on bestseller lists.
Within a year, the hashtag #BookTok turned into one of the strongest driving forces behind the revival of the book market.
Though the trend had initially boosted the sales of young adult titles, global book industry data firm BookScan has reported that it is now "even more powerful" in adult fiction. 
Local bookstores are also riding on the TikTok phenomenon, with special shelves labelled #BookTok to showcase the latest top trending books on the social media platform. 
RISE OF SPICE
One particularly popular sub-genre of #BookTok is #SpicyBookTok, where reviewers talk about romance novels that contain graphic sex scenes and copious amounts of "dirty talk".
American content creator Kevin Norman (@kevintnorman) told TODAY: "I think the appeal of spicy books is that it's fun! There are so many options and there's always something for everyone."
News agency Bloomberg reported that the demand for romance novels has boomed in the United States, with sales of print copies surging 51 per cent in the year to December 2022, after a 40 per cent jump in 2021.
The demand for spicy romance novels also rose during the pandemic when people were seeking ways to escape with feel-good stories.
"I think the appeal comes from readers being able to insert themselves into the lives of characters and situations that don't necessarily exist in the real world," said Canadian university student and booktoker Emma Shemko (@emmasbooktalks), 21.
I think the appeal comes from readers being able to insert themselves into the lives of characters and situations that don't necessarily exist in the real world.

Canadian university student Emma Shemko, 21, who reviews books on TikTok
INDIFFERENCE TO SPICY CONTENT
Owing to TikTok's algorithm, booktok content tends to get cross-pollinated and content intended for an older reader could end up on the "for you" TikTok page of a young reader.
Among those who are beginning to turn to romance novels, including some spicy ones, are Victoria, Carrie and Kim, three chirpy 13-year-old girls who were hanging out at a library together when TODAY spoke to them. 
When asked about their initial reaction to TikTok videos on "spicy" books, Carrie said that she was "traumatised" when she saw the teaser description of a sex scene on one such video.
But that revulsion grew into curiosity and she eventually bought her first spicy romance novel online under the cover of anonymity.  
Victoria said that while teens their age might initially feel awkward when coming across explicit content, they quickly get over it and become curious.
"It captures your attention and… you would be intrigued to read the book," she said.
Even so, the three friends all agreed that sexually explicit books should be read by only by those above 13, with Victoria saying that not everyone their age would be able to "handle it".
Frequent TikTok user Joanna, also 13, told TODAY: "I think nowadays children are a lot more mature in a way that they sort of understand 'inappropriate' things."
She said that reading explicit scenes does not faze her in any way as she has been "desensitised" to such content and her peers often joke about such things. 
It captures your attention and… you would be intrigued to read the book.

Singapore reader Victoria, aged 13
CAUSE FOR CONCERN?
It's perhaps the reaction of such young people that has led parents such as Herman Lim, 45, to believe that even having a hard age limit on spicy romance novels may not really be the right approach.
"I think young teenagers are quite impressionable and there might be a point where they may not be emotionally mature enough to process such information," he told TODAY.
The number of romance novels filling bookshop shelves appears to be increasing.
When TODAY visited Books Kinokuniya on Monday (April 3), the shelves in the romance section were well-stocked with a variety of spicy novels.
Some of them detailed taboo sexual themes such as group sex, sodomy, and even darker themes such as violent and non-consensual sex and sexual assault.
TODAY has reached out to major bookstores here to ask whether sales of romance novels have increased and whether more young teens are buying these books. So far, they have not responded.
Having recently worked at a bookstore, Ms Shemko has observed first-hand an increase in young readers picking up spicy romance books. 
She made particular mention of books by popular author Colleen Hoover who has been criticised by the book community for the way she broaches abuse and sexual assault in her books.
"Her books often depict highly traumatic and violent experiences as sexy, desirable, and romantic," Ms Shemko said.
"As a survivor of childhood sexual assault myself, this was something very triggering for me."
She is fearful that these books might create the impression that sexual assault is normal and okay, which is "far from the reality" of being sexually assaulted.
Associate Professor Tan Ern Ser at the Department of Sociology, National University of Singapore, told TODAY that such forms of dominant, violent and exploitative romance depicted in spicy romance novels could lead to the "normalisation" of deviant social norms among young teenagers. 
"At an individual level, it could create an obsession with sexual exploitation and violence within a relationship or against people they happen to fancy," he added.
Dr Jeremy Sng at the Nanyang Technological University's School of Social Sciences believes that the issue here is the depiction of sex and sexual activity that has been skewed to focus on the act itself with little adequate discussion of associated emotions, responsibilities, and risks.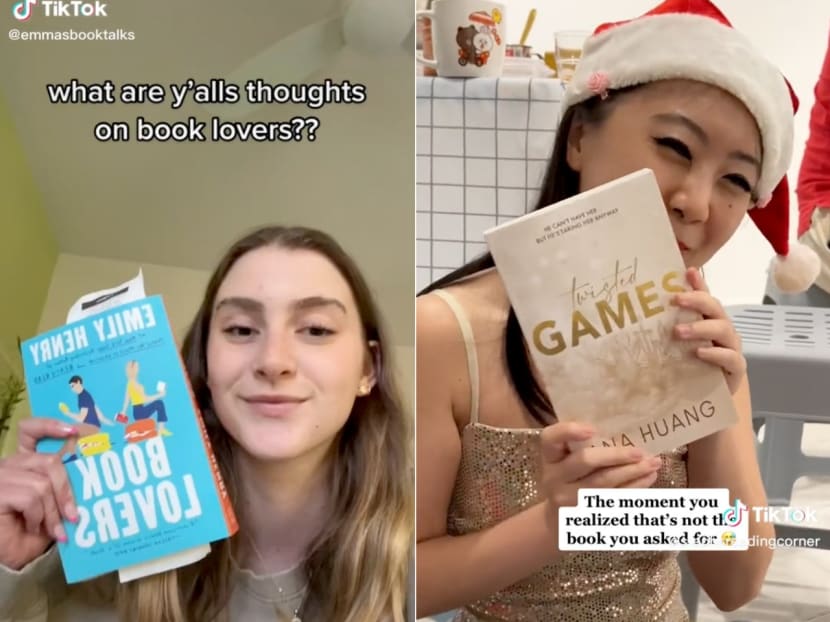 COMMUNICATION OVER REGULATION
TODAY asked the National Library Board (NLB) about this #BookTok trend, and whether it views the rising trend of young teens reading sexually explicit romance novels as a concern.
TODAY also asked NLB whether libraries have a responsibility to caution young readers about such books, and if so, what steps they should take to do so.
In response, NLB said it recognises that more people, including teenagers, are consuming digital content as a way to access books and other reading material for leisure.
"We encourage parents to play an active role to guide their children, including teens, in their reading," NLB said. 
"NLB will continue to ensure that our collections are appropriate for the different age groups, in line with prevailing social and cultural norms."
The board added that its policy is aligned with the content guidelines provided by the Infocomm Media Development Authority.
"This policy aims to ensure the merits of each title offered by NLB in relation to the needs and interests of its users, and states that NLB takes special care over children's collections to ensure that they are age-appropriate."
With an 11-year-old son who loves reading, Ms Christensen De Guzman, 42, recognises that communication is important when it comes to such content.
"At an early age, we have established an open communication with him and even started discussing puberty changes that he will encounter along the way," she said.
She added: "Should my son come across such books, I would either ask him if he had any questions or ask what thoughts he had about the books. Alongside my husband, we will find the best way to explain the content to him in a way that he can understand."
Dr Sng agrees that fostering open and positive communication can help young teenagers feel safe to discuss their media consumption habits with their parents. 
He believes that this would allow parents to better explain or guide them on how to critically evaluate content, and provide supplemental information if needed.
"Outright restricting them from accessing such content could lead to young teenagers developing a higher interest in those content and seek out ways to view them anyway."
Avid reader and local booktoker Stephanie Yap (@stephsreadingcorner), who is in her 20s, told TODAY that she too does not believe in banning books or any type of content because she believes that "the more you read, the more you know".
She said: "I think we ought to give teenagers some credit as well. Just because they consume them doesn't mean they will act on them."
Ms Yap added: "I think most people are smart enough to know what's fact and what's fiction. The more you stop them from doing something, the more they're going to do it."