Time to turn off aircon but not to ditch pets: Singapore experts weigh in on coronavirus outbreak
SINGAPORE — Now that Singapore's disease outbreak response level has been raised to Dorscon Orange, nine of the nation's top infectious disease experts held a press conference on Monday (Feb 10) to address a range of questions on the novel coronavirus.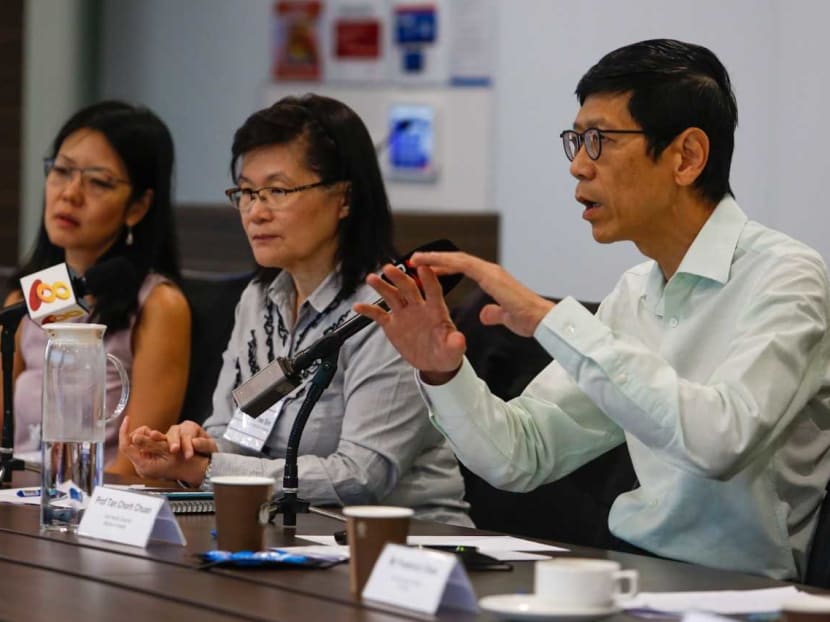 SINGAPORE — Now that Singapore's disease outbreak response level has been raised to Dorscon Orange, nine of the nation's top infectious disease experts held a press conference on Monday (Feb 10) to address a range of questions on the novel coronavirus.
They included whether Singaporeans should be worried after Shanghai's health commission warned over the weekend that the droplet-transmissible virus is airborne as well, and whether it is better to stay in an air-conditioned room or head outdoors during the outbreak.
The panellists included the Ministry of Health's chief health scientist Tan Chorh Chuan and Professor Wang Linfa of Duke-NUS Medical School, who played a leading role in identifying bats as the natural host of the coronavirus that caused the severe acute respiratory syndrome (Sars) outbreak in 2002 and 2003.
Here are some of the things they have learnt, nearly three weeks after the first infection was detected in Singapore.
IN WHAT CONDITIONS DOES THE VIRUS THRIVE BETTER?
Cold and dry environments, which could be an air-conditioned room.
Prof Tan said that following the Sars period in 2003, a lot of work had been done on such virus' persistence on surfaces and most of the studies had indicated that they don't persist very well under hot and humid conditions.
This refers to environments above 30°C with humidity of more than 80 per cent, he noted.
For reference, Singapore's temperature on Monday ranged between 23°C and 33°C with humidity ranging between 60 and 95 per cent, the National Environment Agency's website reported.
Associate Professor David Lye, director of the Infectious Disease Research and Training Office at the National Centre for Infectious Diseases (NCID), said that outside of humans, the coronavirus is likely to survive only one to three hours in a hot and humid environment.
He cautioned, however, that the conditions in an air-conditioned room could be favourable for the virus to thrive for a longer period.
"Perhaps now is the time to turn off your aircon and just enjoy the breeze and the sun," Assoc Prof Lye said. "In an open space, you really won't catch it from a passing person."
Prof Tan added that going outdoors is a "good idea" during this time because the likelihood of viral persistence there, or of the virus lingering on surfaces, is lower.
IS THE VIRUS AIRBORNE?
Shanghai's health commission on Saturday added "aerosol transmission" to the list of ways the virus can be contracted, meaning the virus could be spread through the air and someone could be infected by inhaling the droplets of air mixed with the virus. 
Shouldn't Singaporeans be taking extra precautions by shutting windows instead? Not really.
Prof Wang, who is director of Duke-NUS Medical School's programme in emerging infectious diseases, said that he "won't take (the Shanghai news) more seriously" until a scientific paper showing clear evidence of aerosol transmission is published.
"It just came out basically to say that the virus is capable of aerosol transmission," he said.
"They did not say how they made that conclusion, and how many people they can prove to have caused aerosol transmission," he added.
The frequency of aerosol transmission is important in establishing a response to the finding, he said. "If that can happen in one out of 10,000 cases, it is bad, but we don't have to worry."
This opinion is in line with what Dr Feng Fuzhao, a researcher with the Chinese Centre for Disease Control and Prevention, reportedly said on Sunday.
The China Daily had quoted Dr Feng as saying that there is no need for the public to panic since no evidence had shown that the new virus could be contracted by aerosol transmission.
Professor Leo Yee-Sin, executive director of the NCID, said that such a mode of transmission would make the condition very contagious and put it in the same league as measles, smallpox and tuberculosis.
Transmission rates, for instance, could be as high as one to 20 people in a susceptible population in the case of measles, she said.
But this is not a level that the new coronavirus had reached, she pointed out, adding that there is not enough evidence now to clearly pinpoint aerosol transmission.
"Are we seeing that in this particular condition? We have to ask ourselves that to (put things in perspective). These are not the transmissions that we know of, that deviate from your contact precautions as well as droplet precautions," she said.
In a medical setting, however, she does not rule out aerosolisation of the virus as a factor because some coronavirus patients have had to be intubated and given oxygen.
That is why healthcare workers are protected with N95 masks and other protective equipment to ensure that this does not come into play, she said.
WILL PETS TRANSMIT THE VIRUS?
Unverified rumours that pets could spread the coronavirus reportedly led some pet owners in China to throw their cats or dogs out of their apartments. 
Photos of bloodied pet carcasses lying on China's streets started circulating in late January after a doctor went on Chinese state television to say that pets should be quarantined as well if they come into contact with suspected coronavirus patients.
But this behaviour is pure hysteria, Prof Wang said.
"If you have a child, the risk is the same," he said.
Furthermore, there is no evidence now to confirm that cats or dogs are susceptible.
"If you have kids wandering around the house and have a dog wandering around the house, they are all living things. In theory, they are all susceptible to viruses.
"(Furthermore) we know humans are susceptible (but) we don't have evidence that cats or dogs are susceptible."
Even if evidence emerges that cats and dogs are susceptible, Prof Wang said it does not mean that they played a role in transmitting the coronavirus to humans.
WILL WE KNOW THE SOURCE OF THE NEW VIRUS?
It is not easy to get immediate answers on the origins of the virus. Working at "record speed", Prof Wang's team took 18 months to identify bats as the natural host of the Sars virus.
It is an area of work which "you cannot expect to finish in one to two weeks", Prof Wang said. He published his paper on bats being a reservoir of Sars-related coronavirus in 2005.
Still, preliminary findings had been promising, he added. In just three weeks, some researchers had found a virus in bats that is 96 per cent identical to the new coronavirus.
And on Friday, researchers in Guangzhou, China, said they have found that genetic sequences of viruses isolated from pangolin, a type of anteater, are 99 per cent similar to the new coronavirus, he added.
The difficulty lies in nailing down which animal might have inherited the virus from bats and later mutated it in a way that meant it could be transmitted to humans, he said.
Even with the pangolin discovery, Prof Wang said it is not possible to be certain yet whether the virus indeed mutated through the scaly animal.
"You have to be careful. As a scientist, what we are saying is that pangolin is a susceptible host, meaning that the virus can infect and replicate in pangolins," he said.
"But (it remains to be seen) whether that's the animal that gave it to humans… First, we need to identify susceptible animals, then among the susceptible animals, one or two will be the transmitting animals."