Tips to beat 'food guilt' and make peace with what you eat this festive season
SINGAPORE — With social events back in swing during the festive season, eating more than usual is a given. However, food guilt can add negativity and stress to an otherwise joyful occasion. 
SINGAPORE — With social events back in swing during the festive season, eating more than usual is a given. However, food guilt can add negativity and stress to an otherwise joyful occasion. 
If you feel bad after a meal and think, "I shouldn't have eaten that" or "Why did I indulge so much today", you may be experiencing food guilt.
This is the feeling of having done something wrong over what you have consumed, particularly if the food is deemed unhealthy.
Principal dietitian Bibi Chia from Raffles Diabetes and Endocrine Centre believes that such negative feelings about food is prevalent among adults in Singapore.
Citing a study on disordered eating patterns done here on almost 800 adults aged 21 to 77, Ms Chia said that around 6 per cent of the adults screened positive for a current clinical eating disorder and more than a third (37 per cent) had other feeding or eating disorders.
About a fifth (19.5 per cent) were at high risk of developing one.
The study was published in 2021 in the International Journal of Eating Disorders.
"Our relationship with food is complicated and it is built from a young age," Ms Chia said.
Childhood experiences of food can shape how people think and feel about food and what they eat.
For example, research published in the Journal of Academy of Nutrition and Dietetics in 2010 found that when parents restricted children's access to palatable snack foods, they were more likely to consume those restricted foods even if they were not hungry but they also experienced negative feelings about it.
This holiday season, manage food guilt and be at peace when sharing meals with loved ones.
Check out the following tips from Ms Chia, as well as Ms Melody Chong, a health coach in private practice.
WHY FOOD GUILT IMPAIRS YOUR HEALTH GOALS
Feeling guilty about eating that extra slice of cake or serving of pudding is unlikely to motivate you to eat better.
It is more likely to do the opposite.
For example, people who associate chocolate cake with guilt rather than celebration were more likely to feel that their eating was out of control and were less confident about eating healthier in the future.
This was from a study published in Appetite, an international research journal specialising in cultural, social, psychological, sensory and physiological influences on food.
Those who reported having food guilt were also less likely to lose weight over a three-month period. They had difficulty maintaining weight over 18 months.
HOW TO BEAT FOOD GUILT
Even if you are on a healthy diet plan, there is no reason why you cannot enjoy festive treats or snacks without feeling bad about it.
Just eat them less frequently and in smaller quantities.
Or simply buy less of these foods so that there are fewer visual cues reminding you to snack — out of sight, out of mind.
Eating a bag of chips may seem "unhealthy" to some people, but there are chips made of healthier oils, Ms Chia said.
When eating or snacking, it can be done healthily when you take into account "what", "when" and "how much".
This is better than restricting yourself and then later indulging in greater amounts when temptations arise.
A snack under 100 to 150 calories between meals should suffice.
You should also try to limit intake of processed food.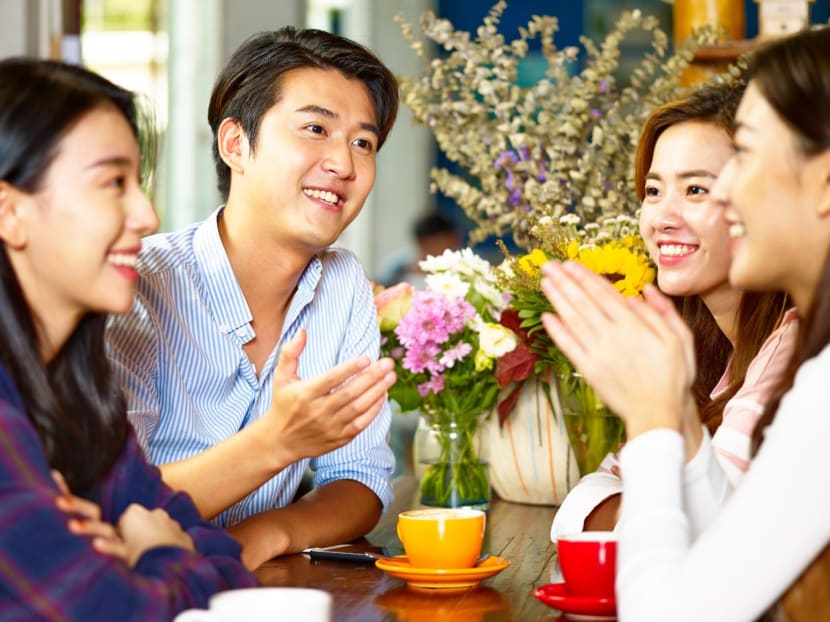 At parties, shift your focus from the food spread out before and around you to the conversations and time spent with family and friends.
Ms Chong said: "You would be surprised how a shift in focus decreases your cravings."
For people who have been eating a healthier diet, they may find that their craving for certain foods have subsided after not consuming them for most of the year, Ms Chong added.
HOW TO PRACTISE 'MINDFUL EATING'
Apart from working to let go of food guilt, learn to practise mindful eating.
Being conscious or mindful of what you eat allows you to control the portions and find a balance.
It means staying "present" and paying attention to your food.
It also means appreciating it and noticing when a feeling of satiety — or "fullness" — sets in between bites.
Take time to chew, taste and swallow your food
Allow yourself to enjoy every bite instead of rushing
With practice, you will get to feel full earlier when eating a healthy and smaller portion size
You can do this daily and not just during the festive season.
THE SCIENCE BEHIND 'MINDFUL EATING'
The Harvard School of Public Health said research has shown that eating mindfully and being in tune with the body's signals for hunger and satiety can lessen food-related anxiety and overeating.
Slowing down your eating pace will also reduce bloating and digestive issues related to overeating or eating too fast.
In general, it takes about 20 minutes from the time you start eating for your body to register satiety signals.
By contrast, "mindless" eating such as eating while working in front of a computer or watching TV is linked to anxiety and overeating.
HOW TO PLAN AND STRATEGISE WHAT YOU EAT
Ignore that familiar refrain from friends who say, "Come with an empty stomach!" before a gathering over a meal.
Restricting your food intake can lead to more frequent feelings of hunger.
Besides, ignoring hunger cues and skipping meals before a dinner party will only set the stage for overeating.
Be strategic by focusing on filling up with more nutritious foods first such as salads and proteins.
This would prevent hunger pangs and the urge to binge later, and keep you feeling full longer.
Choosing foods with higher protein and fibre may help reduce the chances of overeating and keep cravings at bay.
A study published in the research journal Obesity found that overweight males who increased their dietary protein intake to at least 25 per cent of their total calorie intake reported less food cravings.
These short-term or crash measures will not be beneficial in the long run. They are difficult to maintain.

Ms Melody Chong, a health coach, advised against taking up punishing detox fads or over-exercising in the weeks after big meals
SKIP THE DETOX FADS
Food guilt can lead people to turn to punishing detox fads or over-exercise in the weeks after big meals.
Drop these drastic measures, Ms Chong said.
"These short-term or crash measures will not be beneficial in the long run. They are difficult to maintain."
Some studies show that paying too much attention to calorie-counting over a prolonged period of time may trigger disordered eating patterns.
A study published in the scientific journal Eating Behaviours in 2017 found that people who used calorie trackers on a mobile application showed higher levels of eating concerns and dietary restraint, as well as disordered eating symptoms.
WHAT TO DO AFTER A PERIOD OF FEASTING
Ms Chong suggested having "clean-eating" meals.
This means a balanced diet of three meals a day.
Take more vegetables but less protein and carbohydrates
Keep food boiled, grilled, steamed or stewed
Opt for complex carbohydrates preferably, such as brown rice, oats and wholewheat pasta and bread
Keep up regular exercise such as walking for at least half an hour a day.
And have a daily regular sleep routine of at least seven to eight hours.
WHEN FOOD GUILT BECOMES SERIOUS
Ms Chia said it is important to note that eating disorders such as binge eating — which also involves feelings of guilt — is not the same as the occasional overeating during the festive season.
Binge eating is characterised by consuming unusually large amounts of food and feeling unable to stop.
This can be accompanied by symptoms of emptying of the stomach or compulsive exercise.
Watch for food guilt that becomes too intrusive.
This may develop as signs of an eating disorder that interfere with daily life such as an extreme preoccupation with food and a distorted perception of weight.
In such cases, it would be a good idea to get professional help.
Some options for help include:
Chat (www.imh.com.sg/chat/get-help), a national youth mental health outreach and assessment service for young people aged 16 to 30 in Singapore. Book a mental health check by calling 6493 6500/ 6501 or email

chat

[at]

mentalhealth.sg

. Message text-based support is also available
The Samaritans of Singapore (www.sos.org.sg), which has a 24-hour helpline (1-767) and a 24-hour WhatsApp chat line (9151 1767)
The Institute of Mental Health's helpline at 6389 2222. Anyone facing a mental health crisis can seek help at IMH's 24-hour emergency services