TODAY goes fully digital from Oct, to end print edition after 17-year run
SINGAPORE – In the latest shift to a media landscape that has seen several rounds of changes since 2000, TODAY will become an all-digital product from the end of next month as part of a wide-ranging deal between Mediacorp and Singapore Press Holdings (SPH).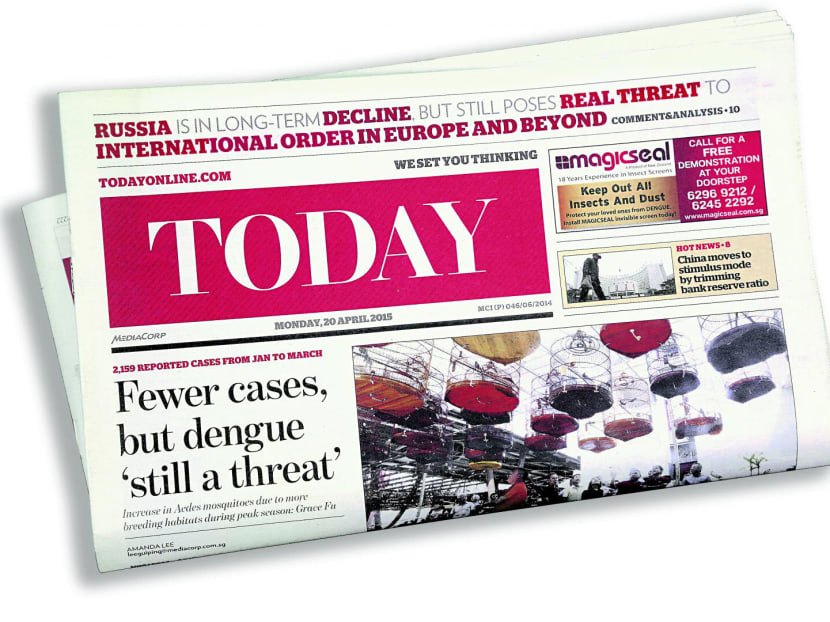 SINGAPORE – In the latest shift to a media landscape that has seen several rounds of changes since 2000, TODAY will become an all-digital product from the end of next month as part of a wide-ranging deal between Mediacorp and Singapore Press Holdings (SPH). 
Both companies announced on Friday (Aug 25) that SPH will divest its stakes in Mediacorp Press, which publishes TODAY, and Mediacorp TV, which owns Channels 5, 8, U, and Mediacorp Studio. The deal is subject to regulatory approval. 
The announcement will mean that the liberalisation of the media scene, which began in the early 2000s with the award of a print licence to Mediacorp and a television one to SPH, will have come full circle.
SPH, which expects to record a write down of about S$31 million for the deal, said in a statement: "The proposed divestment follows Mediacorp's decision to cease the print edition of the newspaper TODAY."
Mediacorp said in a separate statement: "With full ownership and control of Mediacorp Press, Mediacorp will restructure the TODAY business to better face the new digital-first media landscape."
Under the deal, Mediacorp will "cease the printing, publication and circulation of the TODAY newspaper", and for a period of five years, it will not "publish and/or circulate any soft copy or computer readable format of the TODAY newspaper that is capable of being read by a user on electronic devices such as computers, mobile phones and tablets which seeks to maintain the look and feel of a hardcopy version of the TODAY newspaper". 
The move to discontinue TODAY's print operations will see about 40 staff being made redundant.
"Mediacorp will explore options to redeploy the staff in these positions to other roles within the company. Where this is not possible, eligible staff will be offered severance packages and outplacement support," the statement added.
Launched in late 2000, TODAY is Singapore's second-most read newspaper. It has stepped up its digital transition in the past year, including the introduction of a revamped weekend edition in April.
"Recognising that readers increasingly want their news on the go and encouraged by the growth in engagement, Mediacorp is taking the next step, turning the weekday editions fully digital too," Mediacorp said.
When asked, a spokesperson for the Ministry of Communications and Information said: "This is (a) commercial decision. We have no objections to the proposed move."
Friday's deal between the two media companies comes 12 years after SPH bought the stakes in the two Mediacorp entities - 20 per cent in Mediacorp TV and 40 per cent in Mediacorp Press - as part of a consolidation in the industry, following losses incurred by Mediacorp and SPH as a result of the liberalisation in 2000. 
In an effort to stem the red ink. MediaCorp took a majority stake in a new TV company and kept its controlling interest in TODAY. SPH, meanwhile, withdrew from direct TV operations and the free newspaper market, and it took minority stakes in the new TV company and in TODAY.
COMPETITION 'HAS WORKED': ANALYSTS 
Although the attempt to liberalise the media sector has come full circle after 17 years, media experts and industry players felt that it has succeeded to the extent of injecting competition and raising the quality of journalism in Singapore. 
By allowing SPH to acquire a TV license and Mediacorp to start a newspaper in 2000, the objective then was to give both media giants "parity", said Mr Ganesh Rajaram, general manager of Asia at Fremantlemedia International. 
The fact that TODAY has continued to sustain its operations till today is a testament that media liberalisation has worked, argued Mr Ganesh, who is also a Nominated Member of Parliament. "TODAY has maintained its core till now, which includes providing more analysis and commentaries. And it has strong journalists in its newsroom. The content it produces is a good product," he added. 
Echoing the sentiment, Professor Ang Peng Hwa felt there was "no question" that competition has improved the quality of journalism on both sides, in terms of print, TV and radio offerings. However, with TODAY ceasing its print publication, the competition in the newspaper business here will be less stiff, said Prof Ang, who is from the Wee Kim Wee School of Communication and Information at the Nanyang Technological University. 
He reiterated that even so, Singapore media organisations have to adapt to the changing consumption pattern, and this means focusing more on its online content.
As traditional media companies struggle to attract eyeballs, coupled with dwindling advertising revenues, they would have to ramp up their digital offerings in a bid to increase readership and monetise their content - this is particularly so for the newspaper business, said Prof Ang, who noted that major newspaper companies around the world have adopted strategies to boost their digital offerings. 
"If your lunch is taken away, what do you do? Do you hold on to your lunch? They have to bite the bullet and move towards the digital route in a significant way," said Prof Ang.
Mr Ganesh pointed out that even as news organisations switch to online platforms, it is essential to ensure their content are of high quality to sustain their business in the long run. "The good news is that in this case, TODAY is not shutting down. It's just becoming fully digital… The key here is quality. If you give quality product, people will find it and they will read it," he added.