TODAY20: The lonely fighter (Oct 12, 2002)
Over the past two decades, TODAY has played an active role in public discourse in Singapore. To mark our 20th anniversary in November, we are re-publishing 20 of our most impactful news articles over the years.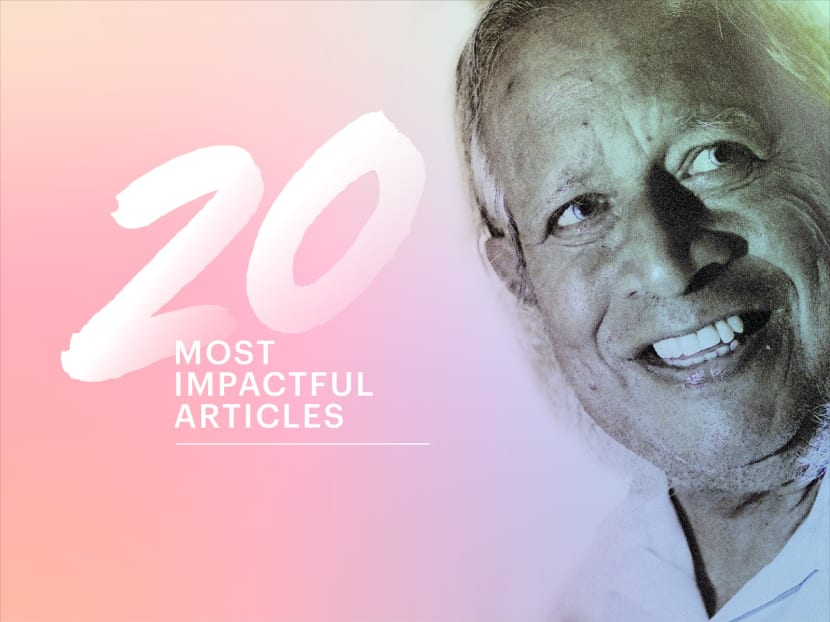 Over the past two decades, TODAY has played an active role in public discourse in Singapore. To mark our 20th anniversary in November, we are re-publishing 20 of our most impactful news articles over the years.
WHAT HAPPENED
TODAY's interview in 2002 with the late opposition icon JB Jeyaretnam was widely regarded as one of the most revealing interviews he had given 

Mr Jeyaretnam, or JBJ as he is affectionately known, was the first opposition party candidate to be elected as a Member of Parliament in 1981. He had been barred from contesting in elections since 2001, when he became bankrupt following a series of defamation suits

Among other things, he spoke about his uncompromising beliefs, the loss of his wife and his lonely political journey 
WHAT NEXT
At 82 years old, JBJ was discharged as a bankrupt in May 2007 and reinstated as an attorney

The following year, he founded the Reform Party as he took another step towards returning to politics. But he died of heart failure a few months later

In a condolence letter, Prime Minister Lee Hsien Loong wrote about how "one had to respect Mr JB Jeyaretnam's dogged tenacity to be active in politics at his age" and that "our differences were not personal"
 
SINGAPORE — It is 10.30pm on a Tuesday.
Despite waking up some 16 hours earlier, a tired but obliging Mr JB Jeyaretnam sits down in a breezy corner outside the cafe at Oxford Hotel for a second round of interviews.
Taking a pen out of a slightly ink-stained pocket, he writes down some words of appreciation in strong, cursive strokes as we hand him a copy of his book, Make it Right for Singapore.
Then he confides: ''You know, I've noticed that more women than men buy my book.''
''And I know it's not because of my sex appeal,'' he says with a straight face, before breaking out in guffaws.
Such light-hearted banter does not seem to gel with the fiery, chest-thumping, finger-wagging persona that one has come to expect from 76-year-old Joshua Benjamin Jeyaretnam — JBJ — Singapore's most famous political maverick.
Then again, how many sides of the man do we really know?
We know that it was this British-trained lawyer who broke the ruling party's stranglehold in Parliament with a victory during the 1981 Anson by-election. When that happened, taxi drivers reportedly honked in delight on the streets, while airline crew popped champagne overseas.
Since that heady day, by his own estimate, he has had to pay about S$1.5 million to opponents he has defamed.
His bankruptcy prevented him from contesting the last election and practising law.
He now spends his time outside MRT stations, selling copies of his book while imploring Singaporeans in a nasal voice: ''Make it right for Singapore'.'
Things have not always gone right for the man himself. In the past, his nemesis, Senior Minister Lee Kuan Yew, has called him ''a skunk'', a ''mangy dog'' and ''street hustler'' who had to be ''destroyed''.
The name-calling took an interesting turn recently when SM Lee's son, Deputy Prime Minister Lee Hsien Loong, called JBJ a Singaporean who stayed to fight for his beliefs, despite his disagreements with the Government.
JBJ smiles. The compliment is not new, he points out.
''SM Lee didn't think much of me as a politician. Still, in 1990, he said about me, 'He is very tenacious. He will not give up'. So Lee was saying I was a stayer.''
The man has stayed and fought for 30 years. But, spend a couple of hours talking to him and one realises the loneliness he has had to endure, as well as the sheer doggedness that has kept him going.
The topic comes up suddenly as we ask him about friends he spends his time with.
''I don't have many friends,'' he admits. ''Many people are afraid to be associated with me, because they think they will get into trouble.
''As an opposition figure, life is lonely, particularly in Singapore,'' he says.
''But it doesn't bother me. I don't mope around.''
For the past year, he has lived alone at Oxford Hotel along Queen's Street, a tiny building that has seen better days. The owner gives him ''good rates''.
The former Supreme Court registrar, who once had a house in a prime district, admits he has ''lost everything'', with no bank balance to speak of and no proper roof over his head.
He wakes up at 6.30am, listens to BBC and reaches his Sim Lim Tower office two hours later.
At this tiny, run-down office shared with several others, JBJ rummages through the day's work, which includes some legal paperwork for an ongoing court case, in which he is suing his former political party, the Workers' Party.
He crafts statements on issues that bother him, painstakingly typing them on a manual typewriter, before faxing them to the press.
But they are ''hardly picked up by the local media'', he complains.
Lunch is settled in a downtown coffee shop, sometimes with his favourite dish of putu mayam.
He has two sons, each doing well in his own right, but JBJ does not live with them.
His older son, Kenneth, is an economist in London. JBJ says he does not work here ''because of his surname''.
His younger son, Philip, is a well-known author and a partner in a law firm with Ms Helen Yeo, wife of Transport Minister Yeo Cheow Tong. Does JBJ find that ironic?
''He has grown out of his father's shadow,'' he says.
Did he want his sons to join his fight?
''Yes, I used to. But I also respect them.''
Being ''fiercely independent'', he does not live with Philip.
This also means that every weekend, JBJ chugs over to his late sister's house in Johor Baru, Malaysia, where he does his laundry.
And yet, the man who leads this simple life is guaranteed his place in Singapore's political history.
''He has to be recognised as the man who put political opposition back on the political map in Singapore,'' said Dr Ooi Giok Ling, a senior research fellow at the Institute of Policy Studies.
Somehow, that never became a springboard for further gains. JBJ won again in 1984.
Then, he got mired in legal troubles and was barred from contesting for five years.
He re-entered Parliament in 1997 as a non-constituency Member of Parliament but lost his seat after his bankruptcy.
Then, he fell out with leaders of his own party. What went wrong?
JBJ himself does not provide very clear answers. He admits being ''disappointed and sad'' that his party colleagues did not step forward to help him with his money problems.
The stubbornness that has marked his career also shines through when you ask him about whether he should have played his hand differently, perhaps more cleverly.
''How careful can you be? If you believe in something, you can't be ultra-cautious. You can't pull your punches. I'm not that sort of man,'' he said.
His mantra remains the same as it has been for three decades: ''I want the people, not the Government, to draw up the blueprint for Singapore. Political freedom should come before economic freedom.''
But do other Singaporeans agree?
Nominated MP and Roundtable president Chandra Mohan does not think so. ''The citizenry was not quite prepared to back a good cause unless it affects their pockets,'' he said. ''Singaporeans are not political, they are economic animals. In this sense, they don't deserve good politicians.''
Of course, the ruling party did not make it any easier for him by changing constituency boundaries, said Dr Ooi.
''There seems to be more sympathy with his stand on issues than empathy,'' she added.
None of this bothers JBJ, who is convinced that the country needs him more than ever. He says he was willing to bow out of politics until he saw how badly the Opposition fared during the last elections.
The problem, as he sees it, is that the current opposition leaders are ''very weak'' and ''overly cautious''.
''They are reduced to playing second fiddle!'' he thunders.
They don't want to change the PAP system of government, he says. They only want to tinker with some elements.
But it is not good enough for JBJ, who thinks nothing short of a complete overhaul is the answer.
He says people tell him that he should come back and contest elections again.
So three times a week, he sells his books, hoping to chip away at the S$400,000 debt that he still has to clear before he can be discharged of bankruptcy and be eligible to contest again.
His focus is absolute. He is determined to contest the next general election — when he could be in his 80s.
He does not carry a mobile phone. He does not use a computer. And he will not change the way he approaches his task.
''My strategy has remained very constant... because things have not changed,'' he says.
To relax, he reads old English classics. A favourite is Les Miserables, perhaps because he draws inspiration from the struggles of the underdogs and their uprising in the French Revolution.
''Sometimes I think of quitting and staying out of the scene,'' he says. ''But it is only momentary.''
The man says he has no regrets.
Asked what was the biggest blow that the ruling party has dealt him, he says instinctively: ''None.''
He added: ''The hardest blow that life has dealt me was the loss of my wife.''
Margaret died of breast cancer in 1980, some months before JBJ first entered Parliament. She was his first love, he recalls — not counting a French teacher he had a crush on in school.
''There wasn't anyone before her whom I had wanted to marry,'' he says, his eyes turning slightly moist.
He recovers quickly, talks of the future, of the people, of Singapore and of whether he ever thought of leaving.
The answer is no. ''Because, if you want to help Singapore, you have to be here,'' he says.
He does not want to be known as a martyr and he draws strength from Christianity. ''But don't get me wrong... I am not a saint, you know?''