Too 'stressful' to sell on Facebook Live, say some Tekka Market stallholders
SINGAPORE — The first time Mr Muhammad Noor, the co-owner of poultry stall Jamila and Family Chicken Supplier at Tekka Market tried his hand at selling his products on Facebook Live, he was taken aback by the response.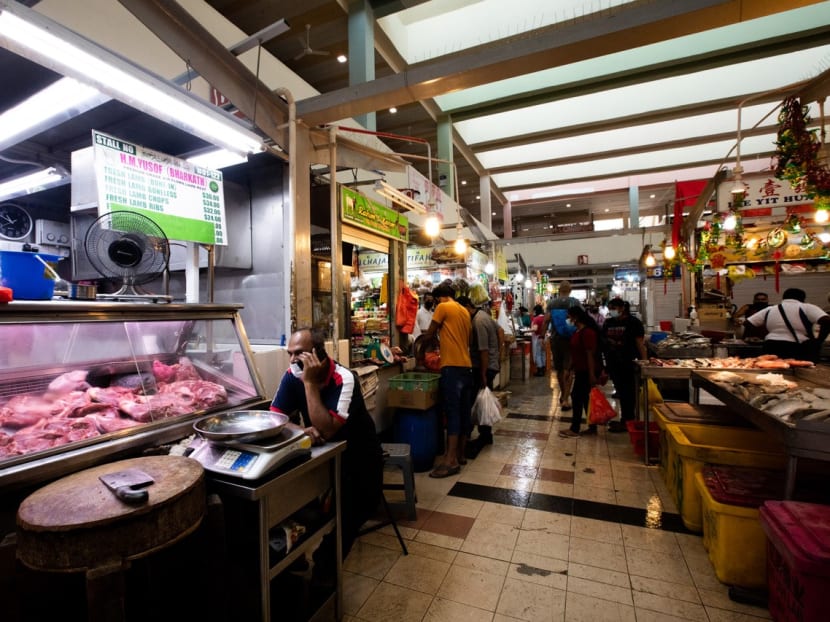 SINGAPORE — The first time Mr Muhammad Noor, the co-owner of a poultry stall at Tekka Market tried his hand at selling his products on Facebook Live, he was taken aback by the response.
Eleven customers bought his products within 10 minutes and the sales were a boost for the business, which saw profits halved to S$400 a day during the circuit breaker period in April and May when stay-home curbs were imposed.
However, after two tries at selling via Facebook Live, the social media platform's livestream function, Mr Muhammad has yet to take another stab at it. 
"Facebook Live is effective but I just don't know how to do it on my own," the 41-year-old said.
Co-owner of the Jamila and Family Chicken Supplier stall, he had taken part in a trial by the Infocomm Media Development Authority (IMDA) to help stallholders expand their reach to customers during the Covid-19 pandemic. 
For the "Tekka Online Market" initiative on May 5 and 12, he was one of the stallholders from the market who took part.
The two sessions were organised with creative agency Blk J and saw participating stallholders sell their wares on Facebook.
Both sessions were hosted by seasoned presenters on Facebook Live such as Mr Max Kee of wholesale company Lian Huat Seafood, who sells fish through Facebook from Jurong Fishery Port.  
IMDA said that the first session had more than 28,000 views in total, with customers placing orders by commenting on Facebook.
While the initiative got off to a good start, interest in it from customers and stallholders alike has waned. 
Several stallholders who took part in the initiative told TODAY that they have not continued using Facebook Live anymore. 
They said that it was because of a lack of technical knowledge and logistical capabilities to organise such sales on their own. 
Mr Muhammad, for example, said that it would be useful if someone could guide him on how to set up and host Facebook Live sessions and how to manage online orders.
Aside from technical difficulties, the stallholders also said that there was the issue of logistics in handling the Facebook Live session while attending to customers in-person. 
Others such as Mr Victor Chia, 44, the stall assistant at Chia's Vegetables Supply, said that it was "stressful" to organise sales through Facebook Live as there was a lot of work to be done behind the scenes. 
This includes consolidating orders, ensuring that customers have made payment and then making arrangements for delivery. 
Mr Leonard Low, 47, the stall assistant of C J Low High Grade Beef Stall, said that he did not know where to find people to help with deliveries at a price that would be appealing to his customers. 
At the moment, delivery fees are about half the cost of a customer's purchase. 
Despite the challenges, at least one stallholder has continued to sell items on Facebook Live. 
Fishmonger Janet Tiou, 58, said that while she makes just "a bit" of sales from the livestream, she is unable to say no to the 10 or so regular customers who tune in to watch her each morning. 
HELP FOR STALLHOLDERS
When asked how stallholders could address the challenges of selling using Facebook's livestream function, Mr Melvin Yong, the assistant secretary-general of the National Trades Union Congress, said that the union is exploring technological solutions to help stallholders.
Mr Yong, who is also Member of Parliament for Tanjong Pagar Group Representation Constituency, had talked about the Tekka Online Market initiative in Parliament earlier this month as an example of how wet market stallholders have found new ways to conduct businesses during the circuit breaker period. 
Mr Yong acknowledged that challenges remained for stallholders, such as handling a surge in online requests during peak periods when some orders may potentially be lost due to a large influx of comments.
He said that NTUC is looking into how to help address such issues and will release details when ready.
In response to queries from TODAY on the difficulties faced by stallholders in sustaining the use of Facebook Live, a spokesperson from IMDA said that the Tekka Online Market initiative had allowed stallholders to better understand how to reach out to more customers using digital tools. 
Citing the example of Ms Tiou and Mr Mohamed Mustafa Shahul Hamid, owner of a mutton stall who is using WhatsApp for orders, IMDA said that their stalls "continue to use digital tools for sales in some way". 
"Our objective has always been to share the many ways that businesses can tap digital (tools) and as such, we are glad that the stallholders have each found their own way to engage with their customers using technology and digital tools that they are comfortable with," IMDA said.
The authority is consolidating tips from participating stallholders online so that other interested wet market stallholders could learn from their experience. ADDITIONAL REPORTING BY LENA LOKE