MRT breakdown: North-South, East-West lines down for hours
SINGAPORE — In what could potentially be the worst MRT breakdown to date, services on the North-South and East-West Lines came to a complete halt for several hours during evening rush hour today (July 7).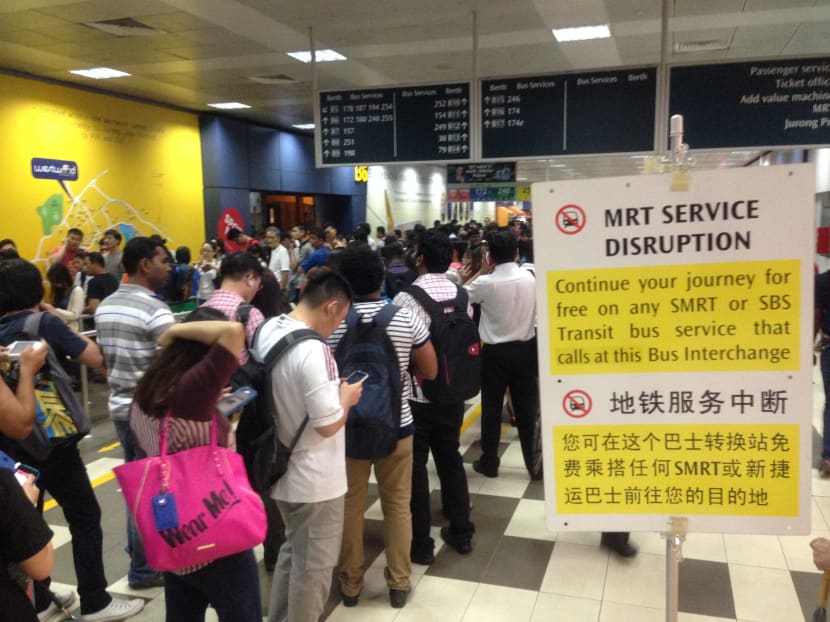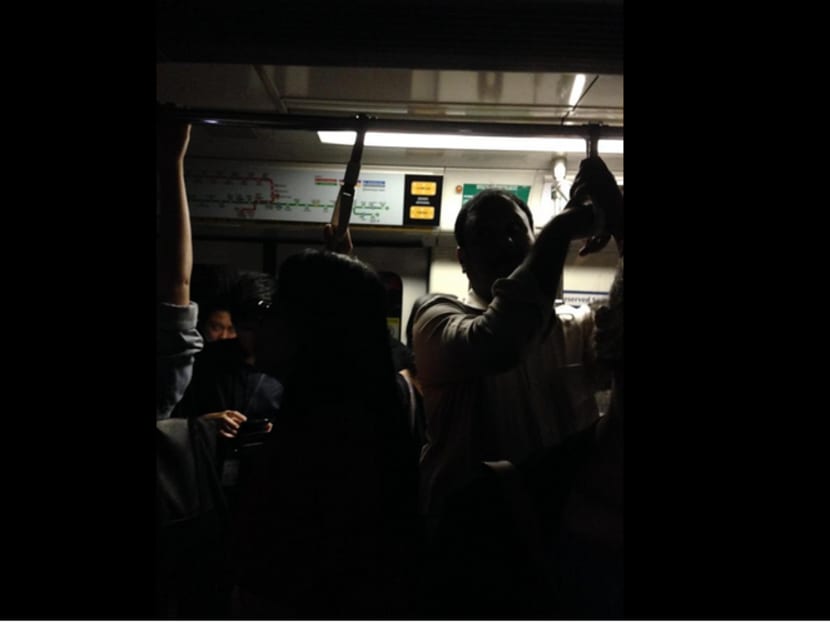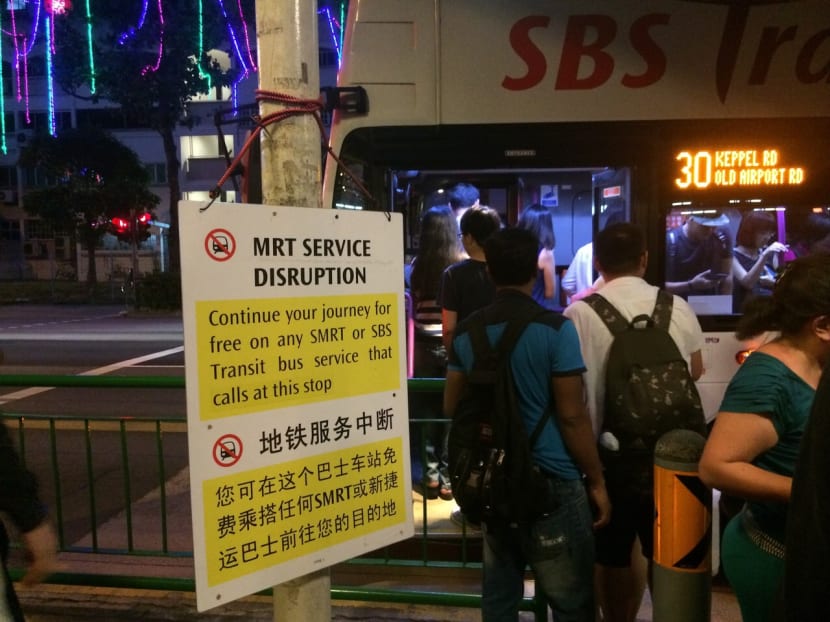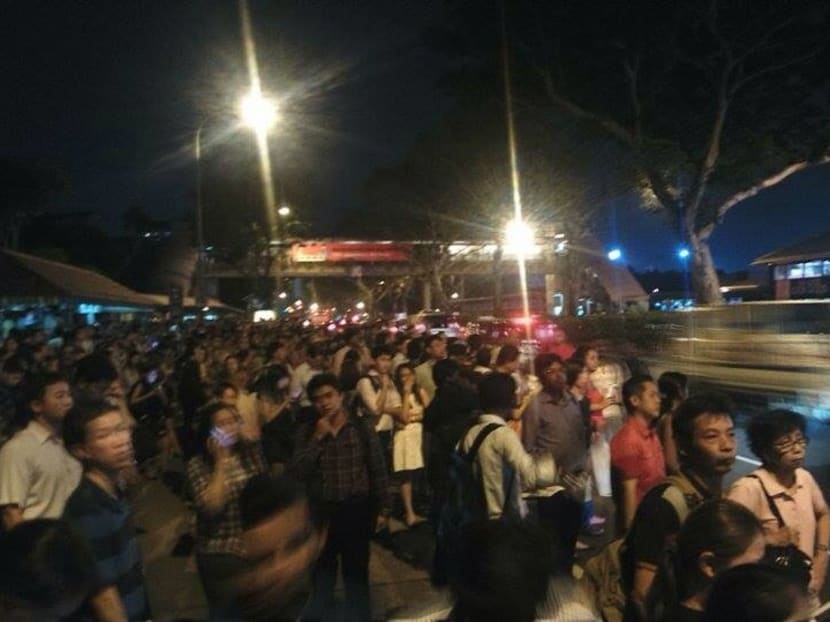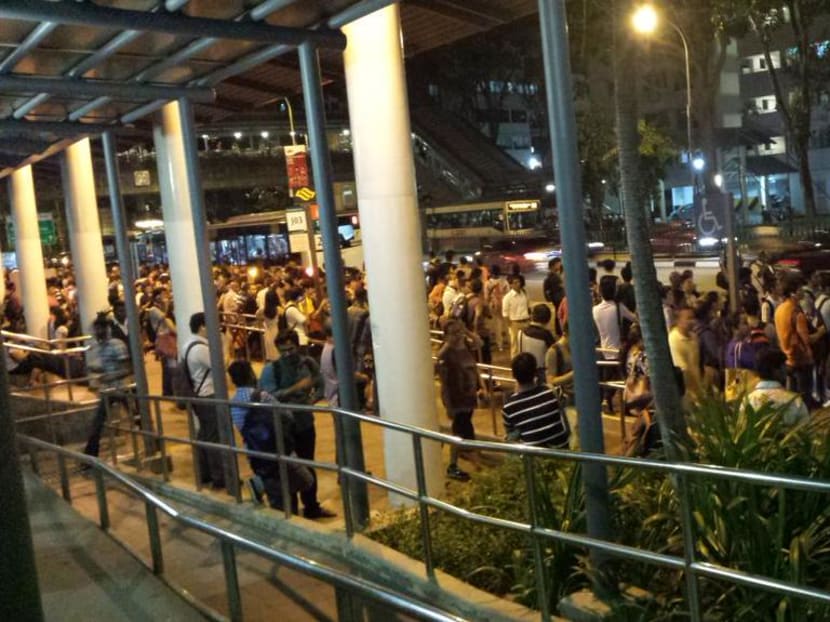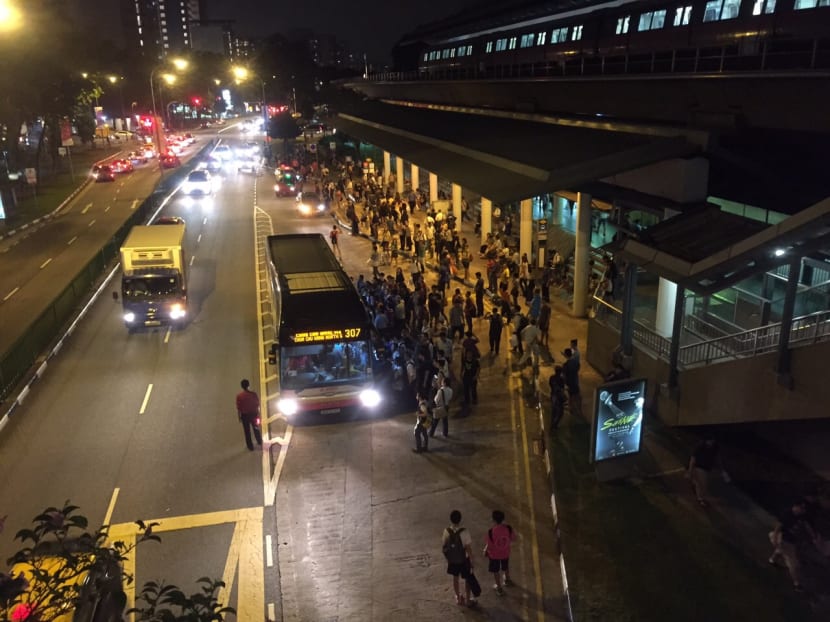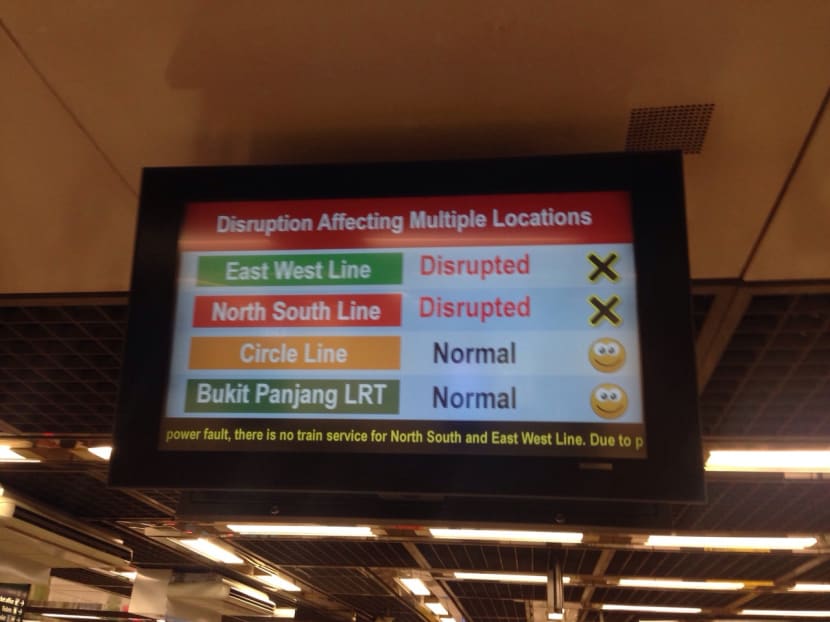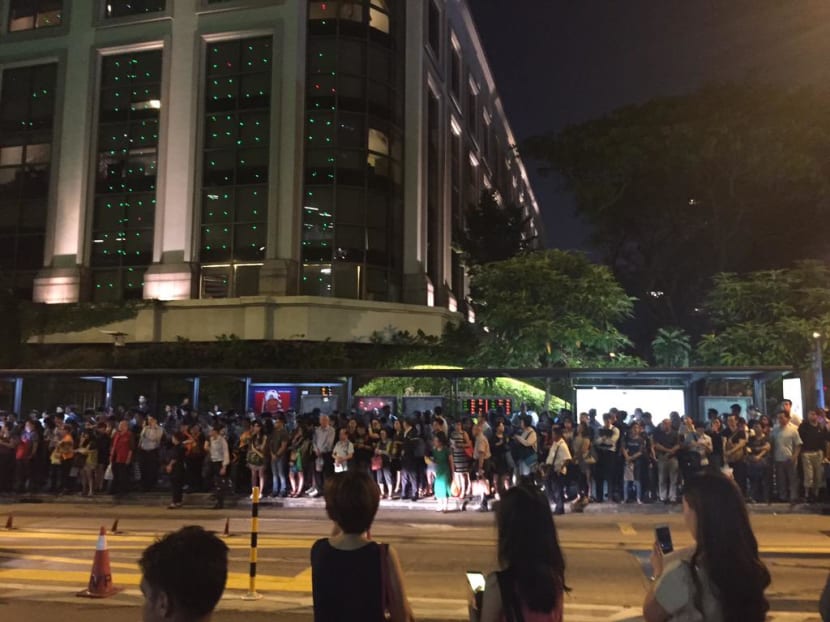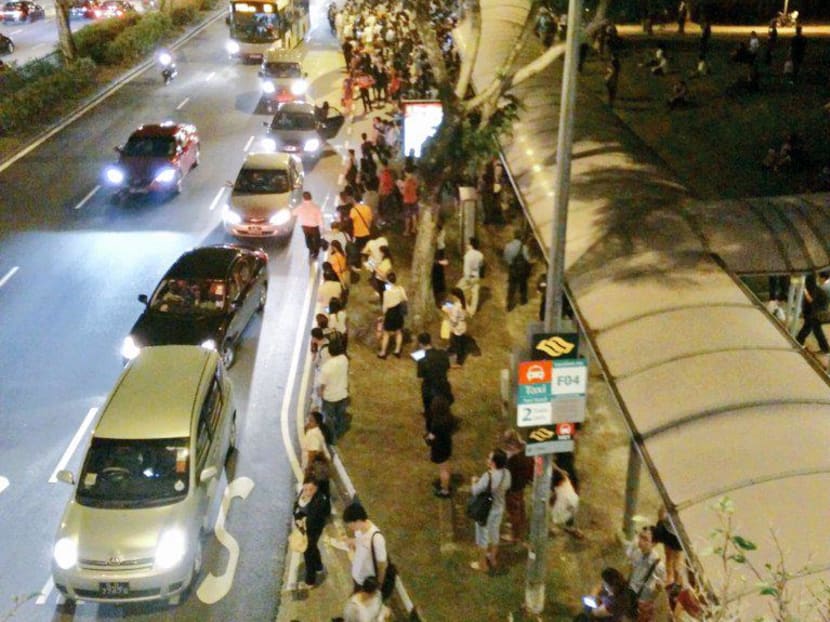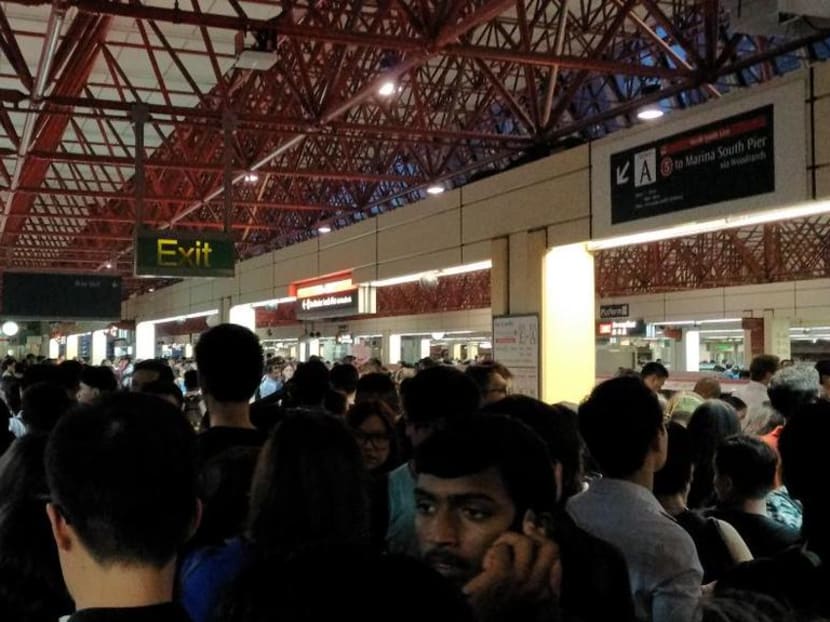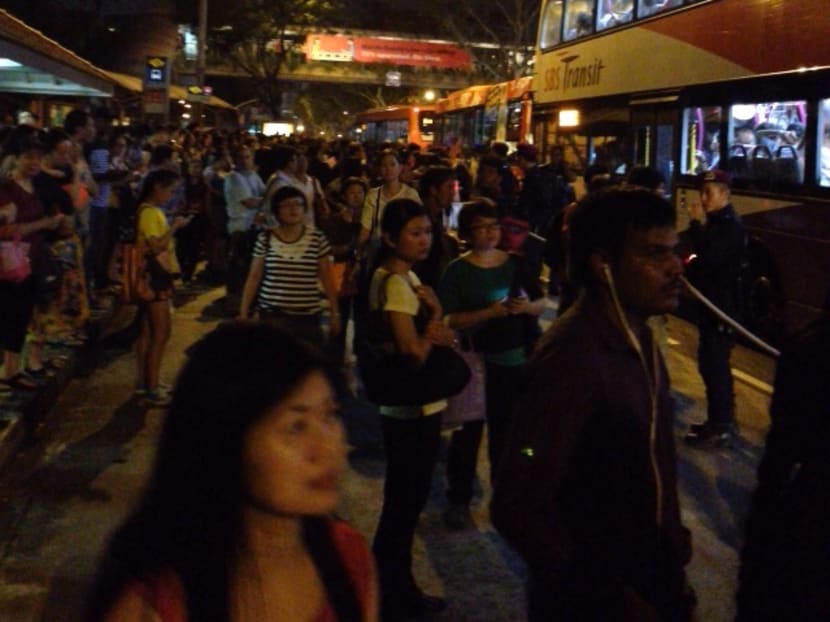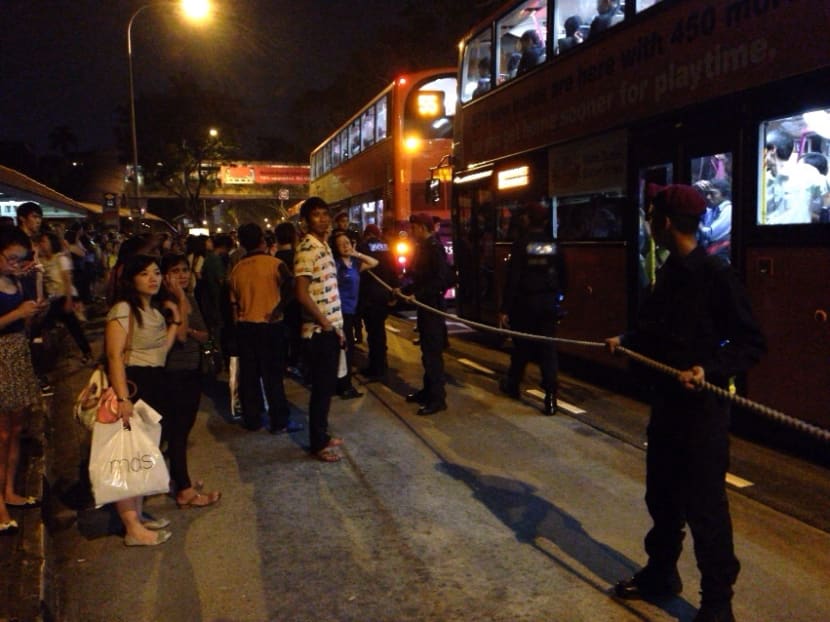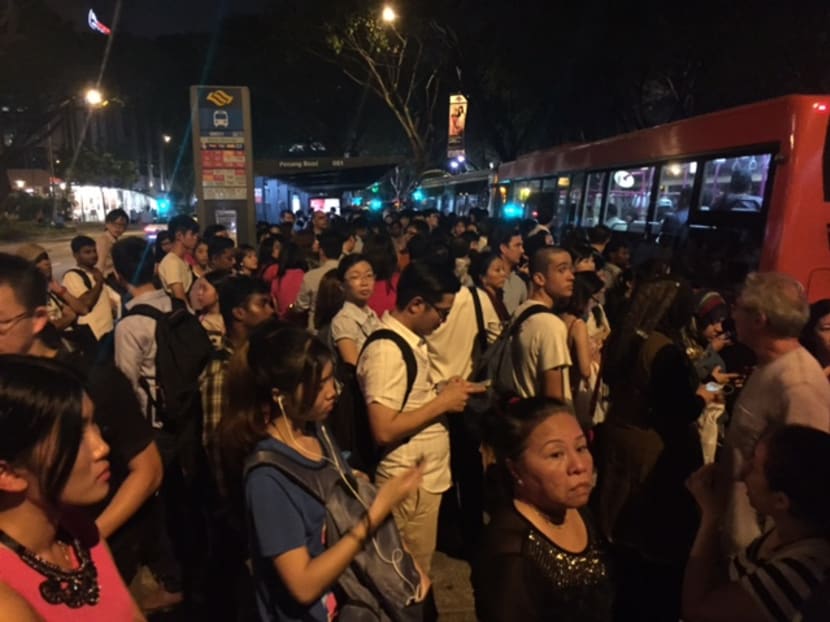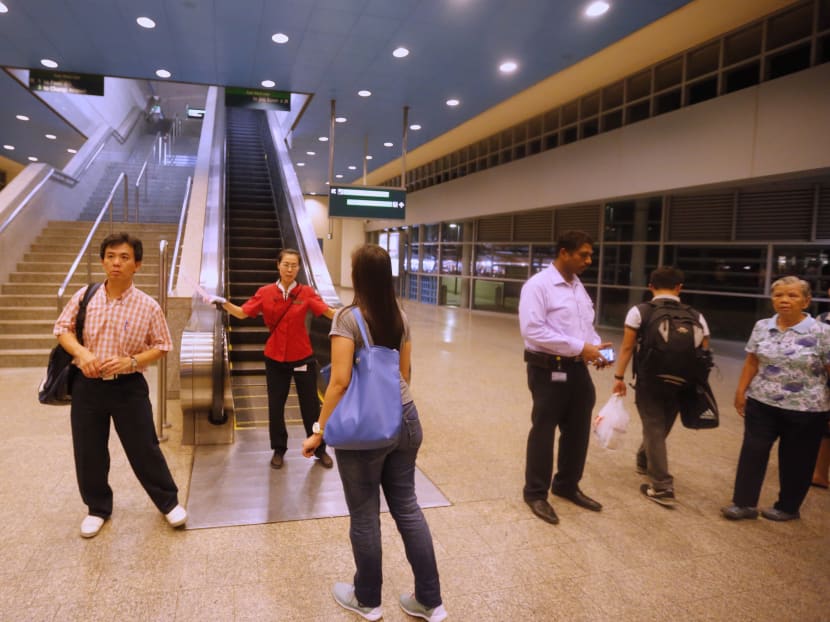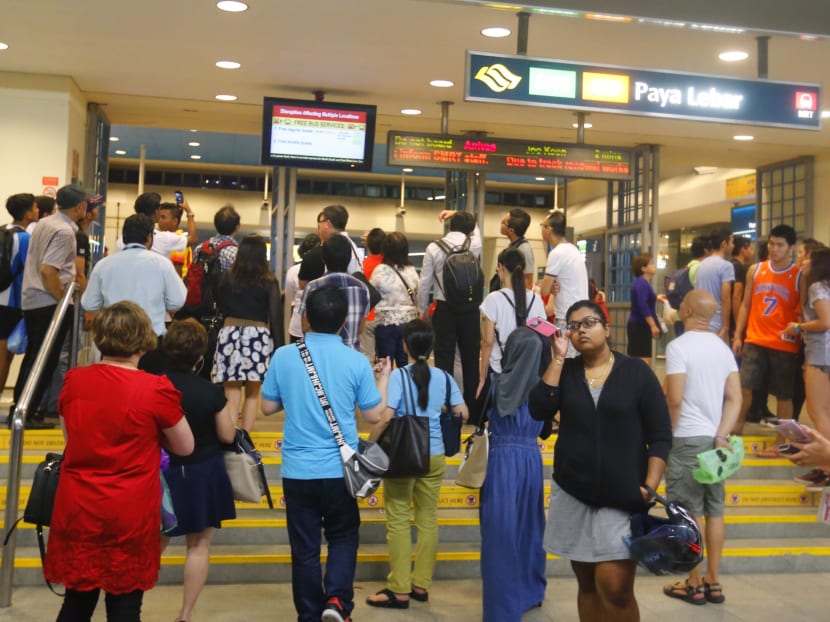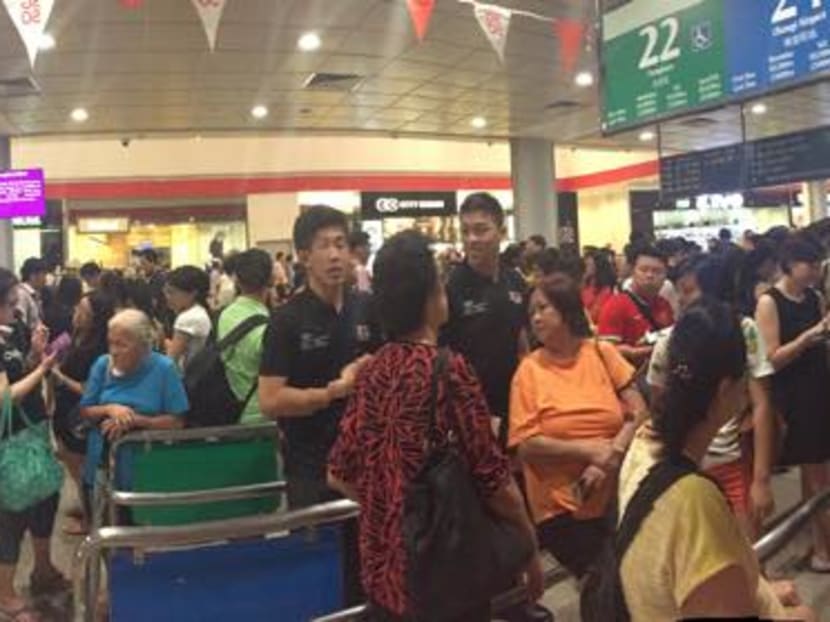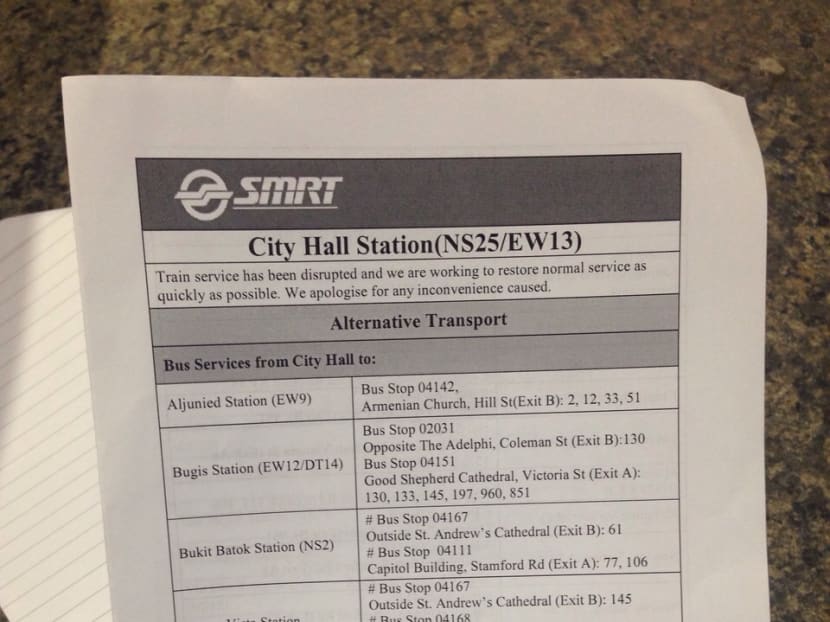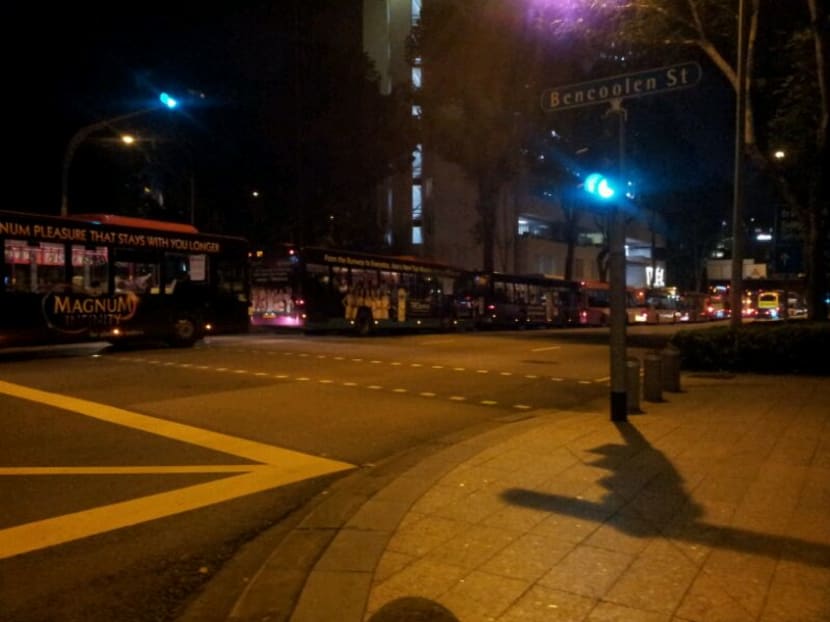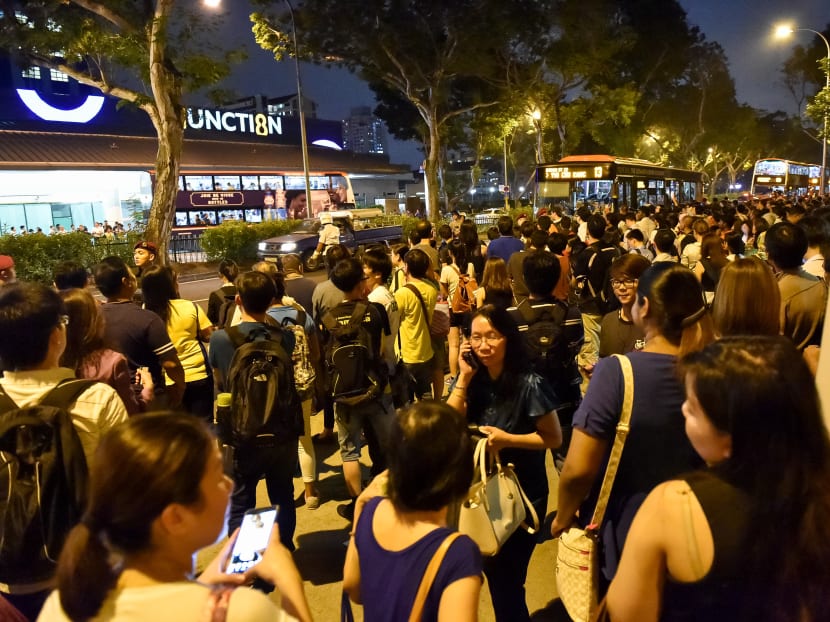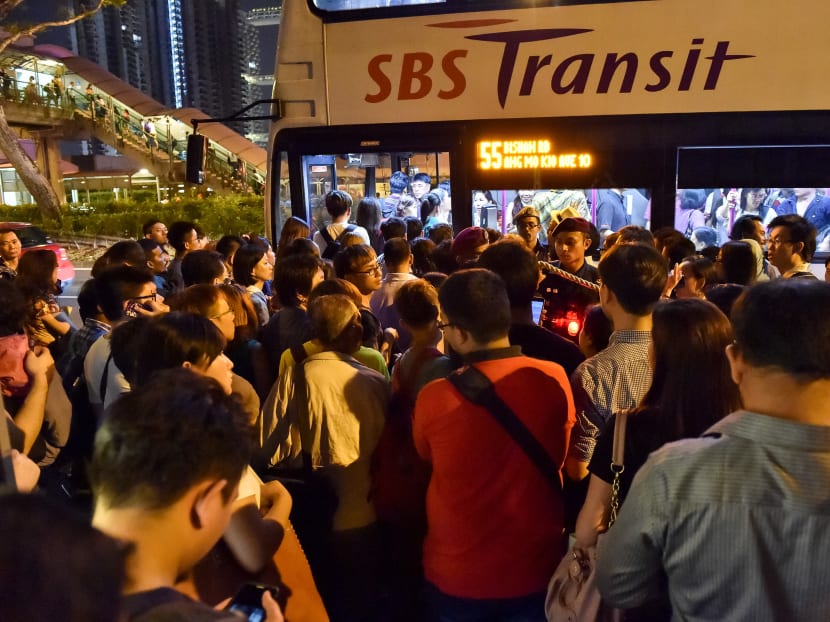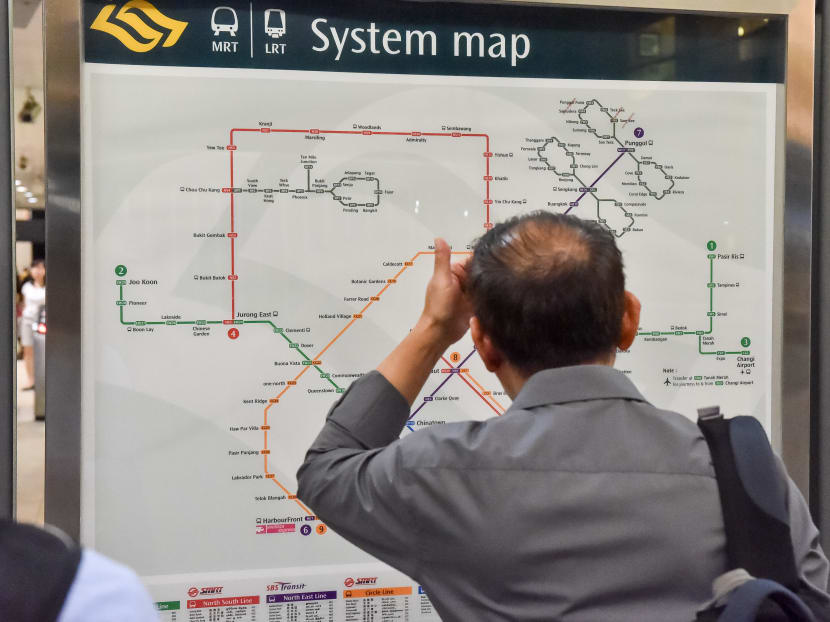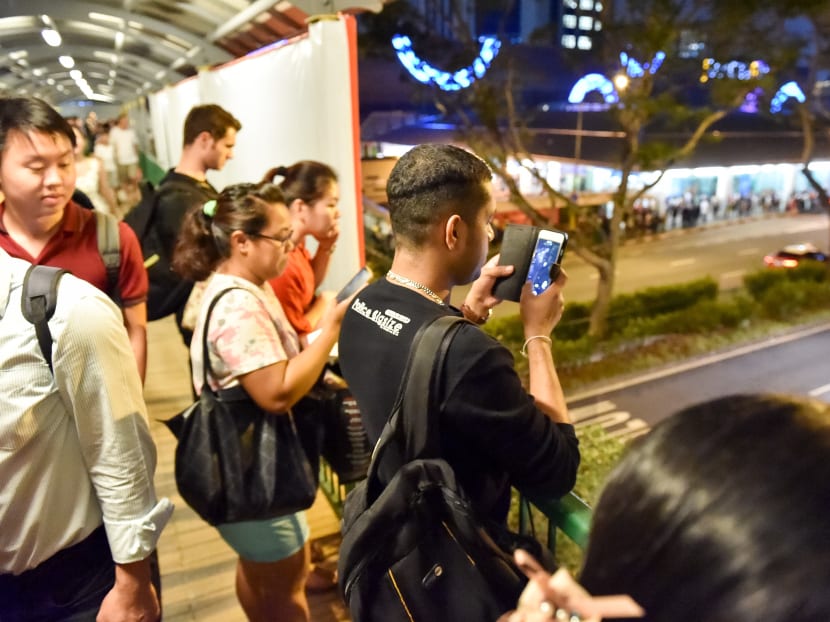 SINGAPORE — In what could potentially be the worst MRT breakdown to date, services on the North-South and East-West Lines came to a complete halt for several hours during evening rush hour today (July 7).
This is the first time services on both lines were affected at the same time. A power fault had affected trains along the North-South and East-West Lines at 7.15pm, said SMRT in a statement. "This led to a system-wide disruption along the entire line."
Partial service was restored at 9.20pm, with the resumption of train services, albeit at a slower speed, on the East-West Line from Pasir Ris to Joo Koon MRT stations. Train service continued to be unavailable on the North-South Line for another hour, with SMRT updating later that services on the line resumed at 10.35pm, at a slower speed.
The transport operator said it would continue to investigate the cause of the power fault.
The Land Transport Authority said in a statement that "preliminary investigations found a faulty train which could have caused the power to trip; arcing was observed on the underside of this train".
"The power surge caused the protective relays across the entire North South East West Lines network to be activated, leading to a shut-down of power across the two lines.  We will continue to comb through the system through the night to see if there could be other faulty trains or other causes," said the LTA, adding that engineers would through the night with SMRT to recover train services and ensure that services run properly tomorrow. 
The authority said it would conduct a full investigation into this incident. The LTA's crisis management team, led by Chief Executive Chew Men Leong, was at the Land Transport Operations Centre to lead the this evening's recovery efforts. 
Writing on Facebook, Transport Minister Lui Tuck Yew said he was " extremely concerned" and had told SMRT and the Land Transport Authority (LTA) to work through the night to fully recover services.
Earlier in the evening, as part of recovery efforts, SMRT engineers conducted tests involving 10 trains at a time to check the entire North-South and East-West lines. At 8.30pm, SMRT said tests were completed on the East West line from Pasir Ris to Joo Koon MRT stations, and SMRT was working towards resuming services on the East-West Line.
"Along with efforts to test the East West line, we are concurrently running tests on the North South line to systematically isolate the source of the power fault and rectify the problem," updated SMRT at close to 9pm on its Facebook page.
"We apologise for the inconvenience caused to our commuters. An investigation into the incident has commenced to determine the cause of the power fault," the transport operator said.
FLICKERING LIGHTS
Some commuters reported flickering lights and "blackouts" in the trains during the disruption.
Mrs Dorothy Chew, who took the train from Raffles Place, said the lights in her train were going on and off. "It was quite scary. I've never experienced a breakdown and this just had to happen on my son's birthday," the 47-year-old housewife added.
Engineer Mr Leow, 35, who took a train from City Hall at 6.50pm, said the lights on his train "began flickering on and off, before it stopped altogether". He had to take a bus back home to Pasir Ris from Eunos. 
On Twitter, some commuters also reported "blackouts" in trains. "Lights went off, train kept stopping! From bedok to clementi takes me 2 hours ?!" tweeted @JiayinIsRandom.
The LTA said free bus boarding was activated at all stations at around 7.23pm. Announcements were made at all MRT stations to inform commuters, and information was disseminated through various channels including social media. All passengers were safely detrained at station platforms, and all available bus assets were activated across the whole island to provide free bus service for affected commuters, with the police helping with crowd control, added the LTA.
At Eunos station, SMRT customer service staff handed out leaflets listing alternative transport services to other stations. Crowded buses lined the bus stop outside the station, with about 200 to 300 commuters clamouring to get on. 
Announcements about the delay were made over the intercom. A fare refund sign was also hung at the Passenger Service Station, stating that passengers could get a fare refund from the Passenger Service Centre "if your journey was interrupted by a service disruption on the North South, East West, Circle Line or Bukit Panjang LRT". SMRT said free bus services were available at all North-South and East-West stations. 
At Bishan MRT station, commuters exiting the Circle Line looked lost as they found out that the North South Line was down. Groups of commuters turned to SMRT officers for directions, and at least 10 SMRT staff were at the station to direct commuters. 
A woman, who only wanted to be known as Ms Trisa, 27, was spotted offering some bread to an SMRT staff. The assistant marketing manager, who was also affected by the disruption, said: "We as Singaporeans need to understand that (SMRT staff) are doing their best. ... They are just humans and they are working overtime (because of this)."
FRUSTRATED COMMUTERS
Many commuters, however, were frustrated by the peak hour crowded and some complained of "chaos". 
Indian tourist Balaji Madabushi, who was with his wife and four-year-old son at Buona Vista MRT station, was surprised that commuters on the Circle Line were not informed of the breakdown. "I was shocked to come out and find out there no more more train service to Jurong East. I didn't expect Singapore to be like that. I've always heard stories from friends and others on how efficient Singapore is."
Ms Janelle Tang, 27, had been waiting for an hour at a bus-stop near Buona Vista MRT station. "It was impossible to board because everyone was rushing towards the buses and the situation was very messy. There were no announcements when I was taking the Circle Line. There could have been announcements so that people can make alternative plans."
At the bus stop opposite Junction 8, a huge crowd extended past the bus stop waiting for buses. Police officers held a rope to regulate the boarding of buses, which were packed with people. Most of the commuters waiting appeared tired but calm, some sat on the grass patch waiting for buses. Among those sitting on the grass was student Amir meerza Khalid, 15. "I'm just waiting for the congestion to ease because I'm not in a hurry to get home anyway. I've finished all my homework," he said. 
Engineer 38, Mr Nelson Teh, said he was rushing home to Admiralty from Toa Payoh at 7.20pm when he was notified that the NSL was down. "Their directions (for the shuttle buses) are not clear," he said. "They said there were free shuttle buses but a lot of people didn't know which exit to take. We had to ask the officers one-by-one." 
He added that the crowd had waited for half an hour with no buses coming. He finally took a bus to Bishan MRT, as he had mistakenly thought only a part of the NSL was down. "I'm not sure what to do now; I think the taxis are also (in short supply)."
Security office Gordon Yeo, 62, whose workplace is at Raffles Place was going home to Toa Payoh. "I waited to board the train at 7.30pm. At first they told us the train journey would take 10 then 20 minutes longer. Then they told us the trains had stopped," he said. "They provide free bus services but these are just the normal bus services ... the queue at the bus shelter is from Fullerton Hotel to HSBC."
Undergraduate Melody Gibson was at Ang Mo Kio station at about 7.45pm when she had to take a taxi. However, there were about 50 people waiting with just three to four taxis in line, she said. "The bus interchanges are crowded too. This has happened a number of times already - SMRT should make better plans to prepare for this. Why are there no shuttle buses?" she added. 
"All trains are down. No shuttle buses in sight. Confusion at the bus stops. Absolute disaster," said twitter user Kwan Jin Yao (@guanyinmao)
A MediaCorp hotline caller, who was at Eunos MRT station at around 7.30pm said that the entire scene was "chaos".
"This is the peak period and the whole train station was so crowded," said Mr Alex Tan, 39. "I reached the train station and saw a huge crowd but there was no signs or noticeboard on anything...I didn't know what was going on. I just saw a lot of people coming down from the trains."
He added that the buses were "packed and overcrowded". ADDITIONAL REPORTING - LOUISA TANG, NG JING YNG, REGINA LEE