Travel firm Konsortium Express and Tours closes due to 'financial crisis'
SINGAPORE — Travel agency Konsortium Express and Tours have ceased operations after going into a "financial crisis", a notice on its website stated on Thursday (Feb 22).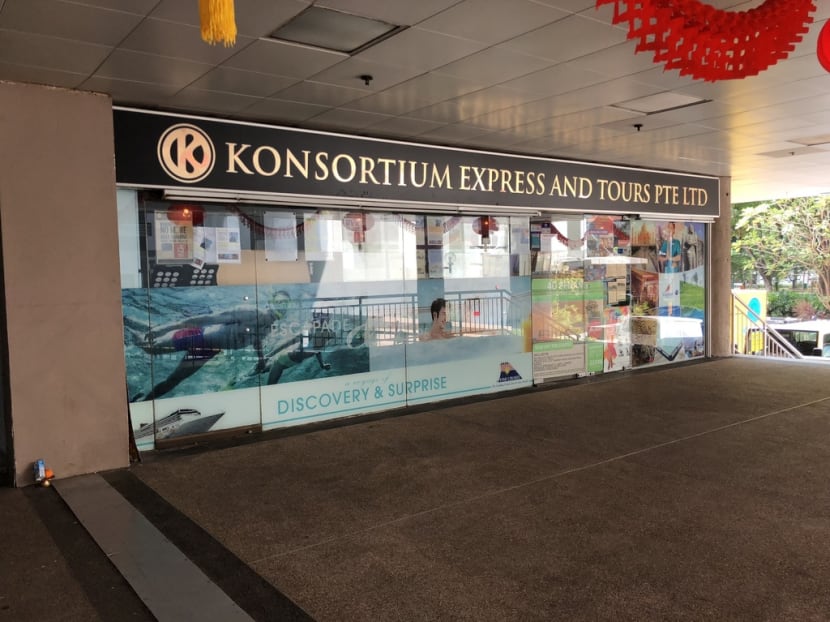 SINGAPORE — For more than a decade, Madam Tan had counted on Konsortium Express and Tours for bus tickets to visit her brother in Singapore for Chinese New Year celebrations.
On Thursday (Feb 22) afternoon, the 69-year-old Malaysian retiree from Penang, who did not want to give her full name, was surprised when she visited the tour agency's premises at Golden Mile Tower to ask about ticket prices, but was greeted with a shut glass door and darkened office interior.
She thought the office was closed for the day, until she was told by a security guard that the company has ceased operations for good.
In a notice posted on its website and on the entrance of its office, Konsortium announced that it was shutting down after going into a "financial crisis".
The notice did not have details of what caused the financial woes, but said that all customers with unfulfilled trips or packages should seek claims from travel insurance, if they have any, or to seek refunds through the Small Claims Tribunal.
"We are deeply apologetic for the sudden closure and we seek your forgiveness," the notice read.
The news came as a surprise to customers such as Madam Tan, who travels to Singapore on Konsortium coaches at least once a year.
"It was quite a reliable company, and its prices were reasonable, too," she said in Mandarin.
Mr Richard Phang, who has been Konsortium's customer for more than five years, said it is "surprising" that the company would wind up so suddenly. The 40-year-old, who said he is in the IT line, was also intending to enquire about coach ticket prices on Thursday afternoon.
In a statement on Thursday night, the Singapore Tourism Board (STB) said that it has revoked Konsortium's travel agent licence.
"Affected consumers who have purchased travel insurance prior to the closure should approach their insurance providers for assistance," STB added. "Consumers who are not covered by travel insurance can seek the help of the Consumers Association of Singapore (Case) or the Small Claims Tribunal, where appropriate."
Responding to TODAY's queries, Ms Ong Ling Lee, STB's director for travel agents and tourist guides, said that the board is looking into Konsortium's closure.
"(We) will not preclude taking further actions should there be reasonable grounds to suspect any contraventions of the relevant legislation," she added.
Calls made to Konsortium Express's main office went unanswered on Thursday afternoon.
OTHER COACH COMPANIES 'UNAWARE' OF KONSORTIUM'S FINANCIAL WOES
A notice posted at Konsortium's shuttered office said that passengers who have bought bus tickets to Malaysia directly with the company may opt to book their seats with six other bus companies, subject to availability of seats. They have until March 1 to do so, and this only applies for outbound trips to Malaysia.
The six bus companies — members of the Express and Excursion Bus Association (EEBA) — are Grassland Express and Tours, Lapan Lapan Travel, Sri Maju Tours and Travel, The One Travel and Tours, Transtar Travel, and WTS Travel and Tours.
A spokesperson from the association told TODAY that the six companies came to the agreement on Thursday morning, after the executive committee convened an emergency meeting upon learning about Konsortium's fate.
It has since received about 10 calls from affected customers enquiring about rebookings.
Transtar Travel's managing director Elson Yap, who is also the treasurer of the EEBA executive committee, told TODAY that about 20 Konsortium customers — most of whom were headed for Genting Highlands — have been rebooked on Transtar or Grassland Express coach services.
Mr Yap, as well as EEBA's spokesperson, said the association was "not aware" of Konsortium's financial issues.
The EEBA, which comprises 16 coach companies, also tried to get in touch with Konsortium's management, but to no avail.
Separately, travel agency Chan Brothers said in a media statement on Thursday it would be assisting affected Konsortium customers by offering discounts to them.
Konsortium had been in business for around 16 years, primarily operating coach services to and from Malaysia and southern Thailand.
Its executive director, Joe Lim, is also a member of the EEBA executive committee.
It is the latest travel agency here to abruptly stop operations.
Last January, Misa Travel, known for its affordable flights and hotel bookings, shut down without warning after 23 years in the business.
Five Stars Tours, which offered long-distance coach trips, also shut down without notice in January 2014, leaving passengers stranded.