Travel vlogger Nas Daily reflects on 'easy' life in Singapore and the pursuit of social media 'likes'
SINGAPORE — Close to four months from the day he landed in Singapore and made it his new home, popular travel vlogger Nuseir Yassin of the Nas Daily videos says life here has been "easy".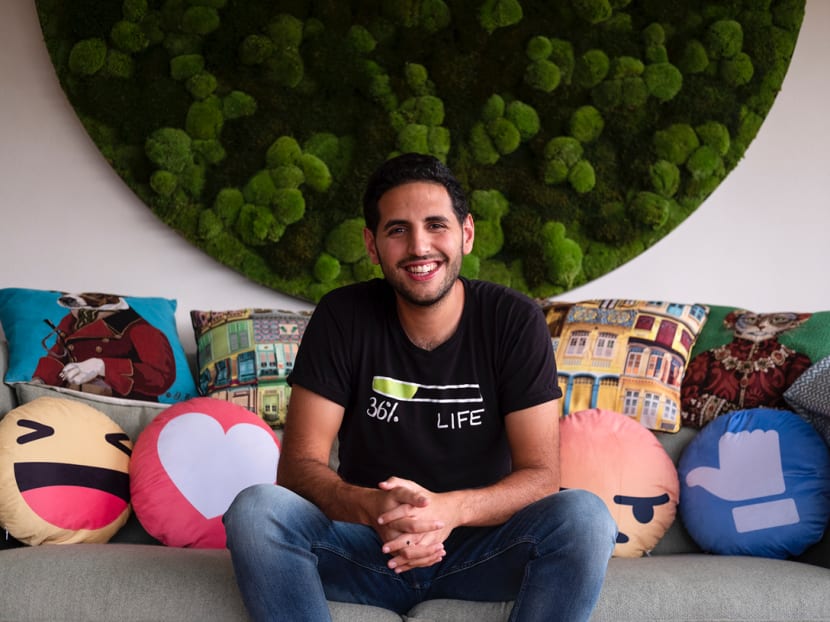 SINGAPORE — Close to four months from the day he landed in Singapore and made it his new home, popular travel vlogger Nuseir Yassin of the Nas Daily videos says life here has been "easy".
In an interview at his home office near Stevens Road, Mr Yassin said: "You know what you have to do, you know what you can do, you know what you can't do."
Living here has also strengthened his initial positive assessment of Singapore's traffic and transportation system, he said, though he acknowledged that some Singaporeans might not see eye-to-eye with him on this.
"There's nothing that stresses you out, and I really like that."
But he does have his gripes. For one thing, he has had to contend with a lot of red tape in the process of setting up his new office and hiring staff, he said.
"If there is one thing I've learnt about Singapore, is that you need a printer. There are so many (expletive) forms that you need to print, stamp, mail. Parts of Singapore are like the 1950s, and the other part is like 2060."
And there are things he misses about his homeland Israel, such as the "chutzpah" of the people, which he says is missing here.
"The definition of it is 'supreme self-confidence'. I miss the unreservedness of Israel. You know how I'm loud in my videos? Yeah, everybody is like that in Israel," he quipped.
"But Singaporeans are more polite, and they are not as loud as Israelis, and I miss that."

HOW TO TELL A STORY LIKE NAS
Mr Yassin, 27, who is in the midst of setting up a permanent office at One-North, also spoke about his plans for a "Nas University", which will teach people how to tell a compelling narrative — and get those "likes".
He noted that there are many courses in Singapore which teach hard skills such as computer programming, but few offer something softer, like the art of telling a story.
"Being able to tell a story is just as important as being able to talk to computers," said the Palestinian-Israeli Harvard graduate, who is known for visiting different countries and documenting his experiences in one-minute videos on his Facebook channel.
He has yet to firm up the business model for Nas University, or the People's University in Arabic, saying it will be a "step-by-step" process.
For example, he said, his company will likely start off by offering courses to teach companies and individuals how to create compelling content.
Eventually, Nas University will be a place for students of any age and from all over the world to pick up such skills, he added.
"Singapore is the best place in the world to test out things", he said, because its small population size makes it the perfect test bed to experiment with new ideas.
If it works here, it can then be scaled up internationally.
"The minute something is a hit in Singapore, it's almost guaranteed to be a hit in nearby countries."
As a first step towards realising the Nas University vision, Mr Yassin will be holding mentoring sessions with local ground-up-initiative Storeys next month, to impart what he knows about content creation.
Storeys, led by the CreativesAtWork media agency and supported by the Infocomm Media Development Authority, is an open call to anyone interested in shedding light on social issues in Singapore using video as a medium. The production costs for the top concepts will be fully funded.
He will also speak live at the Masters of the Century seminar, also on the topic of content creation. Organised by Success Resources over Oct 23 and 24 at the Suntec Convention Centre, Mr Yassin will be joined by other guests that includes the author of Rich Dad Poor Dad, Mr Robert Kiyosaki and the humanoid robot, Sophia.

RELATABILITY, CONFIDENCE AND SIMPLICITY
So what makes a good story, according to Mr Yassin?
First, relatability and confidence, which must go hand in hand, he said.
"If you can tell something relatable with confidence, you win. If you tell something with confidence, (but) it's not relatable, you lose. If you tell something relatable with no confidence, you (also) lose."
Mr Yassin admitted that before he started Nas Daily, he was clueless about how to tell a story.
The economics graduate was a coder with PayPal-owned money-transfer app, Venmo but decided to quit his job in 2016 to travel the world and make videos, as he wanted an excuse to be "friends with everyone in the world", he said.
"As a software engineer, my friends were mostly software engineers. Making videos is an excuse to learn about every industry and meet every type of person in the world. 'Hey, can I make a video about you?' is my first line."
But before he embarked on his journey, he said he was unsure of whether he could pull it off.
"I remember telling (my colleague): 'Man, this is not for me, I can't even tell a joke in a proper way – with a beginning, middle and end. I don't want to do it. I'm not good at this.'
"But because we had to make 1,000 videos in 1,000 days…on Facebook, we sort of had to learn how to tell a story in a relatable way, with confidence, that gets you to click that button (to subscribe), or write that comment.
The second rule Mr Yassin has for how to tell a good story: "Make everything as simple as possible, but not simpler."
He cited the example of the video he made about Malaysia-Israel relations, which was inspired by his own experience of not being allowed entry into Malaysia because the government there does not recognise Israel as a state.
Mr Yassin said he had to find a way to draw people into the story behind this decades-old policy.
"I realised, who understands that boycott policy? It makes no sense. So we literally changed that sentence to: 'Malaysia and Israel are not friends'," he said.
"It's the same idea, but we changed it so that every Malaysian understands this video. And every Israeli understands this video. And I think, that is why the videos for Nas Daily succeeds."
Telling stories in a compelling way is crucial in the ultra-competitive world of social media, he added.
"It's a brutal, brutal system, where if your story is not relatable to me, then I'm not going to share it."

CHASING THE 'LIKES'
As one of the most successful influencers in the world, Mr Yassin is unapologetic about the affirmation culture and pursuit of "likes" perpetuated by social media, which some experts have warned could have detrimental effects on youths' mental health.
"How do you feel about students wanting to get a good grade? Is that a bad thing? So why is getting 'likes' a bad thing?" Mr Yassin counters.
'Likes' are a kind of grading system, he noted: Good content gets higher grades, in the form of more 'likes', than bad content.
"As much as it's easy to hate on the 'likes', it's a great indicator of whether I'm doing good or bad. It's a data-driven world, so if you don't get the 'likes', it just means that what you are creating is not valued enough."
And while it is easy to say that young people should focus on their studies instead of being distracted by their seemingly unproductive hobbies, he said the situation is not always so clear-cut.
"I didn't necessarily like school; I played a lot of video games," he said. "And that is why I have English that sounds like an American. But if I had just learnt English from school, then I would be talking to you with broken English now."