Tremors felt in 42 buildings in Singapore after 6.2-magnitude earthquake strikes northern Sumatra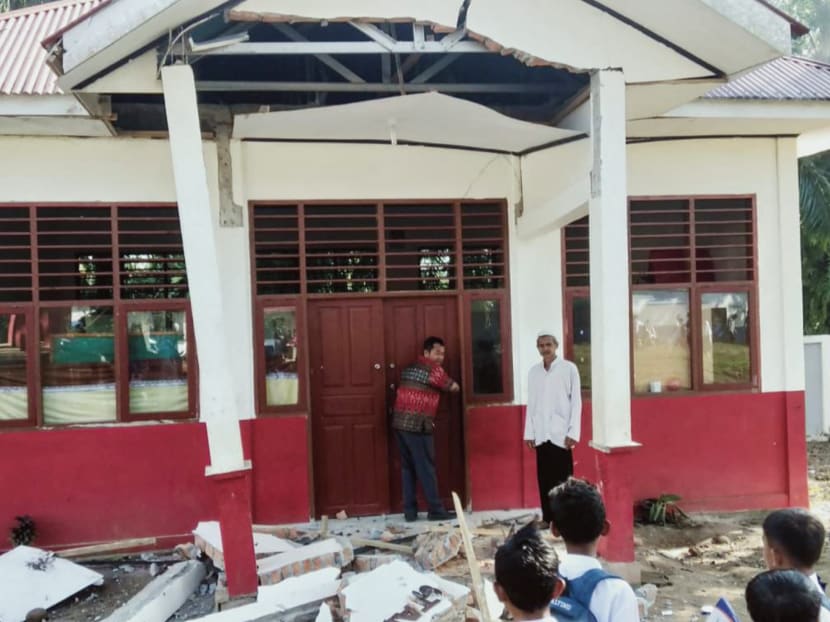 SINGAPORE — A magnitude 6.2 earthquake struck near the western coast of Indonesia's Sumatra island on Friday (Feb 25), the country's geophysics agency BMKG said, though there was no risk of a tsunami or immediate reports of major damage, Reuters reported.
The quake, which was on land at a depth of 10 km (6.21 miles), was felt as far away as Singapore and Malaysia and strongly in the nearby cities of Padang in West Sumatra province and in Pekanbaru in Riau Province, witnesses said.
With the tremors from the quake being felt at several locations in Singapore, netizens took to social media to share their experience of the tremors.
The Singapore Police Force and the Singapore Civil Defence Force also received several reports on the tremors, with the police later saying on Friday evening that all 42 buildings here affected by the tremors had been found to be safe. 
In a Facebook post on Friday morning, the Singapore police said that members of the public who were indoors and felt the tremors have been advised to take cover under a table and to keep away from items made of glass or any hanging objects. 
"They were also advised not to use the lift or use any naked light, in case of a gas leak. For those who were outdoors, they have been advised to keep away from buildings and overhead electric cables," added the police. 
The Meteorological Service Singapore said that the earthquake was detected in northern Sumatra, approximately 438 km west-southwest of Singapore at 9.39 am (Singapore Time).
Meanwhile, according to Reuters, the head of the Indonesian agency BMKG, Ms Dwikorita Karnawati, told MetroTV: "We continue to monitor and advise people to remain on alert." 
"Because this is on land, and the scale is above 6, we are concerned that it could cause some damage." 
In Pasaman Barat, about 17km from the epicentre, a witness told MetroTV patients in a hospital were evacuated from the building.
In an update on Friday evening, the Singapore Police Force said that as at 5.22pm Singapore time, engineers from the Housing and Development Board (HDB) and the Building and Construction Authority (BCA) have completed the inspection on the structural safety of 42 buildings affected by the tremors.
"They have confirmed that the structural integrity of all the buildings have not been affected by the tremors," said the police.
"BCA and HDB would like to assure the public that buildings in Singapore are designed to established building codes and are sufficiently robust to withstand tremors caused by distant earthquakes."
Indonesia suffers frequent earthquakes, straddling the so-called "Pacific Ring of Fire", a highly seismically active zone, where different plates on the earth's crust meets.
Last month, a 6.6-magnitude earthquake struck off Java island, prompting some residents in the capital Jakarta to flee from buildings in panic.
A more powerful 7.4 magnitude quake in Flores Sea triggered a tsunami warning in December, though it caused only minor damage. WITH AGENCIES