#trending: Netizens wowed by 150-drone wedding proposal at Marina Bay Sands but some call it excessive
SINGAPORE — An elaborate wedding proposal featuring a light show carried by 150 drones that unfolded near Marina Bay Sands last Friday evening (March 17) has gone viral on TikTok, drawing mixed reactions from online users.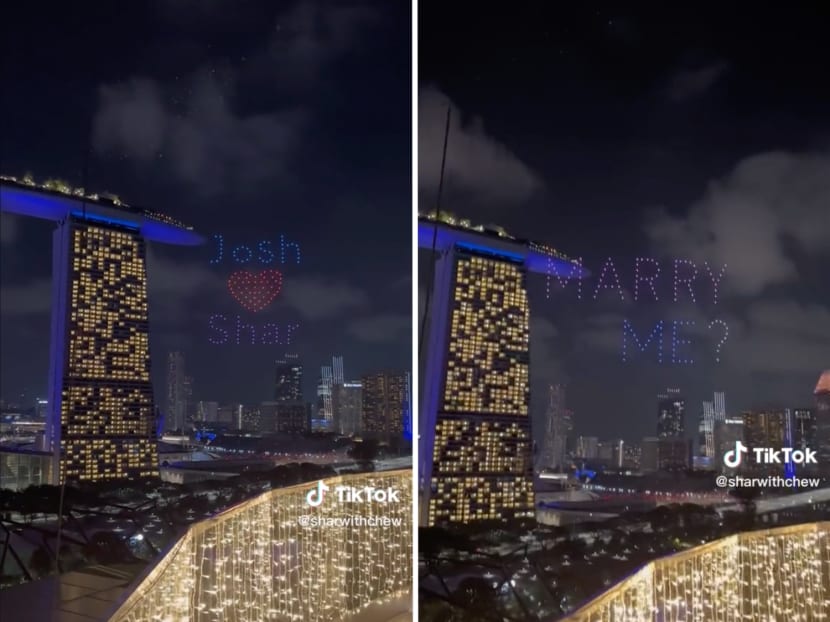 A wedding proposal involving a light show carried by 150 drones near Marina Bay Sands has gone viral on TikTok
Some people were moved by the public and eye-catching expression of love and wished the couple well
Others felt that the spectacle was excessive and a "spoil market" gesture, which refers to someone setting the standard so high, others cannot compete
SINGAPORE — An elaborate wedding proposal featuring a light show carried by 150 drones that unfolded near Marina Bay Sands last Friday evening (March 17) has gone viral on TikTok, drawing mixed reactions from online users.
While many were moved by the "Michelin Star proposal", others dismissed it as excessive and a "spoil market" gesture, a Singlish term for setting the standard so high that it sets unrealistic expectations for others.
The drone show provider Mirs Innovate, which arranged the 10pm show, said that the cost of mounting such a spectacle starts from about S$20,000.
THE SET-UP
Speaking to TODAY, Ms Sharon Graceala said that she and her boyfriend, who are Indonesians and based in Jakarta, had celebrated the one-year anniversary of becoming a couple last month. This was when he surprised her with a trip to Singapore, planned for her birthday on March 17.
What the 22-year-old did not know was that she was in for yet another surprise after arriving here.
Following her birthday dinner, the couple took a walk to Gardens by the Bay — ostensibly to meet his friend who was at a work event — and were met with an elaborate set-up at Marina Bay involving a videographer as well as Ms Graceala's family and friends.
She gushed: "We watched the drone show and he got down on one knee and asked me to marry him — I said yes!
"I was very shocked and excited since I had no idea and the proposal was beyond my imagination."
Ms Graceala, an entrepreneur, said that the couple visits Singapore "very often". She attended college here for two years.
"I think Singapore has always been our second home," she added.
Needless to say, the country has become even more special to them since the proposal.
THE COST
The drone firm Mirs Innovate said that the starting price of S$20,000 is for the drone show alone and does not include venue costs, which can vary across venues as well as peak and off-peak seasons.
For this show, the setting up of the drones was done in a field located behind Marina Bay Sands.
Anyone wishing to replicate the show would also have to engage separate vendors for the set-up and decoration of the proposal venue, as well as photo and videography if required.
Ms Graceala confessed that she had "no idea" how much her fiance had spent on the proposal.
In April last year, Mirs Innovate put on a similar show at Gardens by the Bay for a wedding proposal, also involving 150 drones.
The company's senior sales and marketing manager Amy Ling told TODAY on Tuesday that with the recent relaxation of Covid-19 restrictions, drone proposals are "coming back and becoming more famous" this year.
Ms Ling estimated that Mirs Innovate did around two proposal shows last year, but have already confirmed five so far this year.
The firm also took to social media on Tuesday to post a complete video of the drone light show.
Mirs Innovate needs about two months to prepare for such a drone show, from the initial enquiry to execution.
Since there are strict rules governing the flying of drones in Singapore, it is necessary to "plan carefully and detail the drone flight path, accurate coordinates (and) measurements", Ms Ling said.
Testing is also required a week before the show "to make sure (there is) no interference nearby".
Another drone vendor, 65Drones, confirmed that an activity permit and an operator permit are required from the Civil Aviation Authority of Singapore in order to mount a drone light show.
THE RESPONSE
The proposal first gained traction on March 18, when TikTok user "casanova_del_rey" posted a video showing the back view of the drone show.
As of Tuesday evening, it had amassed 664,800 views and 70,000 likes. Ms Graceala's own video, posted on Sunday, has also racked up 341,900 views.
Awed social media users have flooded the comments section of both videos expressing envy over the romantic "Michelin Star proposal" and offering good wishes for the couple, with some likening the scene to the 2018 hit romantic comedy movie Crazy Rich Asians.
The movie was partly filmed in Singapore and also featured Marina Bay Sands.
However, the proposal also drew criticism for being a "spoil market" gesture.
Others also felt that such grand gestures would just make them uncomfortable, rekindling the age-old debate over public versus private proposals.
Many more pointed out, though, that it is all a matter of preference, questioning: "Why can't we just congratulate the couple?"
One Reddit user said in response to a critic: "Couples show and appreciate love in different ways, it's small-minded to judge it as 'pathetic' without knowing them."
A TikTok user agreed: "A S$50,000 or S$5 proposal is special as long as (it's) sincere!"
As for the bride-to-be, she said on Tuesday that she felt "over the moon and lucky" to have experienced the proposal. The couple plans to get hitched sometime in 2024.