#trending: '50 shades of ivory' – Laura Mercier's beauty campaign in Singapore draws flak for poor skin tone representation
SINGAPORE — An advertising campaign by beauty brand Laura Mercier has drawn flak from online users for featuring people who appear to have lighter skin tones in the campaign videos.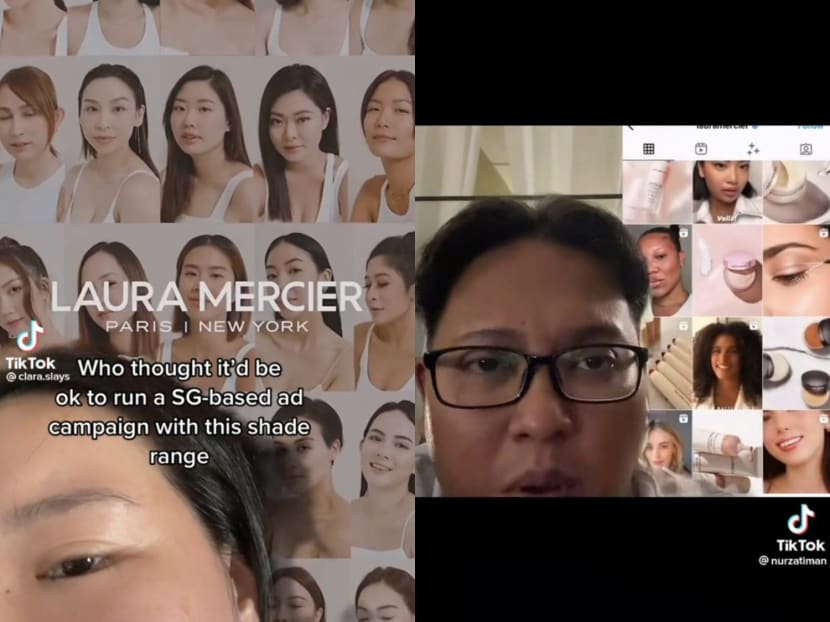 An advertising campaign in Singapore has been criticised by some online users for featuring only social media influencers who have lighter skin tones
This was for beauty brand Laura Mercier's 25th anniversary
The campaign involved 25 Singapore-based content creators of different races
One TikTok user took issue with how their skin tones were all similarly fair
Other users have called the campaign "disappointing", "embarrassing" and "just wrong"
SINGAPORE — An advertising campaign by beauty brand Laura Mercier has drawn flak from online users for featuring people who appear to have lighter skin tones in the campaign videos. 
The campaign, which celebrates the make-up and skincare brand's 25th anniversary, was released last Thursday (Oct 6) via the Instagram accounts of 25 Singapore-based beauty and lifestyle content creators.
They included Melissa Celestine Koh, Christabel Chua, Tina Yong, Munah Bagharib, Roanna Tan, Naomi Yeo and Germaine Leonora.
In the videos, the women individually talked about their favourite Laura Mercier products, as well as their personal memories associated with the brand. They also promoted the release of Laura Mercier's limited edition Translucent Loose Setting Powder in conjunction with the brand's anniversary. 
On the brand's official website, the anniversary edition features a larger "jumbo" packaging adorned with artwork by Brussels-based artist and illustrator Kit Agar. 
Fashion magazine Nylon Singapore reported that the cult-favourite product will be available at Sephora stores as well as e-retailer Lazada between Oct 6 and 15.
The special edition powder is available in two shades (Translucent and Translucent Honey) on Laura Mercier's American website. However, a check on Lazada and Sephora's websites showed that it is offered in only one shade (Translucent) in Singapore. 
Typically, the usual, non-limited edition version of this product is available in three shades — Translucent, Translucent Honey and Translucent Medium Deep.
TikTok beauty influencer "clara.slays" in Singapore reacted to the campaign with a video questioning the lack of diversity in terms of the skin tones of the influencers chosen for the advertisement.
Over a picture collage of the 25 online personalities involved in the campaign, she wrote: "Who thought it'd be okay to run an SG-based campaign with this shade range?" 
Her video has been viewed more than 32,500 times since it was posted on Oct 9.
Echoing her sentiments, a number of TikTok users called the campaign "disappointing" and "embarrassing".
One user wrote: "I see four shades (maximum)."
Another questioned: "Is their new campaign called 50 shades of ivory?"
A top comment by fellow beauty influencer Jezlynne read: "(And) it's not like the brand doesn't have darker shades, they just refuse to showcase darker skin in Singapore."
TikTok user "nurzatiman" responded to the video by "clara.slays" with his own two-part video commentary on the issue.
He noted that the skin tones of the 25 influencers were all similarly light and that he did not see a skin tone similar to his being represented in any of the campaign videos.
"I'm not particularly concerned with what race (the influencers) are because you can be a dark-skinned Chinese, you can be a fair-skinned Indian, you can be a fair-skinned Malay," he said. "The issue is with the colour of the skin".
Comparing the recent campaign to Laura Mercier's official Instagram page, "nurzatiman" pointed out that the latter is filled with images of people with various skin tones, as well as make-up products that cater to different skin shades.
He goes on to say that it is "impossible" that such a campaign could be approved in the "current climate of diversity and inclusivity".
"How can we democratise beauty if people with a skin tone like (mine), are being told that you and your shade are not good enough to be featured in our beauty campaign?" he questioned.
He ended his video by dismissing the lack of inclusivity as "just wrong".
TODAY has reached out to Laura Mercier's parent company Shiseido for comment.