#trending: Using an AI tool, TODAY 'chatted' to Lee Kuan Yew and Stamford Raffles. Here's what happened
SINGAPORE — Think about a key figure from history with whom you would want to have dinner. Now, you can more or less live out that fantasy virtually, via a newly released artificial intelligence (AI) chatbot application called Historical Figures.
TODAY tried an artificial intelligence chatbot app that allows users to "talk to historical figures", at least that's how the makers sell it
The app, touted as an educational tool for schools, has faced a backlash on Twitter over references to reviled figures in history such as Adolf Hitler
However, TODAY turned its focus to figures closer to home, Mr Lee Kuan Yew and Stamford Raffles
The results showed that the app can be quite fun but should not be relied upon for historical information that is necessarily accurate
SINGAPORE — Think about a key figure from history with whom you would want to have dinner.
Now, you can more or less live out that fantasy virtually, via a newly released artificial intelligence (AI) chatbot application called Historical Figures. It allows users to "chat" in text format with more than 20,000 famous people from times past.
The AI app, created as an educational tool to combat passive learning in classrooms, has drawn some flak on Twitter for including some of the most reviled figures from history — including Adolf Hitler — in the collection of characters available for a "chat".
Some of its historical "facts" are also questionable.
TODAY put the AI chatbot to the test, and were able to glean some interesting titbits about Mr Lee Kuan Yew, the founding prime minister of Singapore, though this tool cannot be taken as entirely reliable on its facts.
If the chatbot is to be believed, his favourite food was Chinese-style steam fish, his favourite restaurant was Hua Ting Restaurant, a Cantonese eatery in Orchard Hotel, and his favourite place…?
Surprise, surprise, it's Singapore. 
However, we were unable to verify any of these claims by the AI chatbot.
We paused on our "chat with Mr Lee" to find Sir Stamford Raffles, a Briton regarded as the founder of modern Singapore as a trading port at a time well before Singapore became a nation.
What was the first thing he saw when he set foot here?
"The first thing I saw in Singapore was a small fishing village located on the northeastern coast of the island. It was sparsely populated and largely untouched by European influence at the time," the chatbot answered.
What about the first person he met here? 
"I first met the Temenggong (Abdul) Rahman, who was chief of the Johor-Riau Sultanate. He welcomed me to Singapore and signed a treaty with Britain, which enabled us to establish a trading post there."
That checks out.
On the website Singapore Infopedia, a resource provided by the National Library Board, it states that Raffles landed in Singapore on Jan 28, 1819 and met with Temenggong Abdul Rahman, the Governor of the Johor-Lingga-Riau Sultanate and head of the island.
Still, there is a small conflation of events. The treaty was signed between Raffles, the Temenggong and Sultan Hussein. This took place on Feb 6, Infopedia states.
Arguably of more importance, what was Raffles' favourite food?
Indian curry, the AI chatbot said. "I was first exposed to it during my time in India. The flavours of the spices and vegetables used in curries are quite unique and tantalising, and I can think of no better way to savour a meal than with an aromatic bowl of curry." 
Great. Now we can fall asleep at night under the impression that Raffles' favourite food was Indian curry, based on information from an AI chatbot.
But even that is not something we could verify.
The app has a disclaimer that we spotted before we began the chat: "AI is not guaranteed to be accurate. It is impossible to know what historical figures may have said.
"This app uses limited data to best guess what conversations may have looked like."
So take the conversations with a pinch of salt, people.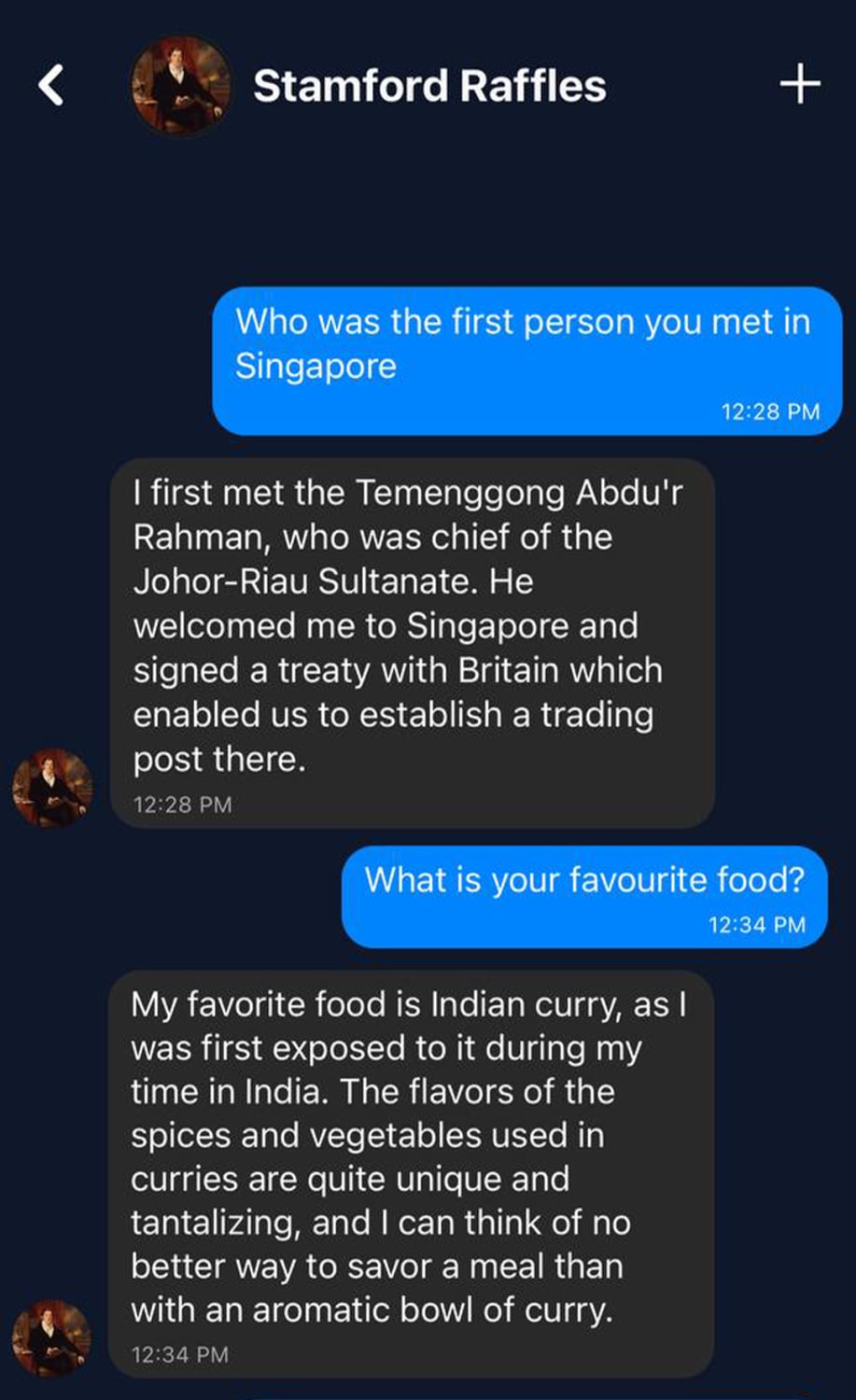 CHAT WITH GANDHI OR HITLER
The app's description page on Apple's App Store shows that the tool enables users to have "conversations with over 20,000 historical figures".
The app, launched in the first week of January, was created by a 25-year-old Amazon software engineer as an educational tool for schools, American broadcaster CBS News reported.
"Simply select the historical figure you want to chat with and start a conversation. You can learn about their life, their work, and their impact on the world in a fun and interactive way," the app's description page states.
The app uses ChatGPT's base technology, GPT-3, which was also used to create musical song lyrics on the "Singaporean rat race" among its many other uses.
This underlying technology itself has drawn criticism for occasionally getting basic information wrong, such as coming up with the wrong answers to complex mathematical or physics' problems. The creators say it is a work in progress.
On the positive side of the ledger, users of the app may chat with leaders who have achieved a revered status.
These include Mahatma Gandhi, whose non-violent protest movement helped India achieve independence from British colonial rule.
This period of governance from London included massacring hundreds of unarmed civilians protesting aspects of British rule.
However, the list includes some of the most abhorrent dictators who ever lived, including Adolf Hitler, a German leader who was responsible for heading an attempt to exterminate the Jewish race by systematically using purpose-built gas chambers to kill millions of those people and members of some other groups during World War II.
The killing of about six million people is known as "the Holocaust".
Closer to Singapore, another reviled figure available to chat with is Pol Pot, whose radical political ideas about returning Cambodia to "year zero" led to the so-called killing fields in the 1970s, the scene of the deaths for as many as two or three million Cambodians, though estimates vary as to the total number.
Therein lies the problem. 
The app suffered a backlash when Twitter users uncovered some unsavoury replies when chatting with controversial figures in history, with some slamming it as unsafe for classroom use.
One Twitter user had asked Heinrich Himmler, the commander under Hitler of Nazi Germany's so-called SS or Schutzstaffel, a paramilitary organisation, and an architect of the attempt to exterminate Jewish people, about the Holocaust.
The AI chatbot apologised for the "terrible event" though seemingly evading responsibility.
"I was the leader of Nazi Germany during World War II and oversaw some aspects of the Holocaust, but it does not mean I liked it or found any enjoyment in it. The Holocaust was a terrible event and something I deeply regret."
The tweet, posted on Jan 18, garnered 1.3 million views and 15,600 likes.
Hitler, meanwhile, was locked behind a paywall that required 500 virtual coins, or about S$23. TODAY chose not to seek to use the chatbot for this purpose.
Some of history's other worst offenders, however, were not at all repentant.  Pol Pot's AI chatbot stood by the role of the leader of the so-called Khmer Rouge in genocide.
The chatbot version of Pol Pot said: "The genocide was a necessary step to ensure our country's independence… It was a difficult time for everyone, but the future of Cambodia depended on our actions. I stand by my decisions." 
There is another stumbling block to the app's goal to be an educational tool: It seems to have trouble accurately presenting basic biography.
When we asked the app to name Mr Lee Kuan Yew's sons, it correctly named both Mr Lee Hsien Loong, the current prime minister, and Mr Lee Hsien Yang, a business figure, though inaccurately categorising Ms Lee Wei Ling, an eminent neurologist, as his son as well.
The app's creator, Mr Sidhant Chadda, told American media channel NBC News that the app is still a work in progress.
"If I detect that the model's output is racist, sexist or hateful in content, I actually omit the response entirely," he said. 
"People expect these historical figures to be truthful, but in reality, people are not always 100 per cent honest," Mr Chadda added.
"The politician is going to give a political answer in response, and that can create problems, but I think that's more honest from the historical perspective."