#trending: 'Chope!' — Singaporeans beg to differ after TikToker says 'chope-ing' culture is unique to Japan
SINGAPORE — Many Singaporeans have taken issue with a viral TikTok video showing the "chope-ing" culture in Japan, where seats are reserved by placing items such as towels and mobile phones on tables. The person who posted the video commented "only in Japan", but Singaporeans quickly jumped into the comments section to point out that it's widespread here, too.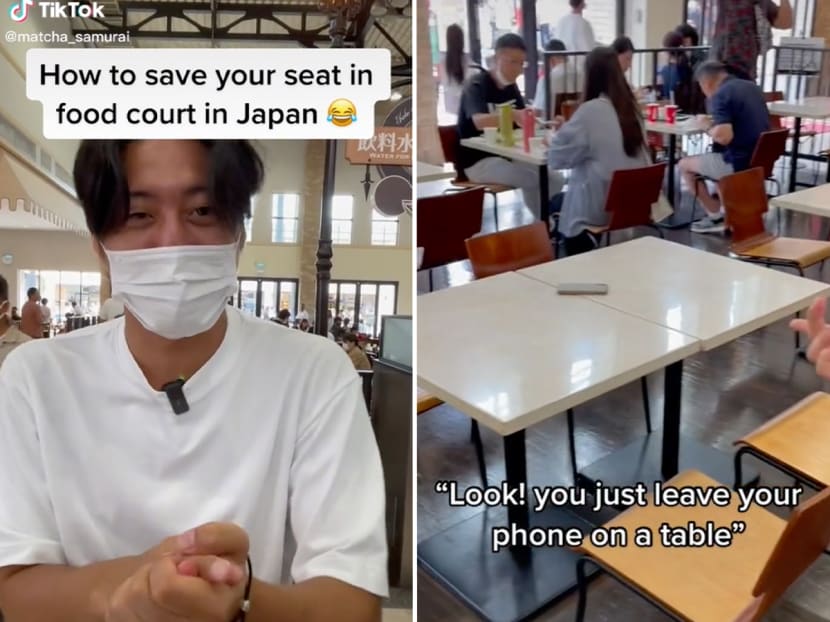 A Japanese content creator demonstrated the "chope-ing" culture in Japan in a TikTok video, where seats are reserved using personal belongings, including phones
Singaporeans were quick to point out in the comments that such "chope-ing" practices are common in Singapore as well
To "chope" refers to the act of reserving a table at a hawker centre or food court using a personal belonging
SINGAPORE — In Japan, you can leave your phone or another personal item on the table to save a seat in the food court, Japanese TikToker Matcha Samurai said.
In his TikTok video, the 24-year-old roams around a food court pointing to personal belongings — shopping bags, a water bottle, an umbrella — used to reserve a seat. It's not clear which city he is in the video.
"Only in Japan," he says, shaking his head in amazement. 
Singaporeans in the comments section were quick to refute his claim, clarifying that the act of "chope-ing" (reserving a spot) is very much ingrained in Singapore's hawker and food court culture as well. 
"In Singapore, we use tissue packs," one TikTok user said.
Another identified its Singlish terminology: "It's called 'chope-ing' in Singapore."
One other user remarked: "You should visit cafes and libraries in Singapore. So many free laptops just lying around for you to take." 
This was a reference to some pesky cafe and library goers in Singapore who like to reserve their seats for extended periods.
The TikTok video posted on Monday (Aug 22) received close to 40,000 likes and about 1,200 comments in two days, generating much discussion over the culture of "chope-ing".
However, some people noted that not all countries are as safe and forgiving. 
"In the Philippines, they will grab your stuff in front of you," one TikTok user commented. 
Another from El Salvador lamented: "He should come to my country, we fight for the chairs in a food court and you have to run and push people to get the table first."
'CHOPE' CULTURE IN SINGAPORE
The Singlish word "chope" is derived from the English word "chop", which means to stamp or mark your spot.
To survive the time-poor lunchtime crowds in packed hawker centres, savvy diners usually make a beeline to the first available seat to "chope" it. 
Their weapon of choice? Usually a tissue-paper packet, an umbrella or an office pass or lanyard. Some even use their mobile phones.
It means they can make the most of their lunchtime sessions and avoid awkward situations such as being unable to find a seat after buying their lunch.
The culture is so ingrained in Singapore that it has its own spot on Singapore Tourism Board's Visit Singapore's webpage, to help bemused tourists decipher the meaning of a single tissue-paper packet left on a hawker centre table. 
The "chope" culture isn't native to only Singapore, it seems. Besides Japan, TikTok users from Norway, South Korea and United Arab Emirates have chimed in to add that they, too, have a culture of "chope-ing", though they don't use the term.