#trending: Man sends remote-control car out to pick up dinner from Ghim Moh coffee shop
SINGAPORE — A TikTok video posted last Saturday (July 23) shows a man using a limitless-range remote-control car to get himself dinner without having to venture outside.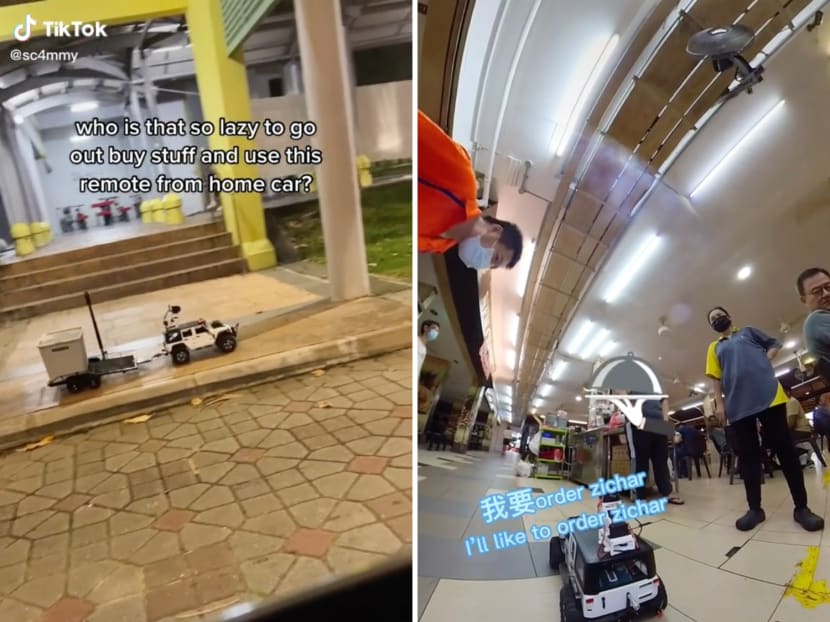 SINGAPORE — A TikTok video posted last Saturday (July 23) shows a man using a limitless-range remote-control car to get himself dinner without having to venture outside. It has since been viewed more than 103,500 times, earning much praise and amusement from online users.
The video, uploaded by a TikTok user known as "Steve Ho", shows footage taken from a 360-degree camera — the Insta360 One X2, the owner says. The camera is attached to the remote-control car as it "narrates" its journey.
"Deployed by my good-for-nothing master to get dinner," the little helper announces in a childlike voice as it sits in a lift of a public housing block in Ghim Moh with a large grey basket in tow.
Exiting at the first floor, it quickly makes its way to a nearby coffee shop, where it catches the attention of a befuddled food stall worker.
Catching on later, he turns to ask the other workers if the car is here to "collect food delivery". The little car then rolls up to a stall, to the laughter of nearby customers and workers.
As the machine comes to a stop in front of a worker, she asked in Mandarin: "What on earth?"
"Hi, pretty lady," Mr Ho greets her via an attached speaker. "I'd like to order a salted egg pork rib king rice."
Though she has to squat to hear him properly, he eventually gets his order through to her. Another confused employee then calls out off-camera: "Money, leh?"
He directs them to look inside the grey basket being towed by the car and they exclaim: "Wah, inside got money, leh!"
From there, the transaction becomes smooth-sailing. While the order is being prepared, the coffee shop workers even strike up a conversation about the use of artificial intelligence (AI) robots and facial recognition technology in China to carry out food delivery.
Once the food and change are both back in the basket, the delivery hits a snag. Mr Ho "accidentally switches to high torque mode" and the car finds itself colliding with a pipe when trying to do a U-turn.
One helpful worker, who goes forward to manually turn the car in the right direction, said: "Wait a bit, don't move, don't move."
In the background, his colleagues yell out instructions.
Safely on its way, the childlike narration concludes: "I am really grateful for all the help given by the staff here.
"My good-for-nothing master, I am coming home."
This was not the first trip the little car has made for its "master". It was really a video made in response to a comment suggesting that Mr Ho send it on a coffee shop to get food.
In an earlier video published on July 15, the remote-control car enthusiast sends his robotic helper to a 24-hour Giant Express supermarket to "buy night snacks".
Having to cross a road to get there, it suddenly realises: "Erm... I have no hand to press the traffic-light button.
"Police, please don't catch me."
The trip proves to be a little tougher, because it takes quite some time for the car to be noticed by Giant employees, even with Mr Ho repeatedly calling for their attention via the speaker.
Again, it takes a few tries, but he successfully completes his order for a chilled bottle of Coke and a stick of Magnum ice-cream, with the help of two employees.
A bemused witness captured footage of the little car passing by on its way home, asking: "Who is that, so lazy to go out (to) buy stuff and use this remote-from-home car?"
The video ends with the remote-control car back outside Mr Ho's flat, where he shows off his snacks to the camera.
TikTok users have responded with praise and admiration for Mr Ho's inventive setup, which includes the 360-degree camera, speakers, cash and a mobile phone in the basket to provide a data hot spot for the car's limitless range.
One top comment noted: "Cool. But (it) looks like (it's) creating extra work for staff as well."
Mr Ho was full of praise for the employees during both trips, saying of the Giant employees: "They were extremely patient once they confirmed that I was getting snacks from there... kudos to them."
One hopeful student commented: "This (is) the kinda stuff I wanna innovate with my electronic engineering certificate." 
Many viewers also wanted to know how he had set up his car, but Mr Ho called it a "trade secret".
Others had some suggestions for improvement, such as putting a note in the basket detailing the specifics of the order, attaching an LED panel or signal light, and upgrading the speakers so that he can be heard better.
There were people concerned about theft despite the GPS tracker and live camera feed that Mr Ho has installed.
"It's my first test run with the whole system," he noted in the comments of the first video. "So yeah, (I) will try to keep improving... Thank you for your suggestions!"
Another common question was how does the remote-control car press the button in the lift to go up or down.
Mr Ho explained that on its way out for errands, he will press the lift button on the floor where he lives and when the lift door opens, he will press the button in the lift for the car to go down. On the way back, he will remotely drive the car into the lift and press the button at the floor where he is for the lift to stop at the floor.
As some of the comments noted, a video of a similar gadget went viral in February 2020, in which another remote-control car enthusiast in China used a self-modified car to buy steamed buns because she did not want to step outside during the Covid-19 outbreak.
She wrote her phone number on the attached box so that the shop owner could charge her electronically and even sprayed her car with disinfectant upon its return to ensure fully contactless delivery.
Some TikTok users advised Mr Ho to try using a drone instead, but he said that he was limited by drone control regulations in Singapore: "(In) many urban places, (you) can't fly (a) drone due to restricted airspaces.
"If not, I (would) also want to play with (a) drone."
One joked: "If (the) Government sees this and adopts this idea, I think in future, (for) all remote-control toy cars, (you) will have to buy COE (Certificate of Entitlement) before you can drive on foot pavements."
Fans are looking forward to more of Mr Ho's experimental runs with his little car, which has yet to be named.