#trending: TikTok video shows filthy, litter-strewn Chinatown, drawing criticism from netizens
SINGAPORE — A TikTok video posted by a student shows a filthy, litter-strewn Chinatown and People's Park Complex. The date of when the video was filmed was not given, but he said that Singapore is known as a Garden City and his video shows that this area can be a far cry from the spick-and-span country that Singapore is known to be.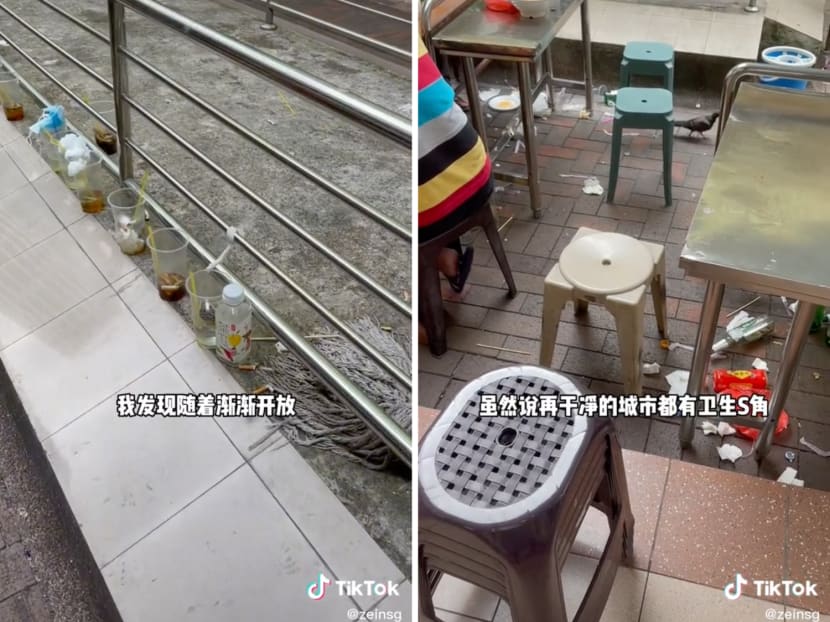 SINGAPORE — A TikTok video uploaded last Saturday (July 16) has drawn attention to the filthy state of Chinatown here, or at least its condition when the clip was filmed.
Posted by a user called "zeinsg", who is a "Chinese student studying in Singapore", the video shows litter strewn across various Chinatown MRT station exits and the nearby People's Park Complex. The user does not state the date the video was filmed.
"This might just be the dirtiest and messiest place in Singapore," the student says in Mandarin, observing in the video that the area has become more congested since the gradual reopening of the country's borders.
"The hygiene standards are appalling."
Displaying used plastic cups lining a walkway in front of People's Park Complex as well as disposable cutlery and waste on the floor of a hawker centre, he continues: "I can't help but sigh. Is this still the same place that people recognise as a world-renowned Garden City?"
He goes on to describe what Chinatown in different cities and countries means to him and his fellow homesick Chinese immigrants.
"Chinatown is not only a window for people around the world to understand China, but also a home base for people from China who dearly miss home. It holds a special place in our hearts."
The student added that he and his friends from school often go to Chinatown to eat, as it plays host to some of the most authentic Chinese food outside of their home country.
However, he expressed deep disappointment at the state of the place when he visited.
"All I can say is this: Everyone, when overseas, please be mindful of your own behaviour."
The video has been viewed more than 239,400 times. Online users have responded with shock and disappointment at the footage, calling for governmental action.
On Hardwarezone forum, users shared their own experiences in Chinatown. "There was once I wanted to go in (to People's Park Food Centre) and jiak (eat)," one wrote.
"Go in walk one round... immediately... no appetite due to the filth and mess everywhere."
Some noted that this is far from a new development, and not much has changed over the years despite public awareness campaigns. "This problem very long already, leh. Like almost 10 years. The management put up banners also like that," a comment read.
One Hardwarezone user remarked that rather than a "clean" country, Singapore is a "cleaned" country.
"(If) you remove the cleaners, this will be islandwide."
However, another suggested that the cleaners on duty at the Chinatown area may work only in the late night or early morning, leaving rubbish to pile up during peak visiting hours.
"I was there in the morning of Friday (July 15) as I had to attend a meeting around there," one wrote. "The place was very clean."
Online users also pointed out places that they believed should be monitored for cleanliness, such as "the staircase (of Golden Village Yishun) after movies" and "kopitiams" (coffee shops) at Bishan.
Across social media platforms, users agreed that the most effective way to maintain cleanliness in these areas is to punish "irresponsible" litterbugs.
"The only way to educate is to fine (those who litter) so they will feel the pinch and help keep the place clean," one wrote.
For now, TikTok users have taken to tagging the official account of the National Environment Agency (NEA) in the comments of the video, asking the governmental body to "follow up and provide updates".
TODAY has sought comment on the matter from NEA.