Trouble at the top again for NKF, 11 years after damaging scandal
SINGAPORE - The sacking of Mr Edmund Kwok as the National Kidney Foundation's (NKF) chief executive marks the second time in over a decade that the non-profit organisation's top leadership has gotten into trouble.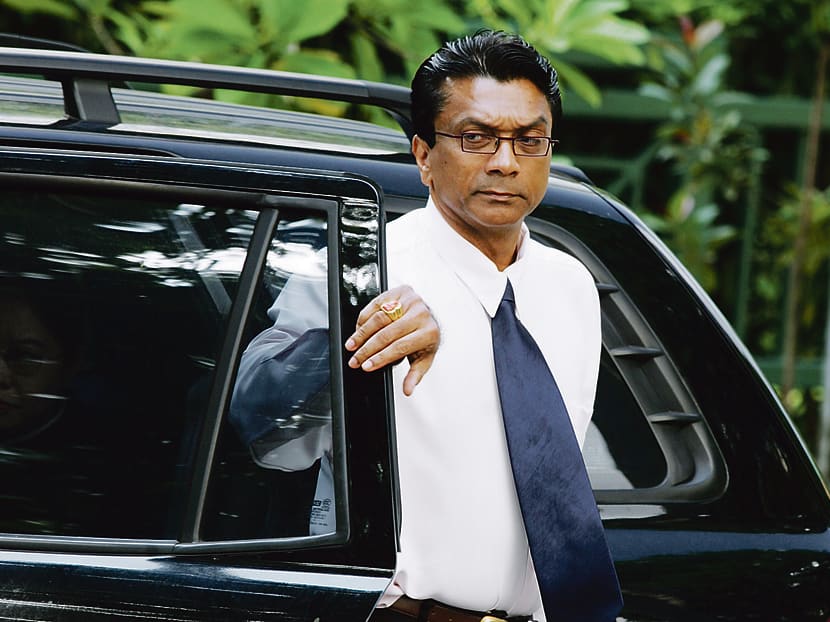 SINGAPORE - The sacking of Mr Edmund Kwok as the National Kidney Foundation's (NKF) chief executive marks the second time in over a decade that the non-profit organisation's top leadership has gotten into trouble.

The charity, one of Singapore's largest, was rocked in 2005 by revelations of former CEO TT Durai's extravagance and mismanagement during his tenure – actions that saw him later investigated by the authorities and jailed. The public fallout severely damaged the charity's reputation and prompted it to halt its star-studded televised fundraising shows. It has spent the last 10 years rebuilding public confidence.

Details surrounding the sacking of Mr Kwok, 58, remain sketchy. NKF cited "personal indiscretion" on his part, but assured that the outfit's finances, operations and services would not be affected. 

The Health Ministry said it had been informed of Mr Kwok's sacking and would work with NKF to ensure services for patients are not disrupted. It did not elaborate.

Details of the first scandal over a decade ago stunned many Singaporeans. In 2004, NKF, then under Durai's management, sued The Straits Times newspaper for a report that said he enjoyed unusual perks and luxuries, including a set of gold-plated taps in his office bathroom.

In the ensuring trial the following year, it emerged that Durai earned S$25,000 a month, received annual bonuses that amounted to S$1.8 million between 2002 and 2004, used NKF funds to maintain his personal car (a Mercedes-Benz 200), and travelled frequently on first-class flights.
 
He also served in paid directorships the NKF board did not know about, under-declared the amount of funds that the charity possessed, and exaggerated the number of patients under NKF's care to get more donations.

Durai dropped the suit on the second day of the trial but the revelations had by then sparked massive public outrage. On July 14, 2005, Durai and the entire NKF board resigned. A new NKF board led by Mr Gerard Ee was appointed to rebuild public confidence.

Durai, after being investigated by the Commercial Affairs Department (CAD) and the Corrupt Practices Investigation Bureau (CPIB), was charged in 2006 for intending to deceive the NKF over two payments he approved. He was sentenced to three months' jail and released in August 2008.

NKF also later filed a civil lawsuit to recover at least S$12 million in salaries, benefits and failed contracts from Durai, Durai's business associates and three of the charity's former board members. Durai eventually repaid the S$4.05 million he owed NKF in full.

For about six years, the NKF did not hold any major fundraising activities, as the charity focused on enhancing fiscal prudence, maintaining accountability and transparency, and improving on its services. 

It downsized its staff, including the fundraising department. Then-CEO Eunice Tay, who was appointed in 2006, called the new NKF "spartan but safe". The charity fell into the red for the first time in  2009 with a deficit of S$900,000, but rebounded by 2010 with a surplus of about S$5.8 million.

In 2013, having steered the NKF into calmer waters, Mrs Tay handed the reins over to her then-chief operating officer Edmund Kwok, who has two children in their 20s. 

Mr Kwok began his career as a transport planner at SBS Transit before joining the healthcare sector in 1991 as a manager in the admissions department at Tan Tock Seng Hospital. He went on to serve as director at the Institute of Mental Health and TTSH, and was Parkway Healthcare's vice-president of oncology before joining the NKF in 2012.

Under his watch, NKF has set up more dialysis centres and launched patient advocacy programmes. By the end of this year, NKF, which serves nearly 4,000 patients, would have opened two more dialysis centres, bringing the total to 31 centres. It also announced ambitious plans for a  S$12 million renal centre that would go beyond dialysis and provide counselling and services for other related conditions, such as diabetes.

In its statement on Wednesday, NKF said a three-member executive committee appointed by the board will take over Mr Kwok's duties and responsibilities until mid-December. The team is headed by its chairman Mr Koh Poh Tiong and supported by board members Mr Bennett Neo and Mr Johnny Heng.

Mrs Tay, the former NKF CEO, will take over thereafter until a new chief is found. The NKF said the search for a new CEO "will commence soon".