Firms which don't give workers enough rest taken to task: MOM
SINGAPORE — In the last three years, an average of about 150 employers a year were found to have breached the limit of overtime work for its workers.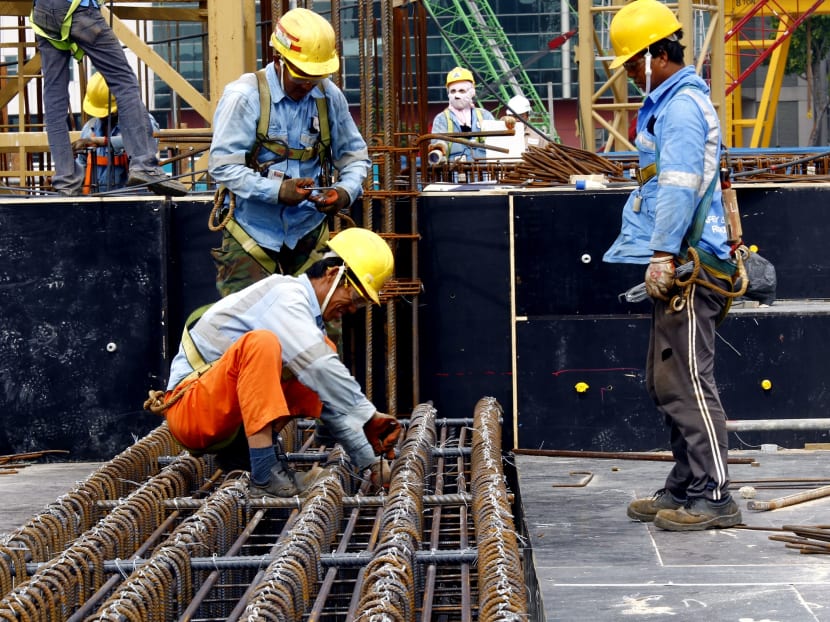 SINGAPORE — In the last three years, an average of about 150 employers a year were found to have breached the limit of overtime work for its workers. 
These errant companies, which have been warned, fined or prosecuted, have also had their "privilege to hire foreign workers suspended", a Ministry of Manpower (MOM) spokesperson said in response to TODAY's queries on a survey by migrant workers' welfare group Transient Workers Count Two (TWC2) which flagged concerns about insufficient rest for foreign workers. 
The TWC2 survey of 577 male foreign workers — which was conducted in November last year and published recently — found that almost 20 per cent of them work at least 12.5 hours each day, among other findings. This translates to an average of 3.5 hours or more of overtime work a day, potentially exceeding the legal cap of 72 overtime hours per month. The situation was particularly acute among the construction sector, where the proportion was 23.1 per cent. 
Apart from longer working hours resulting in the lack of rest, other contributing factors include having to report very early for work, wait for a long time for company transport, and queue to use the bathroom at dormitories.
Majority of the respondents came from the construction sector (417), while others worked in sectors including marine and shipyard (68), landscaping (13), and manufacturing (13).
About a third of the respondents said they had to wait for about an hour or more before work starts. This deprived them of rest, TWC2 pointed out. In addition, 23.9 per cent of the workers said they had to wait half an hour or more for the vehicle to arrive. And one-third of them said they had to queue to use the bathroom in the morning and evening, with an average waiting time of about nine to 10 minutes.
TWC2 reiterated that the time pressures faced by companies, especially those in the construction sector, could resulted in longer working hours for foreign workers. 
It noted that promising an early completion date may help employers win a tender, and any delays might cause them to pay liquidated damages for not meeting the deadlines.
TWC2 general manager Ethan Guo told TODAY that the survey findings captured a snapshot of the situation, and corroborated with anecdotal evidence. 
"Coupled with the high risk nature of these jobs, what we have on our hands is a recipe for disaster," he said.
According to MOM Workplace Safety and Health (WSH) guidelines, the effects of fatigue can include physical and mental impairment as well as increase in error rates. Workers could also be slow in responding to situations and face a higher risk of injuries.
While TWC2 said its survey findings indicate that "legislation is widely ignored", the MOM spokesperson said the ministry has stepped up enforcement actions since 2014, to ensure employers comply with the Employment Act. 
Each year, MOM conducts more than 6,500 inspections on companies. A vast majority of them were found to adhere to the regulations on working hours.
The MOM spokesperson noted that findings from a WSH Institute study on all construction-related fatal injurieslast year "pointed to poor supervision, communications and coordination at work, and not excessive overwork, as key contributory factors in these cases".
Under the WSH Act, employers have a duty to remove or control the risks of fatigue. This can be done by planning and organising shift work arrangements, optimising work schedules to minimise fatigue and provide rest breaks.
"Progressive standards and innovations in safety practices can only be achieved when employers, safety officers and workers take joint ownership of safety," said the MOM spokesperson.
Foreign workers who spoke with TODAY said they know the importance of sufficient rest, but some felt they have no choice but to work overtime to complete projects.
Bangladeshi construction worker Abdur Shakur said that he clocks 12 working hours a day, including two hours of overtime. He does not work on Sundays.
The 28-year-old, who came to Singapore in 2011, said that there is pressure from his employer to complete their tasks quickly.
"Sometimes, we are tired but we have no choice because boss asked us to do. At least, we work overtime, get more money," said Mr Shakur, who has witnessed his fellow workers getting injured due to insufficient rest.
However, other foreign workers such as Mosharof, 27, said their employers ensure they have enough rest. The Bangladeshi national, who works in the marine and shipyard sector, works 11 hours a day.
He said that foreign workers at his company get two 20-minute breaks and a one-hour lunch break. This, he added, allow them to have short naps if they choose to do so.
"If I don't feel well and I feel tired, my supervisor will let me rest for a while," said Mr Mosharof. "Rest is important, because if you don't rest well, how you want to work properly?"