Unlikely for Covid-19 cases to spike after heightened alert phase if vaccinations keep at steady pace: Experts
SINGAPORE — With the steady take-up rate of vaccinations among the population here, infectious disease experts said that they do not expect to see a spike in Covid-19 cases if the Government eases restrictions from next Monday (June 14).
The number of Covid-19 cases are unlikely to go up if current restrictions are lifted, experts said
This is because there has been a steady take-up rate of vaccinations here
They expect the Government to gradually increase the number of people allowed to gather and return to work
However, settings such as gyms and eateries still carry a higher risk of disease spread
Another circuit breaker is unlikely given the economic cost and vaccination rate here, they said
SINGAPORE — With the steady take-up rate of vaccinations among the population here, infectious disease experts said that they do not expect to see a spike in Covid-19 cases if the Government eases restrictions from next Monday (June 14).
Since May 16, Singapore has been in a heightened alert phase to arrest a rise in coronavirus infections and several clusters forming, and this period is set to end June 13.
Experts told TODAY that they expect people to return to their workplaces and schools once this phase ends, but cautioned against easing restrictions on activities in high-risk settings, including Singaporeans' favourite past-time of dining at food-and-beverage (F&B) establishments.
There has been a ban on dining at eateries including hawker centres, and the number of people that can gather in public or visit households have been limited to two.
Employees have to work from home as a default and all schools have implemented home-based learning.
When the first restrictions kicked in on May 16, the Ministry of Health (MOH) reported 38 new cases of locally transmitted infection, of which 17 had no links to confirmed cases.
In the month since, the number of new community cases as well as unlinked cases have fallen. 
On Wednesday, MOH preliminarily confirmed two new cases of locally transmitted cases, of which one is unlinked. 
In its update the day before, the ministry noted that the number of new community cases had dropped from 125 the week before to 93 cases in the past week. 
The number of unlinked cases in the community had also dropped from 24 cases in the week before to 10 cases in the past week.
Of the 187 patients still in hospital, most are stable or improving, and two are in critical condition.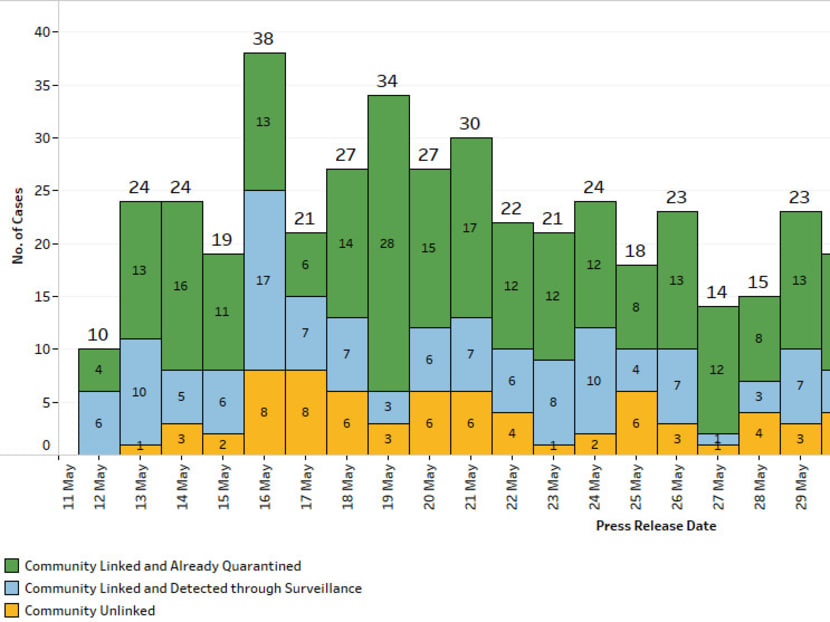 VACCINATION HAS TO PLAY A KEY ROLE
So long as the national vaccination programme proceeds at the same or better pace, the experts said that they do not expect cases to rise even if the restrictions are lifted next week.
Dr Alex Cook from Saw Swee Hock School of Public Health said: "It seems likely that if we go back to the situation in Phase Three, we may see a resurgence in the number of community cases, given the greater transmissibility of the Delta variant.
"But this resurgence would be tempered by the greater vaccine coverage now compared with earlier in the year, and in particular the protection against severe disease."
In Phase Three, which began late last December, up to eight people were allowed to dine in at eateries and take part in sports activities, while up to 250 people were allowed for live shows and religious services, for instance.
The Delta variant, or the B16172 variant, was first detected in India. Reuters reported that as of May 31, of the 449 cases in Singapore with variants of concern, 428 were the Delta variant and nine were the Beta variant first identified in South Africa.
MOH said that at least 2.5 million people, or 43.8 per cent of the population, have received at least one dose of a Covid-19 vaccine as of June 7.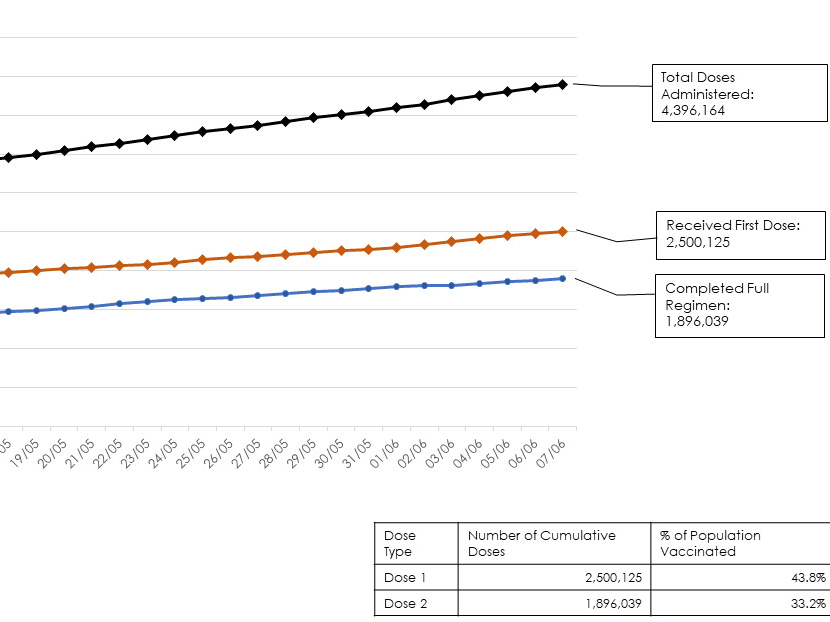 Dr Cook estimated that at least half of the Singapore population will have at least one dose by the end of this month.
Professor Paul Tambyah, president of the Asia Pacific Society of Clinical Microbiology and Infection, said that high vaccination rates in other countries such as the United States and United Kingdom have prevented a surge in Covid-19 cases and hospitalisation even after restrictions in those countries were lifted.
Dr Leong Hoe Nam, an infectious disease specialist at Mount Elizabeth Novena Hospital, said that contact tracing with the TraceTogether application will also make it easier to find people who have been exposed to the virus, keeping the overall Covid-19 cases here low. 
He expects there to be zero to one unlinked cases consistently after the easing of restrictions. 
With zero to one unlinked cases, contract tracing can then be done reliably and ensure that Singapore is "very safe", he added.
SLOWER PACE IN LIFTING RESTRICTIONS
Having said that, the number of cases after the period of heightened alert will also depend on how quickly the Government eases restrictions.
Dr Cook expects the Government to gradually increase group sizes for gatherings and the proportion of people allowed to work from office.
With the push to vaccinate teenagers this month, Dr Cook also expects secondary schools to let students return to classes on-site after the June holidays.
What is harder to predict is whether the Government will permit activities in high-risk settings such as F&B establishments or gyms.
Dr Leong said that the lack of good ventilation, coupled with people removing their masks in close proximity, increased the risk of transmission in such settings.
He noted that the current outbreak was traced to airport staff members consuming meals at a food court in Changi Airport.
"So the very passion which Singaporeans have for their food, the desire to go out and eat, will be our weakest link."
NUMBERS TRENDING DOWNWARDS
The experts who spoke to TODAY attributed the drop in the number of Covid-19 cases in the past month to the measures imposed under the ongoing heightened alert phase.
Professor Dale Fisher, a senior infectious disease consultant at the National University Hospital, said there was "no doubt" that the measures have been effective.
He noted that the total number of community cases and unlinked cases had fallen with more Covid-19 testing and active case-finding. 
"With no measures, we would have seen exponential increases in the number of cases."
Dr Cook called the downward trend in Covid-19 cases "reassuring", but said that the numbers did not fall as much as he hoped for because the current variant of the virus appears to be more transmissible than previous ones.
Prof Tambyah remains "sceptical" about the impact of the restrictions and attributed the low number of hospitalised Covid-19 patients in Singapore to the high vaccination rate among seniors here.
KEEPING WATCH ON UNLINKED CASES
Besides the total number of Covid-19 cases in the community, it is important to watch the total number of community cases that have no known links to confirmed cases, as well as the number of critically ill cases under intensive care to assess the effectiveness of restrictions during the current phase.
Dr Cook said unlinked cases suggest that there are more undetected infections between the unlinked case and other clusters in the community. This could generate more infections in the community since the undetected ones are not isolated.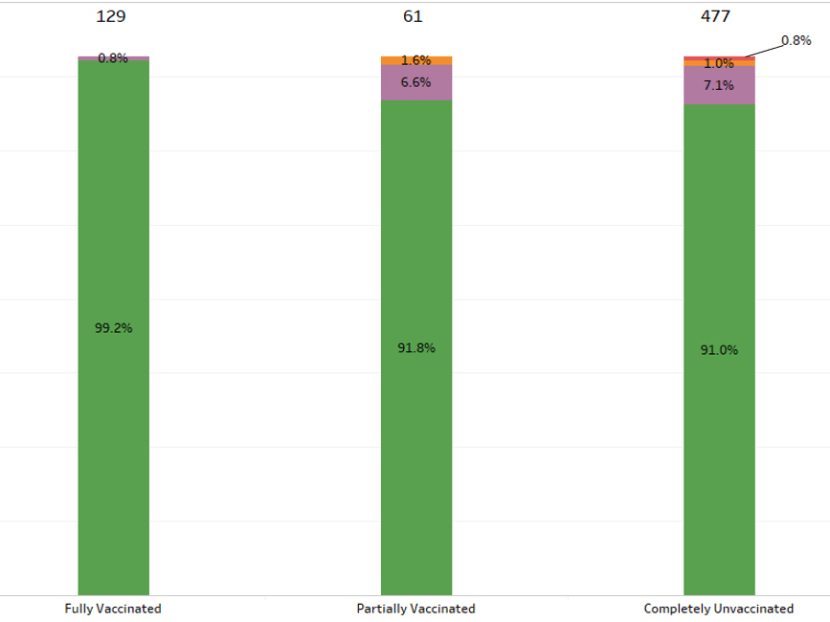 The ratio of people in intensive care to the total number of infections is now very low, compared with the situation a year ago, pointed out Dr Cook. 
"This means we are probably finding many more of the milder community cases we might have missed then," Dr Cook explained.
CIRCUIT BREAKER FOR WORST-CASE SCENARIO 
All the experts interviewed agreed that the Government is unlikely to impose another circuit breaker to stop all non-essential activities like it did in April and May last year.
It will likely stick to its three-pronged strategy of testing, contact tracing and vaccinating moving forward, they added.
This is due to the economic cost involved in imposing a partial lockdown and the progress made in vaccinating the population. 
With the latest move to allow vaccines that have been approved by the World Health Organization to come into Singapore through the private sector, Prof Tambyah said that more people will get vaccinated and there should be no need for further restrictions in future.
"If we do succeed in getting everyone a first dose of vaccine by National Day on Aug 9, we will be in a very good position to open up much more broadly," he added.
This is not to say that there will not be another circuit breaker down the road where needed.
If a more transmissible virus strain takes root in Singapore before the vast majority of the population is vaccinated, a circuit breaker is still possible, Dr Leong said. 
In this scenario, hospitals could be overwhelmed by a rise in serious cases, forcing the Government to call for one, he added.
Similarly, Prof Fisher said that with a "forever mutating virus", the future is not always predictable.