Unwanted photos, messages: Students on a mission to fight sexual harassment on dating apps
SINGAPORE — The first time Ms Loraine Lee received an unsolicited photo of a man's private parts from someone she met on a dating application four years ago, she laughed it off.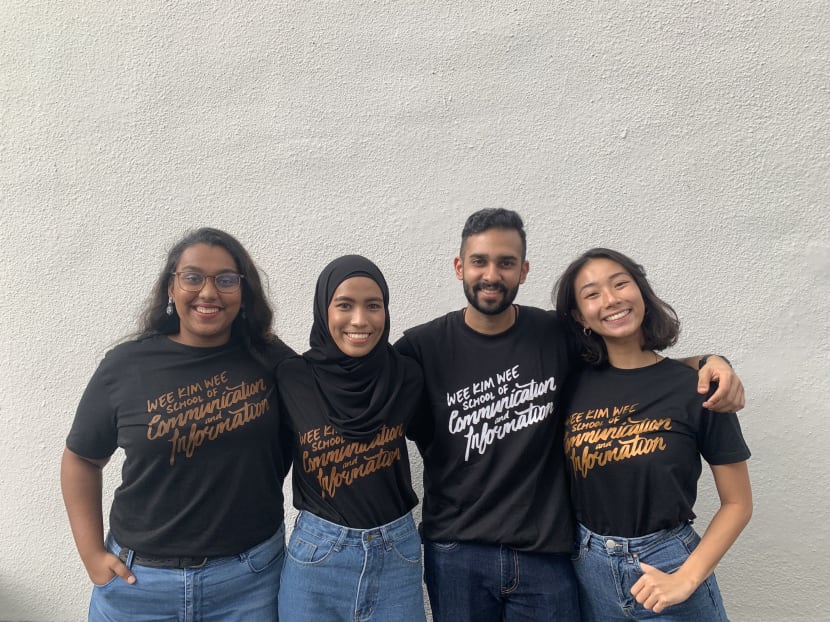 Sexual harassment on dating apps has become the norm for some Singapore users
They said sexual propositions, comments or pictures of genitalia have become common 
A group of Nanyang Technological University students have started a campaign to remind users that such behaviour is unacceptable
A criminal lawyer said the best solution is to report such cases to police
SINGAPORE — The first time Ms Loraine Lee received an unsolicited photo of a man's private parts from someone she met on a dating application four years ago, she laughed it off.
Ms Lee, then 19, had been talking to the person on Tinder for a week and trusted him enough to move the chat to social network Instagram.
But the conversation quickly went south. 
The first item she got from him on Instagram was a picture of his genitals.
"I was pretty shocked, but I just laughed it off at first, because the situation was so ridiculous," recalls Ms Lee, now 23.
"It is not like there is much we can do other than 'unmatch' and block the person. These things are pretty common anyway," said Ms Lee, a communications and new media undergraduate at the National University of Singapore (NUS).
Ms Lee said that over the years, she has gained a better understanding of sexual harassment.
Yet some young Singaporeans have come to accept it as the norm on dating platforms. 
It is this group of youth that four communication studies undergraduates from Nanyang Technological University (NTU) are out to educate through their campaign.
The campaign, titled What's the Big Deal?, tackles the normalisation of sexual harassment on dating apps.
Team member Hemant Mathy, 24, told TODAY that his group came up with the idea for its campaign after realising that stories of their friends receiving unsolicited photos or sexualised comments on dating apps amounted to sexual harassment. 
The other team members are Ms G Nanthinee Shree, 23, Ms Nur Afrina Mohd Zulkifli, 22, and Ms Marisa Agnes Lee, 24. The campaign is their final-year project. 
As part of the effort, which runs from January to this month, the team conducted interviews with dating app users. They found that many considered sexual harassment "a rite of passage" on the apps.
To correct such attitudes, the team started an Instagram page, wtbd.sg, with posts to educate the community about identifying sexual harassment on dating apps and avenues where they can seek help. 
The team is in talks with Voices@SMU, a unit of the Singapore Management University that supports students confronting harassment or violence, to discuss ways to raise awareness about the issue.   
IGNORE, BLOCK OR REBUKE 
Users of dating apps said that it was common to be on the receiving end of sexualised comments or unsolicited pictures of genitalia, so much so that it has become the norm. 
This could occur on the dating app or after both parties have moved the conversation to other messaging platforms, such as Telegram or WhatsApp.
NUS sociology undergraduate Rachel (not her real name) said that she commonly received propositions for sex in the five years she has been using the apps. 
The 23-year-old declined to give her name because she did not want her family to know about her experiences.
For instance, people have asked her how many sexual encounters she has had, how good she is at performing sex acts, or requested photos of her in the nude.
Although she was initially flattered by these comments because they suggested that she was attractive, she now feels nothing more than "a body" on the apps. 
She has no qualms about telling her harassers off.
"As easy as it is for them to hide behind a screen, I feel like it is easy for me to hide behind a screen and call them out for it." 
Others, such as user experience designer Muhammad Iskandar Ruhaizat, prefer to block or ignore such users immediately, so as to stop all interactions.
If they remain persistent, Mr Iskandar, 28, said he would report them to the app administrators.
TODAY contacted dating apps Tinder, Bumble and Coffee Meets Bagel to request figures for sexual harassment reports as well as information on the help they offer to victims.
In response, a spokesperson for Bumble said that the app does not categorise its reports according to the type of inappropriate behaviour and could not provide specific figures for sexual harassment.
The spokesperson said that since 2019, the number of reports of harassment has risen in tandem with the increase in Bumble users globally, but the rate of such reports has not climbed. 
The vast majority of reports are resolved by blocking users. Those with more serious or repeat violations may be banned from the app, Bumble's spokesperson added.
Tinder referred TODAY to the website of its American parent company Match Group, which details safety tools embedded in its products.
These include a customer care team that deals with complaints of bad behaviour as well as technology that screens for offensive messages and prompts recipients to report such behaviour.
Coffee Meets Bagel did not return TODAY's request for comment.
WHEN FLIRTING MORPHS INTO HARASSMENT
The dating app users interviewed said that in some cases, there was a fine line between flirting and harassment. 
Ms Beverly Chew, a 23-year-old communication studies undergraduate from NTU, said that she would seek a second opinion from her friends if a comment made her uncomfortable. 
If they agreed that it was harassment, she would "unmatch" the person on the app.
For Mr Iskandar, it came down to whether a comment or picture was sent with his consent.
Ms Shailey Hingorani, head of advocacy and research at gender-equality advocacy group Aware, said that there was no simple test to determine if an interaction was harassment or harmless flirting. This is especially so for conversations via phone text messages, where a person's tone is hard to read.
"One factor that might be used to determine the nature of an interaction is whether the recipient's response is equally enthusiastic, or whether she is signalling that she is uninterested in or uncomfortable with the tone of the conversation. 
"Such signals could be fairly overt, such as saying: 'I am not comfortable with this.' There could also be a lack of response, slowness to respond or attempts to change the subject," said Ms Hingorani.
WHAT CAN BE DONE
To tackle sexual harassment, several dating app users suggested starting an online community where users can exchange information to warn others to be on the lookout for culprits. 
Criminal lawyer Shashi Nathan warned, however, that such a community could devolve into doxxing, where an individual's personal information is published with a view to harassing that person. Doxxing is a crime in Singapore.
A better solution is to file a police report, so that the matter can be investigated, he said.
In Singapore, those who send unsolicited images to others can receive a jail term of up to a year or a fine, or both.
From Ms Hingorani's perspective, it is hard to prescribe what individuals facing harassment should do. If possible, they should prioritise their physical and psychological safety as much as possible.
They may also turn to Aware's sexual assault care centre for support, she said.