Updated with modern amenities, Raffles Hotel reopens with 12 more suites
SINGAPORE — The doors to the iconic Raffles Hotel are now officially reopened, with more suites to boot.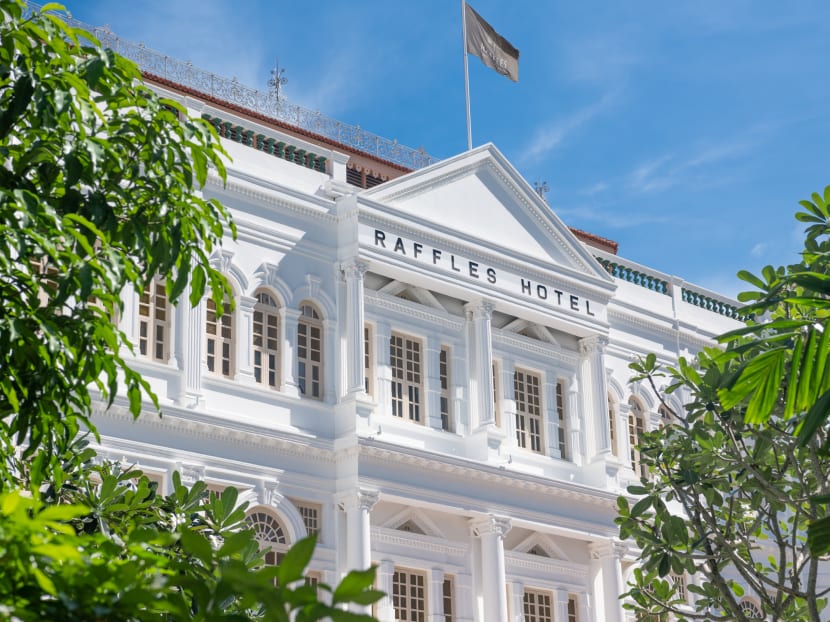 SINGAPORE — The doors to the iconic Raffles Hotel are now officially reopened, with more suites to boot.
The colonial-style luxury hotel said on Thursday (Aug 1) that with the completion of its restoration work, guests now have nine distinct suite categories to choose from, three more from before.
There are now 115 suites at the hotel, up from 103 previously.
Above: The bedroom, living room and bathroom of the Residence Suite. Photos: Raffles Hotel Singapore
The historic 132-year-old hotel said in a statement that all of the suites have been updated and outfitted with new amenities and state-of-the-art technology, while "maintaining the sense of space and colonial ambience".
The hotel said: "In a nod to its heritage, the suites have retained the mechanical switches that whisper to the hotel's colonial past.
"The suites have also preserved their colonial architectural splendour, along with the original 4-metre (high) ceiling, lofty double-glazed windows, charming verandahs and polished teakwood floors."
As a homage to "Singapore's rich culture", the ensuite bathrooms have been redesigned with Victorian details and Peranakan tiles.
From the moment guests arrive, the hotel said that they will be attended to at all times by the "discreet and legendary" Raffles Butlers and welcomed with the iconic Singapore Sling.
Sitting at the intersection of Beach Road and Bras Basah Road, the hotel — known for being the place where the Singapore Sling cocktail was invented, as well as the location where the island's last tiger was killed — was closed for restoration works in January 2017.
This marked the hotel's second restoration effort. The last restoration was conducted from 1989 to 1991, during which time the hotel closed for two-and-a-half years.
On July 11 this year, the hotel reopened its Raffles Arcade. The three-storey shopping arcade features a wider range of tenants and event spaces, with over 30 retail, dining and lifestyle offerings.
The meticulous restoration work was led by international interior designer Alexandra Champalimaud and supported by Aedas, a global architecture and design firm.
Said Mr Christian Westbeld, the hotel's general manager: "Raffles Hotel Singapore is one of the few remaining great 19th-century hotels in the world, and its restoration has been carefully designed to preserve its unique historic charm, while creating extraordinary experiences for our esteemed guests — a dedicated commitment from all of us at Raffles Hotel Singapore and also from our owner, Katara Hospitality."
Raffles Hotel was first opened in 1887, before it was declared as a national monument a century later by the Government in 1987.
The hotel is offering two promotional packages for its opening. Details of these offers can be found on its website.