An updated party playbook, for more sophisticated voters
The presence of Mr Lee Kuan Yew, a no-nonsense and charismatic leader, will be missed in the People's Action Party (PAP). But with the leadership style of the party having evolved over the years — very much a result of Mr Lee's succession planning — the impact of his death on the ruling party is likely to be minimal, analysts told TODAY.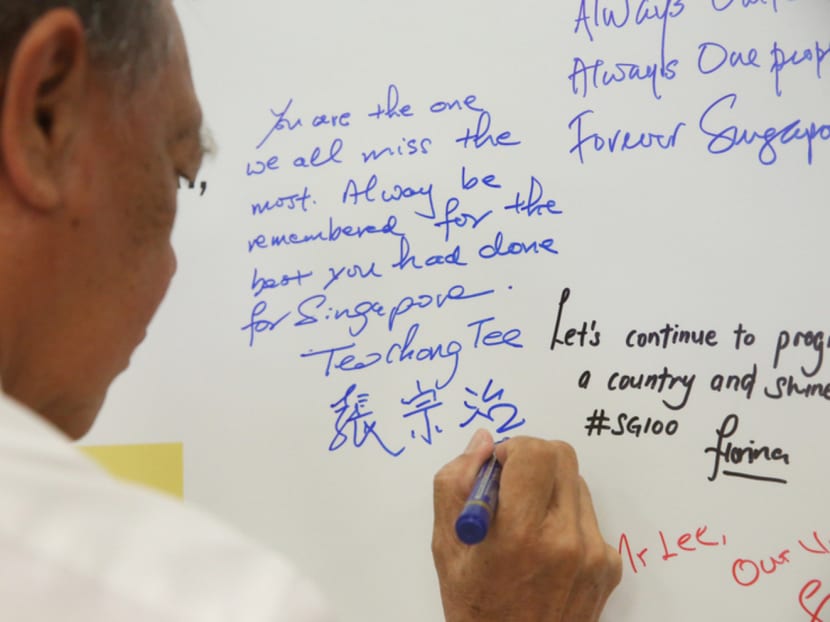 The presence of Mr Lee Kuan Yew, a no-nonsense and charismatic leader, will be missed in the People's Action Party (PAP). But with the leadership style of the party having evolved over the years — very much a result of Mr Lee's succession planning — the impact of his death on the ruling party is likely to be minimal, analysts told TODAY.
Still, some experts felt that the absence of a dominant figure could give rise to some splintering, although others disagreed — pointing to how the party has successfully navigated two leadership transitions after Mr Lee stood down and as it approaches the third.
The late Mr Lee — who led the PAP from 1954 to 1992 as its secretary-general — was much revered within the party, and well known internationally for his approach to politics. "Between being loved and being feared, I have always believed Machiavelli was right. If nobody is afraid of me, I'm meaningless," Mr Lee wrote in Singapore Story: Memoirs of Lee Kuan Yew.
He once said, memorably: "If you are a troublemaker ... it's our job to politically destroy you ... Everybody knows that in my bag I have a hatchet, and a very sharp one. You take me on, I take my hatchet, we meet in the cul-de-sac."
With changing times and demography, this knuckleduster approach — which was arguably effective in a different era — is best left in the past, said analysts and party members interviewed by TODAY.
The "Lee Kuan Yew playbook of politics", as Nanyang Technological University Assistant Professor Woo Jun Jie put it, took a tough stance towards the Opposition. "He was not averse to using harder measures against people who strayed away from the straight and narrow," said Asst Prof Woo.
Dr Lam Peng Er, from the East Asian Institute, cited the covert security operation codenamed Operation Coldstore in 1963, where Mr Lee's government detained more than 100 people without trial, including Mr Lim Chin Siong, who co-founded the PAP with Mr Lee in 1954. Officials at that time had said the big round-up was aimed at crippling the Communist open front organisation.
Mr Lee's "no nonsense" approach was not universally embraced, but it turned out to be good for the country, PAP party activist Kahar Hassan argued.
Nevertheless, Mr Kahar, who joined the party two years ago, pointed out that politics is never static and the PAP has adapted to the times, including by attracting an increasingly diverse range of members. Party leaders recognise that a cookie-cutter approach can no longer succeed in today's environment, he added.
After Mr Lee stepped down as Prime Minister in 1990, he relinquished leadership of the PAP shortly after, passing the baton to Mr Goh Chok Tong — currently the Emeritus Senior Minister — who subsequently handed over the reins to Mr Lee Hsien Loong in 2004, who is the current party chief and the country's Prime Minister.
'ONE OF A KIND'
No other individual in the PAP Old Guard nor any of its current leaders exuded the same level of charisma as the late Mr Lee, said Dr Lam.
"LKY was the charismatic guy. The leaders after him, Mr Goh, Mr Lee Hsien Loong, they are more technocratic," he said.
Nevertheless, Mr Goh and Mr Lee Hsien Loong were popular in their own right, well-liked as national leaders by Singaporeans.
Mr Lee's death, said National University of Singapore political scientist Bilveer Singh, cost the party a father figure.
In contrast to the "strong and centralised" leadership that Mr Lee displayed, the PAP's present leadership is dispersed, said Asst Prof Woo.
Singapore Management University law don Eugene Tan noted that "there will not be another Lee Kuan Yew for a long while". Nevertheless, Assoc Prof Singh pointed out that as early as 1990, the PAP has been preparing for life after Mr Lee.
Under the leadership of his successors, the party has become less authoritarian and more engaging, although it retains its paternalistic streak, said Assoc Prof Tan.
Values that Mr Lee stood for — including incorruptibility, multiracialism and meritocracy — have also been entrenched within the party, just as they have been in the country.
Dr Lam surmised that one of Mr Lee's greatest gifts to the PAP and Singapore is how he paved the way for party and country to thrive without a leader like him. "The very success of Mr Lee's leadership model is that it is unnecessary for someone to be a clone of Mr Lee … Singapore can survive and prosper even if it does not produce a guy like him in the next three or four generations," he said.
Assoc Prof Singh reiterated that Mr Lee had already started preparing future generations of PAP leaders to "run their own show" back in November 1990, when he stepped down as Prime Minister after leading the PAP to victory in seven General Elections.
"He was around physically, but in terms of policies, he let his successors run the show, interfering once in a while. But Singapore has been in post-LKY mode since 1990 … (His death) is no real shock (to the system), except that his physical presence and inspiration will be greatly missed," said Assoc Prof Singh.
After stepping down as Prime Minister, Mr Lee held the post of Senior Minister until 2004, and Minister Mentor until he left the Cabinet in 2011.
PAP Member of Parliament (Chua Chu Kang GRC) Zaqy Mohamad noted that changes within the party would have taken place regardless of whether Mr Lee was around. The party must adapt to changing demographics and expectations, he said. "We need to nurture leaders who are connected, (who) understand and can adapt to the people … The playbook will evolve, but many values will endure," he said.
Agreeing, Speaker of Parliament Halimah Yacob, who sits on the party's Central Executive Committee, added: "While the economic challenges have remained throughout, what is different is that the current leadership has to deal with a better educated and more demanding populace compared with Mr Lee's time."
PAP activist Murali Pillai, who will contest the Bukit Batok by-election, said that it is key for the party to continue to uphold Mr Lee's values. It is not about unearthing another Lee Kuan Yew, he added.
"Each generation produces its own set of leaders in tune with the people of their generation. These leaders will have their own styles and preference. Our party activists should expect that," he said.
ABSENCE OF A STRONGMAN
But while leadership has to evolve with the times, some analysts felt there is still a need for a dominant figure. The absence of a strongman like Mr Lee — who was part of the group that founded the PAP — could potentially make the party more prone to internal fissures, including in terms of ideology.
NUS political scientist Associate Professor Hussin Mutalib said: "The plausibility of such cleavages are real, looking at how the present Cabinet comprises younger PAP ministers who have veered towards a 'left-of-centre' bent over the years."
As a party known for its discipline, the PAP leadership would nevertheless try its utmost not to let any divisions "spill over to the public domain", said Assoc Prof Hussin.
With the identity of the next Prime Minister still up in the air, Assoc Prof Hussin said succession could be a test, citing past instances.
When the PAP central executive committee held a vote to pick a Prime Minister for Singapore after the party won the 1959 elections, the votes were split between Mr Lee Kuan Yew and Mr Ong Eng Guan, who was Singapore's first mayor. Then-PAP chairman Toh Chin Chye cast the deciding vote in favour of Mr Lee.
More recently, before he handed over the prime ministership, Mr Lee himself had publicly backed Mr Tony Tan — currently the President — as his first choice as successor, although he made clear that Mr Goh had the support of the Cabinet.
Dr Lam said the question to ponder is not what is next for the PAP without Mr Lee but rather, what is in store for the ruling party when Mr Lee Hsien Loong steps down. The Singapore governance model is limited by its hegemonic leadership, he said.
Despite more diverse personalities, the country still practises a "concentrated and top-down" system. Publicly, there is no team B in the PAP, he noted. "After Lee Hsien Loong, I don't know if there will be a team B ... but who knows, we don't have a crystal ball," Dr Lam said. He added: "If the PAP were to fail, what are the institutional alternatives? We don't have that."
Assoc Prof Tan pointed out that differences in ideology, approach and policy have been and always would be part of the PAP, or any political party, for the matter. But differences today have not hardened into factions, unlike in the early 1960s, he said. "I'd be worried if there are no differences among the ruling elites. Contest is healthy and the key is whether there are robust-enough mechanisms within the party and the Government for different views," he said. The party must find ways to arrive at a consensus after matters are "robustly discussed and debated", he added.
Assoc Prof Singh also noted that past differences have not led to leadership breakdowns within the party. "The talk about conservatives versus liberals is very old-fashioned. (Differences today) often tend to be based on personalities," he added.
Agreeing, Asst Prof Woo said the PAP has witnessed a proliferation of various positions and views over the years from its leaders but these should not cause polarisation within the party. With party members coming from diverse fields — from public service to civil society — solutions can be more rigorously debated and considered, he said.
"The downside is how decision-making is slower, and there is a risk of fragmentation, even though it has not yet occurred," said Asst Prof Woo.