Uprooted from Thailand and hardly speaking English, student goes on to score B for it in PSLE
SINGAPORE — Born and raised in Thailand, Michael Wong Hsi Wah struggled to fit in here when he enrolled as a Primary 4 pupil at Pasir Ris Primary School two years ago.
Michael Wong Hsi Wah, 15, barely spoke English and Chinese when he first moved to Singapore two years ago
He scored a B in both subjects for this year's PSLE
His father, friends, teachers and even Netflix helped him improve his English and Chinese, he said
The overall PSLE results showed that 98.4 per cent of pupils qualify for secondary school
This is the first cohort to be graded under the new Achievement Level system
SINGAPORE — Born and raised in Thailand, Michael Wong Hsi Wah struggled to fit in here when he enrolled as a Primary 4 pupil at Pasir Ris Primary School two years ago.
The Singaporean could speak just a smattering of English and Mandarin, and it did not help that at 13 years old, he towered above his younger classmates.
"They called me 'The tall guy'," he recalled.
Yet, in the span of two years and with a little help from family and friends, Michael took home B grades in both English and Chinese language subjects for the Foundation level in this year's Primary School Leaving Examination (PSLE).
He qualified for the Normal (Technical) course in secondary school.
FIRST COHORT GRADED BY ACHIEVEMENT LEVELS
Michael was among more than 39,100 Pri 6 pupils who received their results for the year-end national exams on Wednesday (Nov 24).
They are the first cohort of pupils to be graded under the new Achievement Level (AL) system.
The new scoring system, where AL1 is the highest grade and AL8 is the lowest, looks at pupils' individual performance in subjects instead of how they do relative to their peers, which was the case in the previous T-score system.
Foundation level students receive A, B and C grades. These are pegged to AL6, AL7 and AL8 respectively.
In a press release on Wednesday, the Ministry of Education (MOE) and the Singapore Examinations and Assessment Board (SEAB) revealed that 98.4 per cent of pupils are eligible for secondary school following this year's exam.
Among the candidates, 68.4 per cent are eligible for the Express course, 18.9 per cent for the Normal (Academic) course, and 11.1 per cent for the Normal (Technical) course.
Mr Wong Siew Hoong, director-general of education at MOE, said that the outcomes under the AL scoring system remain "very stable".
"We hope that students and parents will feel assured about PSLE and about the new AL scoring system."
More pupils (65 per cent) from the Normal courses are also eligible to take at least one subject at a more demanding level in secondary school compared to the number of pupils (47 per cent) in this year's Secondary 1 cohort.
This is due to the change in eligibility criteria under the AL system, MOE and SEAB said. 
For example, a pupil who scores AL5 or better in a Standard level subject is eligible to take the subject at an Express level in secondary school. Previously, one would need to score an A or A* to qualify for the same.
MOE and SEAB noted that the proportion of pupils who missed at least one paper in this year's PSLE stood at 2.7 per cent, or 1,070 pupils this year due to Covid-19-related reasons.
This was up from 0.4 per cent or 140 students last year.
'I DIDN'T THINK I COULD DO IT'
Speaking to TODAY at Pasir Ris Primary School on Wednesday, Michael recalled how he had been anxious about moving to a new school in a new country back in 2019.
"I didn't think I could do it. I thought I could not speak English and I would not be able to make friends."
He and his brother, who is a year younger, had been living in Thailand with their Thai mother until then.
However, their Singaporean father was concerned that his sons were not receiving a good academic foundation in Thailand and decided to enrol both boys in Pasir Ris Primary School in July 2019, in the hope that they will receive a better education here.
Describing his early days in the school, Michael said that he would converse with his peers and teachers in simple English using just words such as "play", "go" and "eat".
He was just as bad in Chinese and could only say "ni hao" (hello) or count from one to 10.
He did not enjoy school at first due to the language barrier, but he soon found that he was able to build bonds with his classmates through a common love for sports and regularly played football or basketball with them.
He also felt more comfortable going to school after realising that his school's allied educator spoke Thai. She was tasked to help him and his brother settle into a new environment.
However, it was not easy to pick up new languages in the first year, Michael said.
It was difficult for his English teacher to focus on him during lessons because she had to teach the rest of his classmates who were more advanced in their learning.
FATHER'S EFFORTS, CHINESE TEACHER'S TIP 
In the case of the Chinese language, there was a lot of focus on composition writing and little opportunity for him to improve his conversational skills, he said.
However, his language skills improved the following year after he was put in a smaller class for English lessons in Pri 5.
At home, his father would also speak in English instead of Thai so that he would have more opportunities to converse.
The father would also get his son to mingle with his family friends so that Michael would have more opportunities to converse in English.
Michael said that he was inspired by his Pri 6 Chinese teacher, who had told him how she had moved from China to work in Singapore and struggled with English initially.
It was her own experience that made him realise that he could learn a new language as well, and he adopted her tips and began watching Chinese shows on entertainment streaming site Netflix on his own to improve in the language.
Despite his efforts, Michael, who spoke confidently in English throughout his interview with TODAY, said that he had not expected to perform as well as he did in the PSLE given that he received a C grade in his past exams for English and Chinese.
"I was, like, 'Oh yeah, finally!' I thought I would only just pass but I am really thankful to all the teachers for helping me."
'MADE ME PROUD'
Mr Toni Wong Kwan Ying, his father, said that he was especially proud of his son's achievement.
"The first thing I told him was that he has done a good job and made me proud," the 56-year-old security officer said.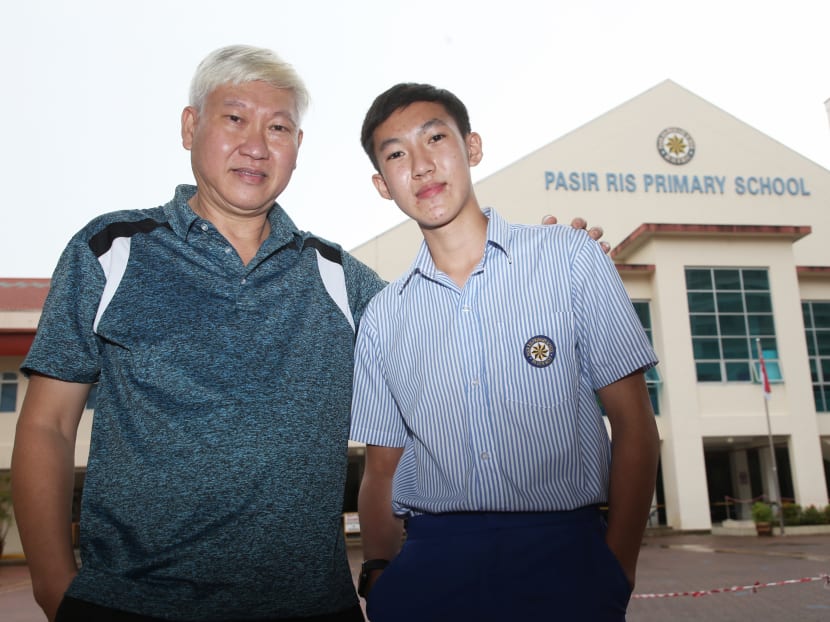 Mr Wong had considered sending his sons back to Thailand because he was worried that they could not cope with the academic system here, but having watched Michael make new friends and receive help in school, he changed his mind.
Michael is now excited about secondary school to make new friends, but he has yet to decide on which schools to apply for.
He will look out for those that offer badminton, one of his favourite sports, as a co-curricular activity, he said, adding that his ambition is to play sports professionally in future.
MOE and SEAB said that the Sec 1 Option Form for applicants to indicate their preferred secondary schools will be given to eligible students when they collect their PSLE slips in person. 
Alternatively, students may download a copy of the form through the Sec 1 Internet System.
Indicative PSLE score ranges
for individual secondary schools were released by MOE earlier in April this year and students and parents may refer to them when they consider their secondary school choices, MOE and SEAB said on Wednesday.