URA reviewing urban plans for CBD, heartlands as Covid-19 'sharpens need' for changing amenities in districts
SINGAPORE — Bigger coffee shops in neighbourhoods, more personal mobility devices, or even government-built flats in the Central Business District (CBD). The future Singapore will likely look very different from the pre-pandemic days, urban thinkers and property watchers said.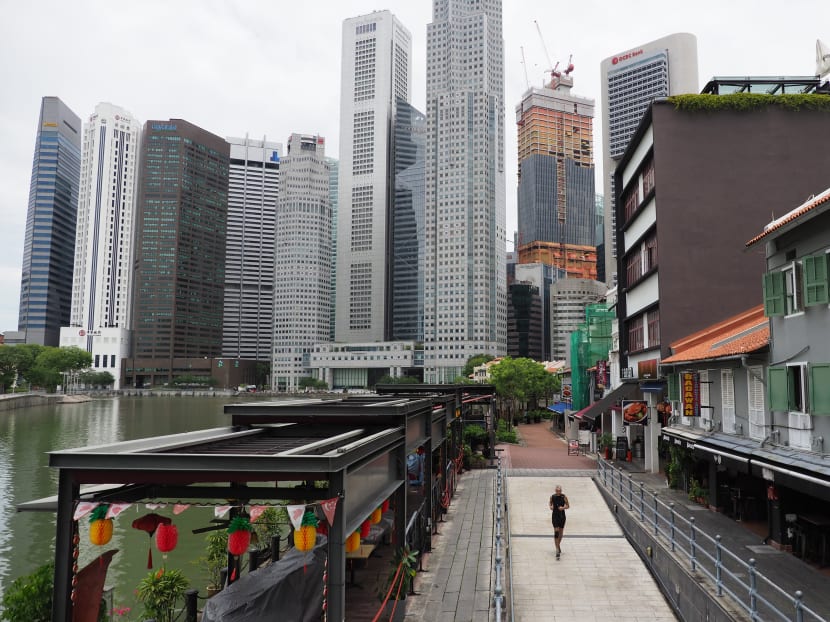 SINGAPORE — Bigger coffee shops in neighbourhoods, more personal mobility devices, or even government-built flats in the Central Business District (CBD). The future Singapore will likely look very different from the pre-pandemic days, with Covid-19 already shaking up how Singaporeans work, live and play today, urban thinkers and property watchers said.
The Urban Redevelopment Authority (URA) said in response to TODAY's queries that Singapore is studying possible changes in activity patterns in various sectors due to Covid-19 and is reviewing its urban redevelopment plans.
"Land use planning in Singapore is premised on building sustainability and resilience for our city. Our planning process is flexible and allows for adjustments to ensure that plans stay relevant and cater to the changing needs of our residents," the authority in charge of the country's urban planning said.
In a televised speech last week, National Development Minister Lawrence Wong said that the way people live and work will change as Covid-19 has precipitated a shift towards more flexible work arrangements.
"Our urban plans will need to cater to these new demands. Office and building designs will also have to change, given what we now know about the risks of transmission in enclosed spaces," Mr Wong said.
Covid-19, URA said, has "sharpened the need" for the CBD to have more mixed uses and a greater residential population. 
"In particular, the CBD Incentive Scheme, which aims to transform the CBD into vibrant mixed-use neighbourhoods instead of being a mono-use office-centric district, is well-placed to accommodate such changing trends," its spokesperson said. 
Announced together with the 2019 Master Plan that was gazetted last November, the scheme is intended to incentivise developers and building owners to alter the characteristics of older parts of the CBD into residences, hotels and creative lifestyle developments.
The scheme, which applies to the Anson Road, Cecil Street, Shenton Way, Robinson Road and Tanjong Pagar areas, also aims to create better-designed streets and public spaces to support active mobility.
Based on the 2019 Master Plan, another 20,000 homes could be added to the more than 50,000 homes in central Singapore, which includes the CBD.
"With more people working from home, we can expect there to be changes to their commuting, retail consumption and lifestyle patterns. There is potential for us to strengthen the convenience and accessibility of amenities within our neighbourhoods. 
"The development of our gateways will help spread out demand and bring jobs even closer to our homes," the URA spokesperson said.
With health and wellness coming to the forefront, URA added that it will look into efforts to enhance the design of public spaces "to ensure that Singapore remains a safe living environment for all residents". 
Referring to parks and park connectors, URA said that it will continue to prioritise greenery provision and "plan for more parks and open spaces near where people live and work".
WHAT THE FUTURE CITY MAY LOOK LIKE
Besides URA, other urban thinkers have been keeping a close watch on population health issues before the coronavirus outbreak here, noting that the current pandemic has sped up many of the health-related priorities.
City planning is intrinsically linked to public health risks. The ancient Greeks and Romans planned their cities in grids to facilitate drainage and public sanitation, while modern urban planning and civil engineering were borne out of developments in sanitation in the mid-19th century due to the constant malaria and cholera outbreaks at the time.
In an editorial opinion column titled All Roads Lead to Health, Mr Khoo Teng Chye, executive director of the urban think tank Centre for Liveable Cities, wrote in its biannual publication in January this year: "There is a growing awareness among city dwellers about the impact of urban life on their health and well-being, from air pollution and mental stress to lower immunity to diseases. But can urban life be good for health? 
"How do we create cities that promote good health and well-being for citizens?" 
In an article published by the centre the same month, Ms Elly Chiu, a researcher from the centre, and Ms Denise Tan, who works at the Ministry of Health's Office for Healthcare Transformation and is trained in architecture, said that socio-economic and environmental factors have the greatest influence on public health outcomes, followed by healthy behaviours, healthcare, and genetic and physiological factors — in that order.
"Place-based approaches", such as developing physical environments that promote physical activities, can have significant impact on health behaviours, they argued. 
Examples include the Bishan-Ang Mo Kio Park, which has provided open spaces for recreation and social activities that have boosted physical and mental health outcomes, the two authors claimed. 
With Covid-19 and the shift towards telecommuting, veteran architect Tay Kheng Soon told TODAY that there will likely be a shift in the concentration of amenities from the CBD to regional centres and neighbourhoods. 
"What working-from-home arrangements will mean is that in the housing areas, there will be a need for a lot more social amenities and food-and-beverage options than today, because people are going to head out to socialise but do not want to go to places of congestion.
"Safe distancing also means that, to accommodate the same crowd, a typical coffee shop will have to be (at least) double its present size." 
The same will be true for public spaces and community gathering spaces such as community centres, schools and religious buildings, he added.
Likewise, inter-regional public transport will also see a reduction, while intra-town transport will increase. This, Mr Tay said, could see the return of personal mobility devices onto the streets.
So what is left for the CBD? Mr Tay, who is also adjunct professor at the National University of Singapore's School of Design and Environment, said that emptied office buildings may need to be converted for residential purposes — in line with the goals of URA's CBD Incentive Scheme.
Property analyst Ong Kah Seng said that with such changes to the CBD, the zone could be seen in a different light, and not be shunned by people during after-work hours or on the weekends.
"It has been for decades that due to high stress factors, CBD office workers will leave the district after they knock off from work every evening and refrain from going back on weekends, making Singapore's prime district desolate on weekends and at night," he said.
These significant changes to the urban landscape will likely take place very quickly — within a year by Mr Tay's estimation, and will depend on the rate of business closures and refinancing by property owners who will need to restructure their buildings for this new normal.
OFFICE SPACE SHAKE-UP
In his national address, Mr Wong had also highlighted features that will be needed going forward, such as better ventilation and air filtration within buildings, as well as automatic doors, contactless fittings, hand sanitiser and temperature monitoring stations.
Latest projections on office rents show that there is likely to be a dip due to Covid-19 as companies fold or downsize in the wake of the pandemic, and companies here have also started to think about how they will redesign or repurpose their office spaces, TODAY reported previously. 
Mr Gonzalo Portellano, head of portfolio design at real estate consultancy JLL Asia Pacific, said that while businesses may be looking for quick adaptations to the workplace, in the long term, business leaders will be making decisions based on the need for safe distancing requirements for a protracted period.
"Companies may start shifting their offices from prime locations into smaller, more versatile hubs distributed across the city. These tech-enabled hubs can be located in areas supported by good infrastructure and public transport connectivity and that offer lower rents," Mr Portellano said.
The consultancy published a 44-page guidebook on revamping physical workplaces in light of Covid-19, with suggested technological solutions — or "proptech" — for better space planning, stronger building access controls and greater sensing of people density within offices.
"Looking ahead, we anticipate that organisations will take a bold step in office transformation, be it with decentralisation or spacing designs.
"The evolution of the office will no longer be about how people occupy spaces but how people use and interact with spaces," Mr Portellano said.