IPS-RSIS forum debates use of social media by marginalised groups to express anger, sorrow
SINGAPORE — The use of social media by disenfranchised and marginalised groups to express their rage and sorrow generated some sharply contrasting views at an academic forum on Tuesday (Nov 23) on identity and diversity.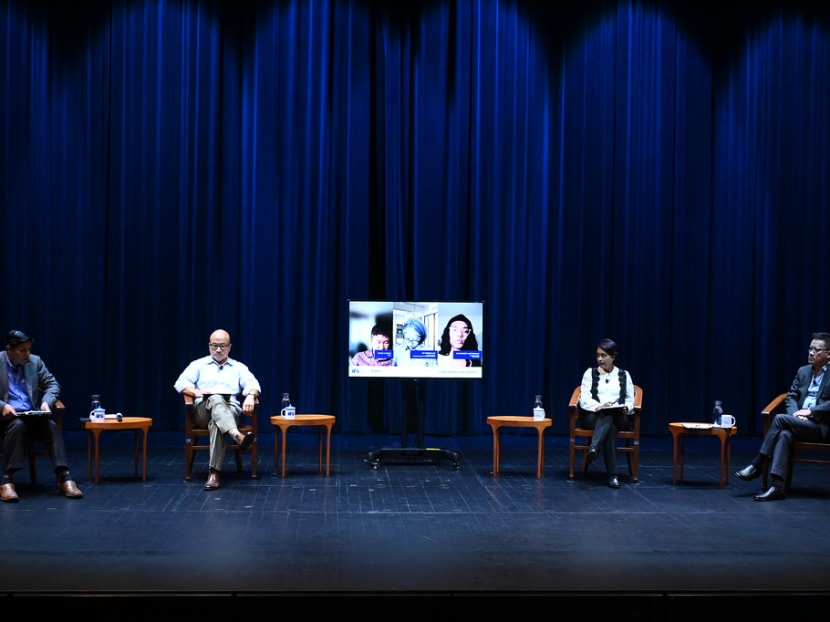 People who are marginalised may take to social media because "formal" platforms are not always available to them, one speaker at a forum said
Another speaker countered that such anger may simply cause the opposing group to be riled up
The exchange came at a panel discussion jointly organised by Institute of Policy Studies and the S Rajaratnam School of International Studies
Other issues raised include the term "Chinese privilege", and the divergence of views between the LGBTQ community and conservative groups
SINGAPORE — The use of social media by disenfranchised and marginalised groups to express their rage and sorrow generated some sharply contrasting views at an academic forum on Tuesday (Nov 23) on identity and diversity.
One panellist at the event, held by the Institute of Public Studies and S Rajaratnam School of International Studies, argued that this could be an effective tool, since these groups may find it difficult to channel their concerns through more formal platforms such as academic conferences.
However, another speaker suggested that getting angry online could be counter-productive and it lead to unintended negative consequences — by getting the opposing group riled up.
The panellists also spoke about the concept of privilege, which was defined by one of them as the ability not to think of any of a person's identities such as race or sexuality when going about day-to-day living.
The clash between the lesbian, gay, bisexual, transgender and queer (LGBTQ) community and more conservative groups such as some Christians was also discussed, sparking an appeal for a better platform for engagement by these groups outside social media.
The panel included three speakers:
Professor Joseph Liow, dean of the College of Humanities, Arts, and Social Sciences at Nanyang Technological University (NTU)
Professor Vineeta Sinha, who is from the Department of Sociology in the Faculty of Arts and Social Sciences at the National University of Singapore (NUS)
Professor David Chan, professor of psychology and director of the behavioural sciences initiative at the Singapore Management University (SMU)
The panel also included three "respondents":
Ms Corinna Lim, executive director at the Association of Women for Action and Research (Aware)
Mr Sharvesh Leatchmanan, co-founder of Minority Voices, a platform for minorities who have faced discrimination to share their experiences
Mr Ng Yi-Sheng, a writer and LGBTQ activist
THE ROLE OF RAGE
Prof Chan said that identities are multi-dimensional and that some groups may be clashing from the standpoint of one set of identities — for example, that of LGBTQ and conservative groups — but have other common identities such as being Singaporean.
"I hope, from a practical point of view, we can try to think (our identities) through and perhaps refrain ourselves from being too angry whenever we disagree," he said.
"Differences can exist, disagreements can exist, but we do have many commonalities and we can complement each other, even though we are different."
Responding to Prof Chan, Mr Ng said that social media has been an important tool for those who are disempowered and that "rage is productive, sorrow is productive".
"Most people cannot express themselves through formal independent arguments or go through academic conferences that may or may not influence policy," Mr Ng added.
"So going to social media and ranting, having that anger, that's important… we should be angry especially when we face injustice."
In response, Prof Chan clarified that he was not referring to a specific group when talking about refraining from anger, but was "speaking in more general terms".
He said that being angry and expressing it may lead to "unintended negative consequences" especially when the issue at hand involves "strong value differences between groups".
"Even though you are very angry and you have every right to... the only result that will happen is that it causes the other opposing group to be equally angry if not angrier.
"It is a disservice to the group that we are representing in trying to undo some of the injustices or to fight for the justices because it will backfire."
THE CONCEPT OF PRIVILEGE
The panellists also spoke about the concept of privilege.
Ms Lim from Aware said that in Finance Minister Lawrence Wong's speech, which kicked off the conference, she sensed "a wariness of certain challenging terms like privilege, especially when linked with something sensitive like race".
Mr Wong said in his speech that the phrase "Chinese privilege" is a form of stereotype, giving the example of how a female Chinese person from a poor background would have a vastly different lived experience compared to a male Chinese from a wealthy family.
Ms Lim said: "We have to recognise that the (term) majority or Chinese privilege is not something that we should shy away from… What it means is that someone is not inconvenienced in their day-to-day life, because of their skin colour or race."
Agreeing with both points of view, Prof Vineeta from NUS said that privilege is "the freedom not to be marked by any of your identity markers", such as the ability not to think about one's gender, race or sexuality when they are renting an apartment or vying for a job promotion, for instance.
While it is undeniable that privilege exists, Prof Vineeta emphasised the need to step back from terms such as "Chinese privilege" and think of how to have conversations about privilege without "demonising a particular group".
This is because there are many types of privilege that exist — including mainstream privilege, class privilege, race privilege — and the consequences from these various forms of privilege are "experientially very real".
POWER 'ASYMMETRY'
The panellists also raised issues stemming from the longstanding divergence of views between the LGBTQ community and conservative groups.
Mr Ng said that while the conversation has been about addressing the issues faced by the LGBTQ community, there should also be attention paid to a group that has been "causing the LGBTQ community a lot of trouble", which he referred to as the "conservative Christian community".
He claimed that it is these conservative groups that had a hand in incidents such as "Penguin Gate", where a story book about two male penguins adopting a baby penguin was momentarily taken off the shelves at libraries here, and a petition entitled 'We are against Pink Dot in Singapore', which was started in an attempt to halt the annual Pink Dot event supporting the LGBTQ community.
Responding to this, Prof Liow from NTU said that both the LGBTQ and "conservative Christian" groups have "legitimate points", but that both communities are "talking across purposes".
"The conservative Christian community does not seem to be interested in listening, and I would say that the LGBTQ community as well… there's a bit of talking ships passing in the night," Prof Liow said.
He added that a proper platform of engagement outside of social media "seems to be necessary" so that both parties can engage meaningfully.
Prof Chan from SMU said that the differences between the two groups stems from a difference in values, which is often more difficult to reconcile.
"It is very, very difficult to ask the LGBTQ group to look at it from the (conservative groups') point of view and vice versa," he said.
"Values take many years to develop… it is your sense of what ought to be and what is right and wrong (and) to be consistent and coherent, you will want to advocate what you believe in."
Mr Sharvesh from Minority Voices said that although both groups may differ in values, the power dynamic is unbalanced.
"In Singapore, you are able to exist as a Christian person freely, but it's not easy for you to exist as a LGBTQ person," he said, referring to Section 377A of the Penal Code, which makes it a crime for a man to commit any act of "gross indecency" with another man.
"I think that's the biggest difference — that you're infringing upon someone else's right to be themselves, whereas I don't think LGBTQ people are trying to tell Christians not to be Christian."
Responding to this, Prof Chan agreed that there is an "asymmetry" between the two groups due to various disadvantages that one group faces that the other does not.
"People who are against LGBTQ (groups) might want to take a pause and realise that LGBTQ groups are going through things that you as a non-LGBTQ (person) do not have to go through," he said.