Using blue inhalers alone is not enough. Asthma sufferers should take note of risks
SINGAPORE — When supermarket-goers were rushing to fill up their trolleys after the Government announced last month that it was putting a temporary stop to most business and social activities to combat Covid-19, Mr Mike Mayalagan was more concerned about something else.
SINGAPORE — When supermarket-goers were rushing to fill up their trolleys after the Government announced last month that it was putting a temporary stop to most business and social activities to combat Covid-19, Mr Mike Mayalagan was more concerned about something else.
The 54-year-old musician and composer fretted over his supply of medication that he takes every day to keep his asthma under control. The inflammatory airway disease, which affects one in 20 adults in Singapore, can make breathing difficult and cause wheezing and shortness of breath.
Asthma is usually managed with two types of medication: A preventer inhaler and a reliever inhaler (usually blue in colour).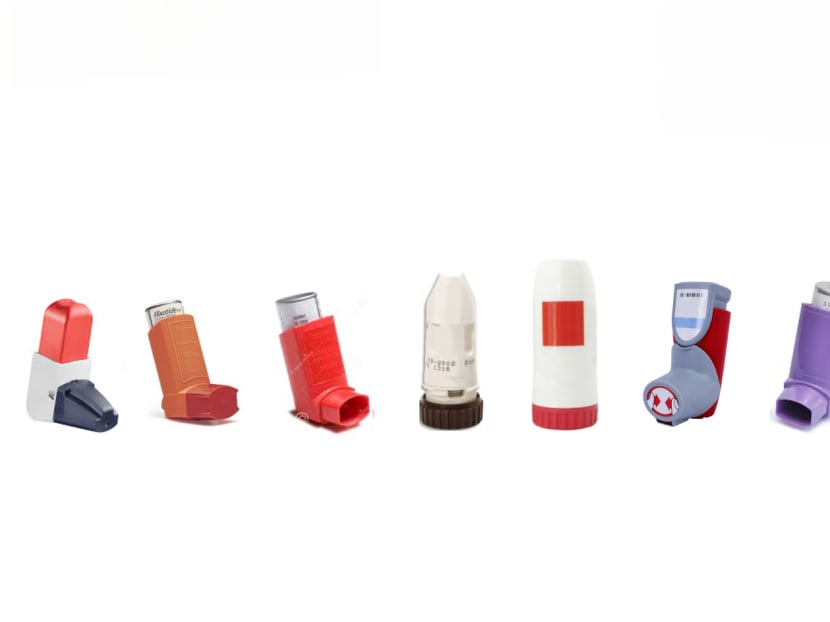 While the blue inhalers are used for quick relief of symptoms such as breathing difficulties, preventer inhalers containing corticosteroids are used on a long-term daily basis to control the underlying inflammation of the airways.
After two near-fatal asthma attacks, Mr Mayalagan is not taking any more chances with his life, especially with Covid-19 being a respiratory disease that could cause pneumonia and death. News of some Covid-19 patients having breathing difficulties and complications with lung diseases hit close to home.
In the end, Mr Mayalagan learnt that he could make an online request for a top-up of his asthma medications.
He said: "My heart goes out to (the people under intensive care). I know how they are suffering because I've been there before, unable to breathe and hooked up on a ventilator."
In a joint statement on World Asthma Day on May 5, the Singapore National Asthma Programme, Asthma and Allergy Association and National University Health System said that effective asthma management is more important than ever as Singapore tries to limit the impact of the Covid-19 pandemic.
This means that patients must continue to adhere to their prescribed asthma treatment plan to have good control of the condition.
People with poor control of their asthma are at a greater risk of asthma attacks induced by viruses, they said.
Speaking at a press briefing held online last week, Dr Lim Hui Fang, director of the Singapore National Asthma Programme, noted that based on past data, there was a trend here of a temporary surge in urgent asthma-related admissions to healthcare institutions in the aftermath of the severe acute respiratory syndrome (Sars) outbreak in 2003 as well as the 2009 H1N1 pandemic. This was even though admissions of asthma sufferers did not increase during the outbreaks.
Dr Lim, who is also the senior consultant with the division of respiratory and critical care medicine at National University Hospital (NUH), said: "This might be related to patients avoiding hospitals and clinics at the peak of the pandemics. They were not seeing their doctors and not taking their preventers."
She added that it is important for patients to continue using their preventer inhalers during the Covid-19 pandemic.
Dr Lim said that if people have poorly controlled asthma, they will be more likely to get an attack due to any viral infection, including Covid-19.
During such an attack, the airway inflammation and severe constriction of the muscles can be so severe that they will require mechanical ventilation.
"There is currently no published data that patients with asthma are more likely to get infected with Covid-19 or develop severe asthma attacks as a result of Covid-19. However, patients with poorly controlled asthma are known to have higher risk of viral-induced exacerbations."
That is why the Centers for Disease Control and Prevention in the United States postulated recently that patients with moderate to severe asthma may be at higher risk of having respiratory complications linked to Covid-19.
To reduce this risk, the 2020 Global Initiative of Asthma recommends strongly that asthmatics continue using the preventer inhalers. The Global Initiative of Asthma is an organisation that works with public health officials and healthcare professionals globally to provide medical guidelines and to improve asthma prevention and management.
SOLE USE OF BLUE INHALER CAN WORSEN ASTHMA
Over-reliance on only the blue reliever inhaler for a quick fix is believed to be the reason why asthma-related admissions continue to be common in Singapore.
While asthma-related deaths here have dropped from 5.0 to 1.2 per 100,000 of total population in the last 30 years, Dr Lim said that asthma-related visits to the emergency department and hospitalisations are still two to three times higher than that of other developed nations.
Since last year, the Global Initiative of Asthma has recommended the biggest change in asthma management in three decades: Using the blue inhaler alone is no longer recommended even in mild asthma patients above the age of 12, Dr Lim said.
Dr Chiang Wen Chin, president of the Asthma and Allergy Association, who also spoke at the press briefing, said: "Recent studies show that the combined use of preventer and reliever inhalers have been more effective than the blue reliever inhaler alone in reducing severity of attacks and visits to hospitals."
On the other hand, studies show that when used alone without preventer therapy, the blue inhaler could worsen airway inflammation.
Based on data in the National Review of Asthma Deaths in the United Kingdom, the use of three or more canisters of the blue inhaler a year is strongly associated with severe asthma attacks; using one or more canister a month is linked to life-threatening attacks resulting in death.
Observing that many patients here mistake rapid relief for adequate control of asthma, Dr Lim said: "To use an analogy, the preventer is like a fire extinguisher that puts out airway inflammation. The blue inhaler is only blowing cool air so you might feel less heat temporarily.
"Worse, if you continue to just take the blue inhaler alone, the fire gets bigger and that's when you get a severe asthma attack."
People with good control of their asthma would hardly need to use their blue inhaler, she pointed out.
In Singapore, an audit supported by the Singapore National Asthma Programme found that about 45 per cent of patients who were treated at National University Polyclinics for severe asthma attacks were using their blue inhalers excessively.
About two in five of these patients had recurrent severe attacks, defined as two severe attacks within 12 months.
These patients were found to have a poor understanding of their condition, but 70 per cent declined further counselling by asthma nurse managers who play a crucial role in asthma management education.
Dr Chiang said: "The patients are often surprised that the blue inhaler (alone) is not the best way to manage their asthma. For the past 30 years, patients have been relying on their blue inhalers to treat symptoms, not realising that this might be causing more harm than good if used too frequently."
Mr Mayalagan learnt this the hard way as well.
Eight years ago, his first acute asthma attack landed him in the intensive care unit. However, he did not take his asthma treatment seriously after he recovered.
Instead of using his preventer inhaler every day as he found it "troublesome", he used just the blue inhaler when he felt an attack coming. It was his second near-fatal attack in 2015 that changed the way he managed his illness.
Despite using the blue inhaler, Mr Mayalagan's condition worsened and he had to be on a life support machine. He spent 11 days under intensive care, fighting for his life.
"Back then, asthma did not feel like a chronic disease to me. I continued smoking heavily and would just use the blue inhaler whenever I felt an asthma attack coming, like popping a Panadol to relieve fever," Mr Mayalagan said, adding that the rapid relief from the blue inhaler during an attack gave him a false sense of security.
TIPS FOR MANAGING ASTHMA
To get a sense of their asthma control, patients can perform a self-check, Dr Lim said.
Asthma is poorly controlled if there are two or more symptoms or if they need to use the blue inhaler two or more times a week, she added.
Symptoms include intermittent cough, chest tightness, shortness of breath, wheezing or using the blue inhaler more than twice a week, especially at night. These signs would suggest a risk of an asthma attack.
Other tips from Dr Lim on managing asthma during Covid-19 include:
Continued use of preventer inhaler to keep asthma under control.

Many specialist outpatient clinics and polyclinics allow teleconsultations, easy self-collection or home delivery of medicines so that patients can get their maintenance treatment topped up from their homes.

During an attack, asthma patients should promptly use the personalised set of steps given to them to prevent and control asthma so as to avoid severe consequences. They can first increase their preventer therapy along with their blue inhalers.

If there is no improvement, the second step is to take their standby oral prednisolone for a severe attack. If there are worsening symptoms despite these measures, see a doctor for emergency treatment immediately. 
A NEW LEASE OF LIFE
For Mr Mayalagan, he has since accepted that asthma is a chronic condition and that complying with preventer treatment is necessary to prevent deterioration.
He also quit his habit of smoking 40 to 60 sticks a day.
"I keep my preventer inhaler together with my toothbrush, so that I will remember to use it before I brush my teeth. It has become a habit," he said, adding that his asthma is now under control.
Mr Mayalagan started volunteering his time to support seniors who are living alone, particularly those with asthma and breathing issues.
"When I went for my medical appointments, I saw that some of the elderly patients had trouble understanding their condition and how to use their inhalers. I went through all this, and I could relate to the challenges they face," he said.
As an asthma sufferer, Mr Mayalagan takes safe distancing measures seriously. He started self-isolation about two weeks before stay-home curbs kicked in in early April.
His advice for asthma sufferers is to stick to their treatment plan even as they practise safe distancing and wear a mask when they go out.
"And don't forget to carry your reliever inhaler when you go out. Don't take asthma lightly. It can be fatal."