Variety and diversity: Apple and Google celebrate World Emoji Day with 124 new designs
SINGAPORE — Texting is about to get a little more fun — and inclusive.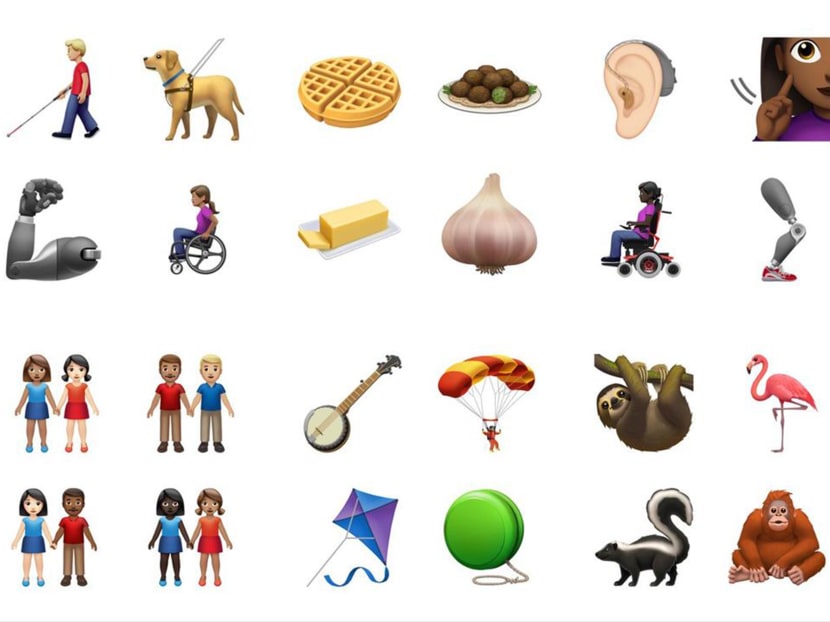 SINGAPORE — Texting is about to get a little more fun — and inclusive.
 
Apple and Google will be releasing 124 new emojis in the next few months, the tech giants announced on Wednesday (July 17), which is also World Emoji Day.
 
Apple will have 59 new emojis with its next software update in September or October, while Google will offer 65 new designs when the new Android Q is released at the end of September.
Within these new emoji options, Android users can expect to have 71 couple combinations of various skin tones, as well as "gender-ambiguous" designs to choose from.
Read also
New emojis are coming: Interracial couples, guide dogs, falafel and more
Similarly, Apple users will have 75 possible combinations of couple and skin tone emojis available to them from the next software update for iPhone, iPad, Mac computers and Apple Watch. 
In addition, other new emojis that will feature in both iOS and Android include a new guide dog, an ear with a hearing aid, a wheelchair, a walking cane and a prosthetic arm. 
 
There will also be more faces with emotions — such as a yawning face — and food emojis with the addition of a waffle and an oyster.
 
The new emojis are based on approved characters in Unicode 12.0, developed by the Unicode Consortium, a non-profit group that decides what and when new emojis will be adopted.