S'pore's first 'vending machine cafe' launches amid fanfare
SINGAPORE — The concept of vending machine dining, commonly associated with Japan, could soon pop up in more places in the heartlands and workplaces, following the pilot launch of an unmanned vending machine cafe in Sengkang.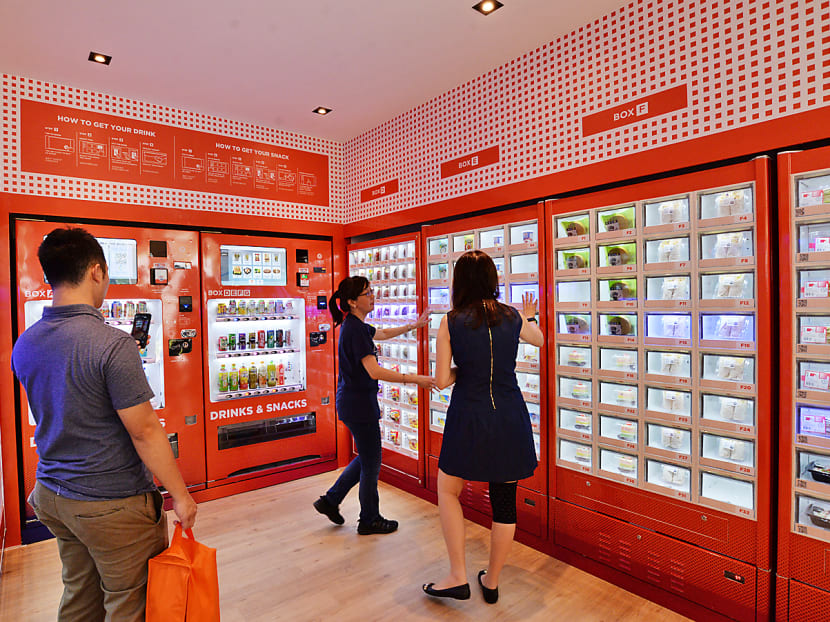 SINGAPORE — The concept of vending machine dining, commonly associated with Japan, could soon pop up in more places in the heartlands and workplaces, following the pilot launch of an unmanned vending machine cafe in Sengkang.
At such cafes, using the Chef-in-Box machine for hot meals will start with a menu displayed on a touchscreen and selecting dishes such as Chicken Bolognese, Nasi Goreng Istimewa or Vegetarian Rice Noodle, for S$3.50 to S$5. Consumers can pay by cash, Nets FlashPay or credit card. About three minutes later, the meals and cutlery are ready for collection.
The same goes for snacks such as cookies or sandwiches, which are stored in small boxes in a vending machine and will be unlocked after purchase. Diners can complement their meals with coffee and fresh orange juice from beverage machines.
The first vending machine cafe, or VendCafe, was launched on Sunday morning (Aug 7) at the void deck of Block 320C along Anchorvale Drive and is operated by JR Vending, the company behind Chef-in-Box machines.
The year-long pilot project from Spring Singapore and the Housing and Development Board (HDB) is targeted at residents living within a 400m radius to provide them with more around-the-clock food options.
At the launch ceremony, Member of Parliament (Sengkang West) Lam Pin Min said Anchorvale was an ideal location for the VendCafe pilot.
Compared with mature towns, it lacks amenities such as eating houses but is also an older part of a precinct that is too built-up to find space for a new eating house, he said.
A survey conducted in March by Sengkang West Zone "B" Residents Committee and JR Vending found that 92 per cent of the surveyed households were open to a pilot or permanent VendCafe installation.
More importantly, the cafe serves as a good example of how innovation can reduce reliance on labour in the manpower-intensive food and beverage (F&B) sector amid a manpower crunch, Deputy Prime Minister Tharman Shanmugaratnam said at the launch. "The F&B sector takes up almost 5 per cent of our total workforce. It's still growing as a sector, but you can't keep growing manpower, and in particular we can't keep growing foreign manpower.
"So we have to find ways of using technology but without compromising consumers' desire for taste, for health, for nutrition and for convenience," said Mr Tharman, who is also Coordinating Minister for Economic and Social Policies.
JR Group CEO Jocelyn Chng said VendCafe conveniently offers residents "fresh and wholesome meals", which are prepared by 60 chefs in its central kitchen and distributed to the machines. The food is kept fresh by blast-chilling it after cooking, which Ms Chng said preserves its freshness, taste and quality: "We sent it for testing, and all the nutrients, vitamins are still intact without preservatives or additives or any flavouring."
Two dishes in VendCafe — Yangzhou Brown Rice and Braised Chicken in Duo Olive Pronto Sauce — have been awarded the Health Promotion Board's Healthier Choice symbol.
JR Vending now has 100 other Chef-in-Box machines in major hospitals, university campuses, army camps and offices. A self-monitoring system with remote access also sends alerts when stocks are in low supply, and Ms Chng said most machines are replenished at least once daily.
On receptiveness to this new dining concept, Mr Tharman noted that vending machines have become ingrained in countries such as Japan, where large-scale implementation raises people's awareness of what can be readily bought at these machines on their way home or to work.
"We're starting off on a smaller basis, but people are already used to doing this in the hospital, the tertiary campuses. We just have to make it more present in our neighbourhood so people know it's there and it's just part of their daily routine," he added.
Residents were generally receptive to trying VendCafe's food and noted its convenience and affordability.
Restaurant service crew employee Pauline Poh, 60, said she will now be able to get dinner at the base of her block when she gets home past 11pm and the coffee shop nearby is closed.
Ms Lilian Chua, who attended the launch ceremony with her daughter and husband, said the concept was interesting. After sampling dishes like the claypot chicken rice and chicken penne with cream sauce, she felt that they tasted better than similar convenience food found at 7-11 stores.
Spring is working with HDB and the JTC Corporation to identify more residential and industrial sites to roll out pilot VendCafes within the next 12 months. To help more food companies venture into the use of vending machines, Spring's Industry and Enterprise Development Group director (Food) Tong Shuh Lan said support will come in the form of connecting food players with technology and vending machine operators. The Capability Development Grant will also help to defray some of the investment costs of piloting innovative concepts.
"This might be in the area of R&D, such as extending the product's shelf life, improving the nutrition and taste of the product, (and) also in terms of the process like workflow design and investing in equipment so they can incorporate the vending machine as part of their distribution channel," said Ms Tong.