Victimised women continue to engage Monica Baey, who says casual attitude towards voyeurism must stop
SINGAPORE — Technology has given peeping toms and other sexual offenders various ways to invade the privacy of people and harass and traumatise them. And Ms Monica Baey, 23, knows it all too well.
SINGAPORE — Technology has given peeping toms and other sexual offenders various ways to invade the privacy of people and harass and traumatise them. And Ms Monica Baey, 23, knows it all too well.
Just a year ago, she was filmed showering at a student hostel by a fellow undergraduate at the National University of Singapore (NUS) without her permission. Now, the young woman is taking on a new role to be a voice for survivors of technology-facilitated sexual violence.
Speaking on Monday (Nov 25) evening at a panel organised by the Association of Women for Action and Research (Aware), Ms Baey said that she wants to debunk the myth that sexual violence facilitated by technology, such as the use of digital devices, is not as serious as general cases of sexual violence or assault. This way of thinking is one major reason why victims of such crimes dare not speak up most of the time.
Ms Baey related not just her experience but those of others, gathered from the more than 1,000 messages that she had received from strangers and friends since she went public with what happened to her.
She said the problem is so big that various individuals she encounters are still opening up to her to talk about their own brushes with sexual violence today, branding the casual attitude towards voyeurism as a "national emergency that was swept under the rug" for too long.
One of the things she did was to go last month for a four-hour training with Aware to be a first-responder for victims of sexual assault.
The training was started by the gender-equality advocacy group in February and it has since trained 943 people.
With all the people who have turned to her privately for help, Ms Baey needed to know how best to help them, rather than merely urging them to take the uncomfortable step of reporting their case with the police immediately.
"You have to understand that everyone has their own timing, has their own journey. Sometimes if they speak up too soon, it gets even worse for them, so everyone needs to — as bystanders — understand that we need to give people the time to work through their feelings and just be there for them," she said.
In April this year, Ms Baey took to social media to talk about the incident at NUS because she was frustrated and upset that the perpetrator Nicholas Lim got away with just a conditional warning from the police and a one-semester suspension from the university.
Her Instagram post went viral and set off a chain of events that led to various universities here reviewing and tightening their disciplinary and campus security measures. Her case was also discussed in Parliament.
At Monday's panel, Ms Baey was joined by other speakers including Ms Amber Hawkes, who is Facebook's head of safety policy for the Asia-Pacific region; Mr Benny Bong, president of non-profit organisation Society Against Family Violence; and Ms Priscilla Chia, a lawyer who volunteers with Aware's Sexual Assault Care Centre (SACC).
Speaking to some 150 members of the public who attended the event, Ms Baey said that victims who have been violated are so afraid that something will happen after they speak up — where they will be "shut down", or people will tell them that things are not as serious as they think.
"We hear that a lot when they report (their case) to the police (through questions like), 'What were you wearing?' — I wasn't wearing anything. I was showering — or 'What were you doing?', 'Why were you talking to this person?', 'Why did you reach out after he had harassed you?'"
One such question that Ms Baey felt "invalidated" her own experience was when a police officer asked her if the bathroom she was using had a sign saying that no men are allowed inside. 
"It was ridiculous that I had to answer (that) and I had to stand up for myself… If these small little things invalidate your experience, it becomes even harder for you to continue to the next step past police reporting — going to school, speaking to your family and friends about it," she said.
She added: "(With) every small voice that tells you, 'Is this really serious?', 'Did this really happen to you?', 'Is it his fault?', 'Is it your fault?', you start to question yourself.
"That's why it is important that we talk about it. Because the more people understand that this is not about the victim, that this is a problem we have to address and talk about, (it then) becomes a support system where people can actually speak up and feel safe."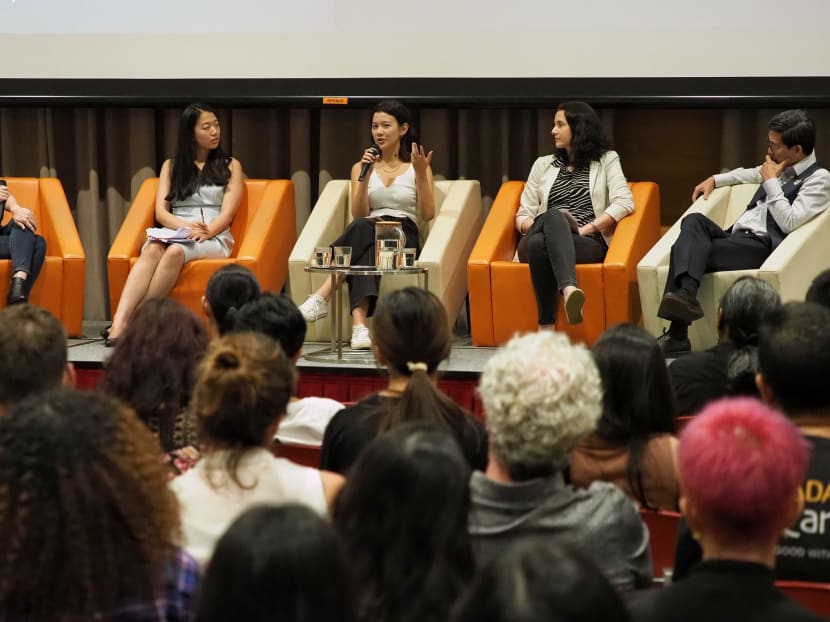 'IMAGE-BASED SEXUAL ABUSE'
Since 2016, Aware has been monitoring technology-facilitated sexual violence and its counselling arm is now seeing four times the number of women who seek help after someone had filmed up their skirt or planted a hidden camera to spy on them in places that are supposed to be private, for example.
It saw just six such victims in 2016, but 25 victims came through its doors last year.
In the past, they used to make up two in 10 "image-based sexual abuse" cases seen by Aware, but now, they make up four in 10.
Image-based sexual abuse also includes "revenge porn", where videos or photos of intimate acts or of the victim's body are distributed without their consent by partners who used to be in a relationship with them.
Taken together, these cases of image-based sexual abuse contributed significantly to a jump in the number of technology-facilitated sexual violence that SACC has seen — from 46 in 2016 to 124 last year.
In 2016, the centre intercepted 30 image-based sexual abuse cases. Last year, it was 64. 
These statistics were released by Aware while it observed the International Day for the Elimination of Violence against Women on Monday.
Speaking to reporters after the event, Ms Baey, who is now studying part-time and working part-time in the advertising industry, said that she is still very much affected by what happened to her at NUS' Eusoff Hall last November.
For instance, she will not use public toilets unless they are toilets for the handicapped, which is a separate space by itself without much room for peeping toms to lurk. She could also become "triggered" by things that remind her of the incident, though she would not go into detail about what these are.
In contrast, the backlash she had received from voicing up does not affect her as much. On the subject of online trolls who might question why she is still harping on the incident, she said that it is not going to be something that she is going to think about right now.
"What I am doing now is to try to encourage people, because I am in a space where I can, and many people can't."
She said the reason that her case has blown up, and voyeurism and sexual harassment continue to be a problem, show that these are issues that "we have to talk about". "If I stop now, how far could we take it? Not that far. Right? So I thought to myself, let me try to do the best that I can."