Video of pigeon culling in Hougang 'an outright case of cruelty': Acres
SINGAPORE — Animal welfare group Animal Concerns Research and Education Society (Acres) has filed a report with the National Parks Board (NParks) requesting that the agency investigate what it claims to be the improper handling of birds.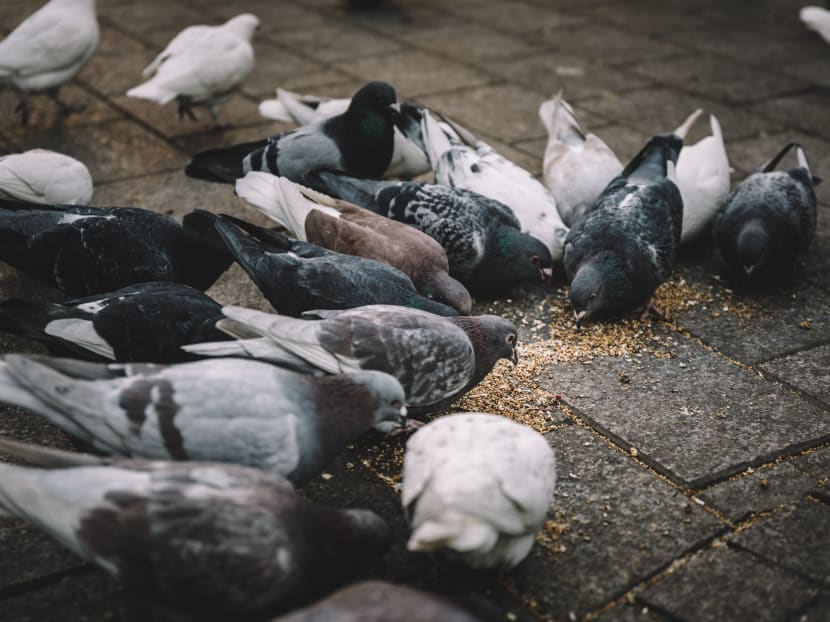 SINGAPORE — Animal welfare group Animal Concerns Research and Education Society (Acres) has filed a report with the National Parks Board (NParks) requesting that the agency investigate what it claims to be the improper handling of birds.
A video posted on Acres' Facebook page on Tuesday (April 9) showed workers outside Hougang MRT Station feeding poison to pigeons to sedate them, before bagging the birds in trash bags and disposing of them.
The birds are seen flapping around weakly on the ground, with some still alive and moving in the trash bags.  
Responding to TODAY's queries, Acres said that this was "an outright case of cruelty", noting that culling is an "alarming" islandwide concern not limited to Hougang and has been in practice for over a decade.
NParks said on Wednesday that it is "studying the details" and that its Animal and Veterinary Service (AVS) cluster is in contact with the Aljunied-Hougang Town Council (AHTC) on the incident which was caught on video.
According to AHTC, the pigeon culling exercise was led by a "licensed specialist pest control contractor with approval from relevant authorities".
"We have received increasing feedback on pigeon nuisance in the area and hence it is with reluctance that we had to resort to culling," said AHTC.
"Pigeon nuisance is a persistent problem that affects many areas in Singapore. While pigeon culling is not new and has its limitations, different solutions trialled across Singapore have not been completely effective."
AVS' group director Jessica Kwok said that pigeon control operation guidelines have been issued to town councils to "ensure that the process is carried out humanely".
For example, pest control companies must ensure that the bird management measures they use do not result in any form of cruelty to the birds and all remaining bait must be removed.
Property management staff members should also be present to supervise the pest control personnel during the entire operation and are encouraged to put up notices in common areas before the start of the operation.
"Pigeons are not native birds and are an invasive species in Singapore. Their droppings dirty the environment and leftover food from pigeon feeding may attract other pests, like rats, that carry diseases and pose a risk to public health," said Ms Kwok.
"Humans could possibly contract diseases through contact with droppings from diseased birds and bird carcasses."
CULLING ONLY 'SHORT-TERM FIX'
Acres' deputy chief executive Anbarasi Boopal pointed out that there has been "no evidence to prove that culling is effective in reducing the pigeon population".  
"On the contrary, it's a short-term fix that makes the problem worse. Culling doesn't address the root cause of the problem," she said.
Ms Boopal explained that the issue's root cause lies in food source availability, where there is a lack of proper food waste management and people continue to feed pigeons despite a ban.
"When there is more food, the pigeons reproduce more and the population goes up. It's been scientifically proven that less food supply reduces the number of pigeons."
Additionally, culling has a reverse negative effect as she said that removing healthy pigeons means the remaining ones have more food and will breed even more.
The use of poison will only create more problems as other animals and birds such as quails and orioles may accidentally consume them, she added.
"When people complain about pigeon nuisance because they defecate on clothes or window ledges, they don't know what happens to the poor birds as a result," said Ms Boopal.
Better enforcement of the feeding ban and intensive outreach to the public on how to treat birds should be the long-term solution, she added.
Ms Kwok said that AVS takes a "science-based approach towards the management of invasive bird species", incorporating the removal of food sources made available by humans, habitat modification and population control strategies.
Studies are also in place to understand the population ecology of the birds such as their roosting patterns and movements.
In the case of pigeons, Ms Kwok acknowledged that it is important to reduce sources of food to manage their population.
"This includes proper waste management, surveillance and bird management operations, public education against feeding and littering, and enforcement against pigeon feeders and litterbugs," she said.
AHTC said that it will continue to explore other solutions apart from culling and the town council will continue its ongoing public educational efforts.