VWOs support move to have social, health services for elders come under MOH, but raise cost concerns
SINGAPORE — Most social service organisations welcomed the Government's move to consolidate the delivery of social and health services to seniors under the Ministry of Health (MOH) from April, saying it would allow them to work more efficiently.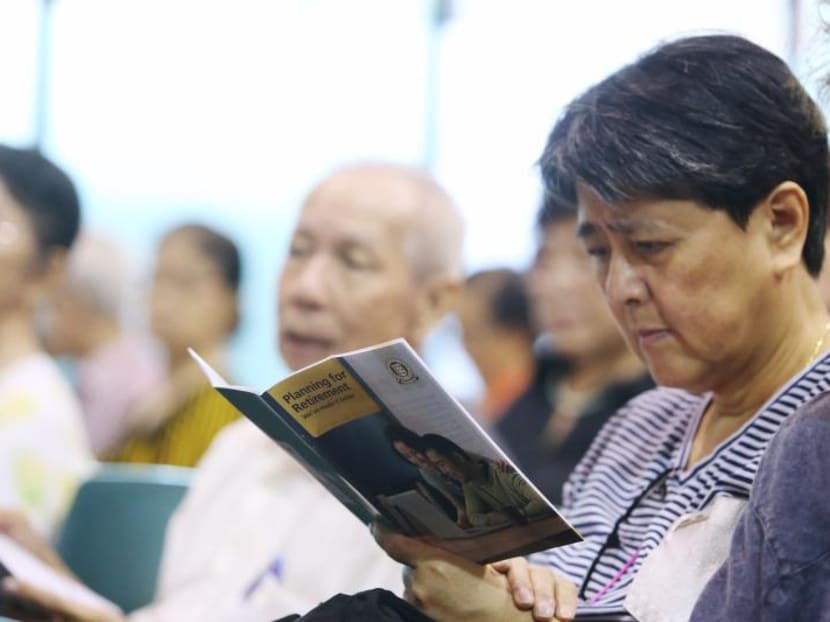 SINGAPORE — Most social service organisations welcomed the Government's move to consolidate the delivery of social and health services to seniors under the Ministry of Health (MOH) from April, saying it would allow them to work more efficiently.
However, they also expressed concerns over issues such as funding criteria.
On Monday (Feb 19), Finance Minister Heng Swee Keat announced in his Budget speech that the Ministry of Social and Family Development (MSF) would transfer its social aged care functions under the Senior Cluster Network — such as senior activity centres — and other programmes to MOH.
With the transfer, the Agency for Integrated Care will be designated as the central agency to coordinate such services for seniors and their caregivers. The Pioneer Generation Office will be renamed the Silver Generation Office and merged into the agency.
The Community Networks for Seniors programme will be progressively expanded nationwide by 2020 as well. Voluntary welfare organisations (VWOs), regional health systems, government agencies and grassroots organisations come under this programme to promote active ageing among seniors and provide social support for those in need.
In total, "25 VWOs are operating services whose oversight will be transferred from MSF to MOH", a spokesperson from MOH told TODAY.
On Wednesday, Ms Indranee Rajah, Senior Minister of State for Finance and Law, who visited Fei Yue Community Services at Teck Whye, told reporters that the changes would bring about "better coordination" on the ground, given that there are already many overlaps and close links between health and social service providers.
Commenting on the changes, Mr Keith Lee, health and senior care director at social service organisation AWWA, said that the merging of the Agency for Integrated Care and the Pioneer Generation Office, which engages all Singaporeans aged 65 years and above, will help identify vulnerable seniors who may not be able or know how to apply for aid.
"Our social workers act as eyes and ears, but it will be good to have additional resources with coordinated efforts in the community to ensure that the seniors are able to have access to them," he said.
Viewing the needs of seniors with a common lens will help provide a "more complete and accurate overview of prevailing needs and resources available", another social service professional said. Mr Kavin Seow, senior director of elderly group at Touch Community Services, added that this reduces the duplication of programmes or support given to the same recipient.
"It will also allow service providers to work more efficiently under one governing body with a common operating framework, and not in silos with their own set of rules."
Mr S Devendran, chief executive of Sree Narayana Mission (Singapore), also said that efforts to match programmes and support for seniors were sometimes done "in silo" and on a more ad-hoc basis for different agencies, so having more structured and formal networks would make it easier for everyone "to know where to get help".
FUNDING STRUCTURE
However, with health services coming into the picture, Mr Leng Chin Fai, executive director of Fei Yue Community Services, wondered if there might be a change in the funding structure. He added that MOH funding would typically come with "detailed" assessments and complex criteria to meet.
This would make it harder for low-income elders to get help should they not qualify for certain funding under the new integrated model, and he hopes there would be more information in this area.
Others such as Lions Befrienders' acting executive director Michael Foo asked if the restructuring would mean a shift to provide more medical services instead of social services, and this could be "at the expense of providing a broader range of social and supportive services to older persons with varying levels of need".
With more medical professionals involved, costs of operations might increase and this might mean higher fees to pay for the elders.
In response to these concerns, MOH told TODAY that the funding and service model will not change, and there will be no disruption to the VWOs' services. "Many of the VWOs will benefit from dealing with one, rather than two, government ministries with this consolidation," its spokesperson added.
Mr Simon-Peter Lum, deputy head of Comnet Senior Services under AMKFSC Community Services — which operates four family service centres across Ang Mo Kio, Sengkang and Punggol — was initially "worried" that there may be a greater emphasis on medical components, but was assured that the social needs of seniors would still be looked after under the Community Networks for Seniors initiative.
He said that the centre is looking forward to working with MOH and other service providers to share resources and minimise duplication, and to provide a "one-stop point of contact for seniors to receive a suite of services".
Beyond the Government's support, the corporate sector could do more to lend their weight in helping elders to age at home and in the community.
Ms Tan Su San, assistant director of Fei Yue Community Services, said that ride-sharing companies such as Uber and Grab could work with community partners to offer transport services to seniors and their caregivers, for instance. Retailers such as NTUC FairPrice supermarket and online grocers such as RedMart may also consider setting up a "mobile pop-up store" or have mobile trucks that go around housing estates selling food items, as it is done in Japan, she said.
"Caring for the aged is not just (limited) to charities and the Government… Transport services and supermarkets all can come in, too. With technology, a lot of this is possible," Ms Tan said.