Wanted: Hundreds of temperature screeners to be paid up to S$32 an hour amid Wuhan virus outbreak
SINGAPORE — As the fight against the Wuhan virus kicks into high gear, healthcare institutions and companies are recruiting hundreds of temperature screeners to man stations at Singapore's checkpoints, building lobbies and guardhouses.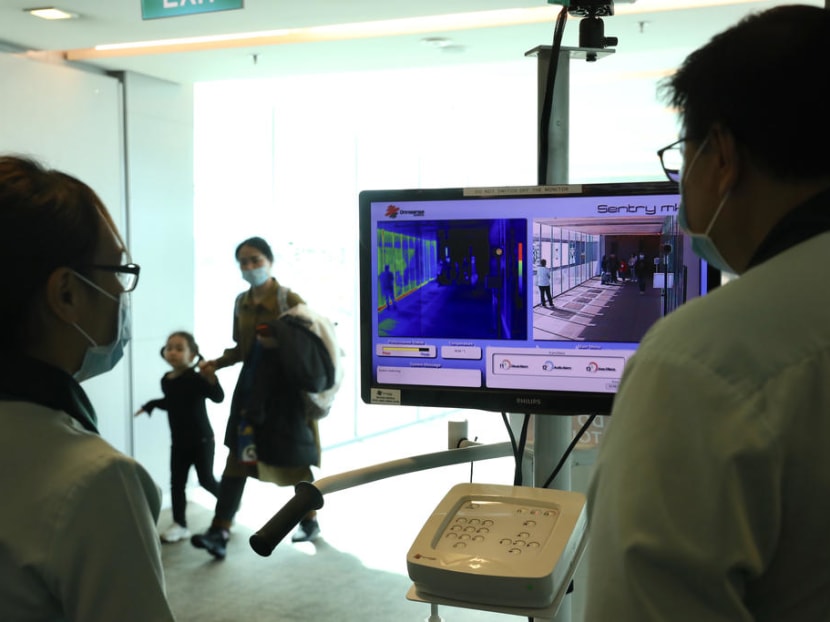 SINGAPORE — As the fight against the Wuhan virus kicks into high gear, healthcare institutions and companies are recruiting hundreds of temperature screeners to man stations at Singapore's checkpoints, building lobbies and guardhouses.
Parkway Shenton, a provider of primary healthcare services, said that it has been assigned to set up and man health screening stations at Singapore's land and sea border checkpoints.
Parkway Shenton's chief executive officer (CEO) Edmund Kwok said that more than 260 healthcare assistants — whose task is to identify, isolate and prevent those who are infected from entering Singapore — are needed daily at these checkpoints. 
Separately, Raffles Medical Group, another healthcare company, is looking for temporary healthcare assistants to be deployed at Changi Airport.
These temporary workers contracted by the various firms will receive anywhere between S$7 and S$32 an hour.
On Thursday (Jan 30), a WhatsApp message touting hourly rates of between S$33 and S$48 for healthcare assistants at Changi Airport was quashed by the Raffles Medical Group as "doctored" and "inaccurate".
Its rates are S$12 an hour for the day shift and S$16 hourly for the night shift.
PREVENTING LOCAL TRANSMISSION
The new coronavirus is believed to have originated from an illegal wildlife market in Wuhan, the capital of China's Hubei province. It has sickened thousands worldwide, mostly in China, and killed nearly 200.
In Singapore, there are 13 patients who have contracted the virus, all of whom are Chinese nationals from Hubei. It has not spread within the community here.
Parkway Shenton's Mr Kwok said that healthcare professionals and assistants deployed at the checkpoints' screening stations would identify, isolate and prevent infected individuals from entering Singapore and then mixing with the community and starting local transmissions.
These workers do two 12-hour shifts daily, and receive a "token" of between S$12 and S$32 an hour, depending on the day and shift, he said.
The Ministry of Health did not immediately respond to a request for comment about the recruitment drive for such screeners at checkpoints.
RECRUITMENT FIRMS GETTING MORE REQUESTS  
Recruiters approached by TODAY said that they are looking for hundreds of people to do temperature screening for public and private organisations.
A spokesperson for recruitment firm BGC Group said that the company is serving four clients from the public and private healthcare sectors that have "called for mass-volume headcounts" for these posts.
Altogether, the firm is looking for 300 to 400 screeners, and it has filled more than half these posts.
It expects more demand. "There have been a few write-ins from hospitals looking to increase their numbers, but we are committed to filling those at hand before we take in more," the spokesperson from BGC Group said.
Mr Joseph Khor, operation director at JobStudio, said that his firm has been contracted by healthcare institutions, hospitals and some private firms, such as manufacturing plants, to find people to handle temperature screening.
At the private firms, workers are returning from overseas or have relatives from abroad who are visiting them over the Chinese New Year holiday, Mr Khor said.
JobStudio's aim is to have at least 400 temperature screeners on standby to be deployed at short notice, he added. "We have so far deployed close to 150 screeners to support our clients' operation and will continue to support the manpower needs should the situation worsen."
Mr Rabian Lin, founder of recruitment agency RN Care, said that five companies in the healthcare sector that run clinics and hospitals have engaged his firm to recruit temperature screeners, who must work for three weeks at a minimum.
It is trying to recruit about 100 screeners in all. About 40 vacancies have been filled, Mr Lin said.
COMPANIES STEP UP SCREENING
Businesses are doing their part to prevent the spread of the virus.
Mr Melvin Teo, group CEO of beverage company Yeo Hiap Seng, said that the firm has recruited two temporary temperature screeners to ease the load on its security team.
These screeners will start work on Friday and be stationed at the guardhouse of its headquarters along Senoko Way near Sembawang to screen all visitors.
Mr Teo said that the screeners would be given disposable gloves, hand sanitiser and masks, and would be hired for a month — for now. "Depending on the situation, we will review accordingly."
He would only say that they would be paid "competitive market rates". An advertisement by Yeo Hiap Seng on JobStreet, a job portal, stated that temporary temperature screeners would be paid S$7 an hour.
TODAY counted about 30 listings on JobStreet alone for temperature screeners who will be dispatched to various places, including hospitals, checkpoints and building lobbies.
One by BGC Group called for applicants "who want to be angels and border defenders to protect Singapore from the 'Wuhan-Invasion'".