War on sugar: Labelling regime and advertising ban on high-sugar packaged drinks to take effect in 2021, says MOH
SINGAPORE — By the end of next year, sugary drinks will have colour-coded labels from A to D depending on how much sugar they contain, the Senior Minister of State for Health Edwin Tong said on Thursday (March 5).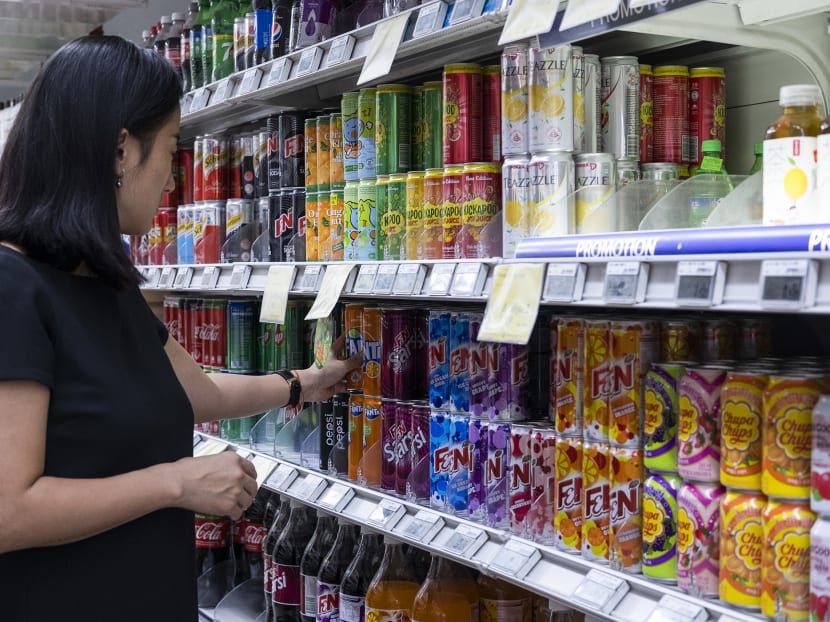 SINGAPORE — By the end of next year, sugary drinks will have colour-coded labels from A to D depending on how much sugar they contain, the Senior Minister of State for Health Edwin Tong said on Thursday (March 5).
Mr Tong added that the Ministry of Health (MOH) is also looking at ways to extend this grading system eventually to include freshly prepared drinks such as bubble tea sold at large chains.
Explaining the need for the new measures, Mr Tong said: "Although we have made progress in encouraging Singaporeans to exercise more and eat healthier, our daily sugar intake remains high. In particular, beverages contribute more than half of our sugar intake."
"We want to provide Singaporeans with the right information to make their own healthy choices and also at the same time encourage manufacturers to reformulate products and create healthier options."
The grading system, named "Nutri-Grade", will apply to all pre-packaged non-alcoholic drinks sold in Singapore and will reflect the amount of sugar and saturated fat in the drinks.
There will be four colour-coded labels indicating grades A to D, with A indicating the least sugar and saturated fat content and D corresponding to to the highest sugar and saturated fat content at over 10 per cent and 2.8 per cent respectively.
The move, which was detailed by MOH on Thursday during its Committee of Supply debate, was first announced by the ministry last October.
At the time, the ministry said it had decided on the new measures after completing an eight-week public consultation on how Singaporeans can reduce their sugar intake from ready-to-drink products in cans, packets, cartons and bottles, as well as drinks that require dilution from cordials, concentrates or powders.
There were four proposals that MOH put forth in its consultations, and these were the two that received the highest level of public support.
The labels will be mandatory for beverages with grades C and D and optional for drinks within grades A and B. The rollout by the end of next year would give the industry time to adjust to the changes, Mr Tong said.
In addition to the grading labels, the percentage of sugar in the drinks will also be displayed clearly on the label. 
This will allow consumers to compare the sugar levels across beverages within the same grade, said MOH in a statement.
The grading will also be decided based on the highest value of sugar or saturated fat in the drink. For example, if a drink contains over 10 per cent of sugar but has no saturated fat, it will still receive a D grading.
Right now, 71 per cent of pre-packaged drinks sold to customers fall under grades C and D, said MOH.
Examples of such drinks include soft drinks, energy drinks, juices and high-fat 3-in-1 drinks.
Previously, TODAY conducted an informal survey which found that some drinks with the highest sugar content are in fact products that many consumers might not guess are heavily sugar-laden.
For example, though the sugar content in the red-capped Yakult yoghurt probiotic drink is not spelt out on its packaging or on the Singapore version of its website, Yakult's website in the United Kingdom states that it contains 14 per cent of sugar.
MOH said that the Health Promotion Board's Healthier Choice Symbol (HCS) guidelines will also be revised to align with the threshold for the new labels such that all HCS drinks are either grade A or B.
This also means that companies which fail to reformulate their drinks in time for the new regime may lose the HCS label when the new regime kicks in, MOH said.
EXTENDING REGIME TO FRESHLY PREPARED DRINKS
Mr Tong said the ministry will also eventually extend the Nutri-Grade system to freshly prepared drinks, such as bubble tea, freshly brewed coffee and tea, and freshly squeezed juices.
"We have heard strong calls from all quarters to also regulate freshly-prepared beverages, such as freshly made herbal drinks and bubble teas. It is clear that they are a substantial and growing source of sugar intake for many Singaporeans," said Mr Tong.
There are also concerns that regulating only pre-packaged beverages may lead to a substitution effect, MOH said.
However, MOH said there is currently no set timeline as to when the new regime will be extended to freshly prepared drinks.
But when it kicks in, the measures will apply only to large chains which serve many customers and will not affect "mom-and-pop" businesses like hawker stalls, it added.
For now, MOH said it will continue to engage industry players to better fine-tune the approach that it will take to implement the measures in the future.
ADVERTISING BAN
Drinks that fall under the Grade D band cannot be advertised across all media platforms. This includes broadcast and print advertisements, television commercials, bus stop advertisements and social media ads such as paid influencer posts.
Advertisements that feature a group of products, including one that is under the Grade D band, will also be prohibited, the ministry said.
However, point-of-sale advertising is permitted, meaning that companies can advertise these products on physical and online sites such as vending machines and e-commerce platforms.
But these advertisements have to feature the products' grading clearly, MOH said.
Mr Tong said: "All these initiatives are part of a longer-term approach to reshape consumer behaviour towards healthier living... Some have suggested stronger measures, such as an excise duty or an outright ban.
"These will require further study. In the meantime, we will work closely with industry partners to support Singaporeans in making healthier choices."
INDUSTRY RESPONDS
Responding to the new labelling measures, Mr Matthew Kovac, executive director of Food Industry Asia (FIA), said: "The Nutri-Grade system comes at a time when seven beverage manufacturers had already made a three-year commitment in 2017 to reduce their sugar content to 12 per cent or lower."
He pointed out that the new advertising prohibitions are stricter than those currently in place for other beverages such as alcohol, adding that he believes this is disproportionate.
Mr Kovac said: "Evidence has shown that advertising bans have little impact on the wider societal factors that drive non-communicable diseases like diabetes, which FIA believes is a complex and multifactorial issue that requires a more holistic approach to solve."