Singapore clear and consistent that Malaysia lost its right to review price of water in 1987: MFA
SINGAPORE — Singapore has been clear and consistent in its position that Malaysia lost its right to review the price of water under the 1962 Water Agreement in 1987, said Singapore's Ministry of Foreign Affairs (MFA) on Tuesday evening (July 31).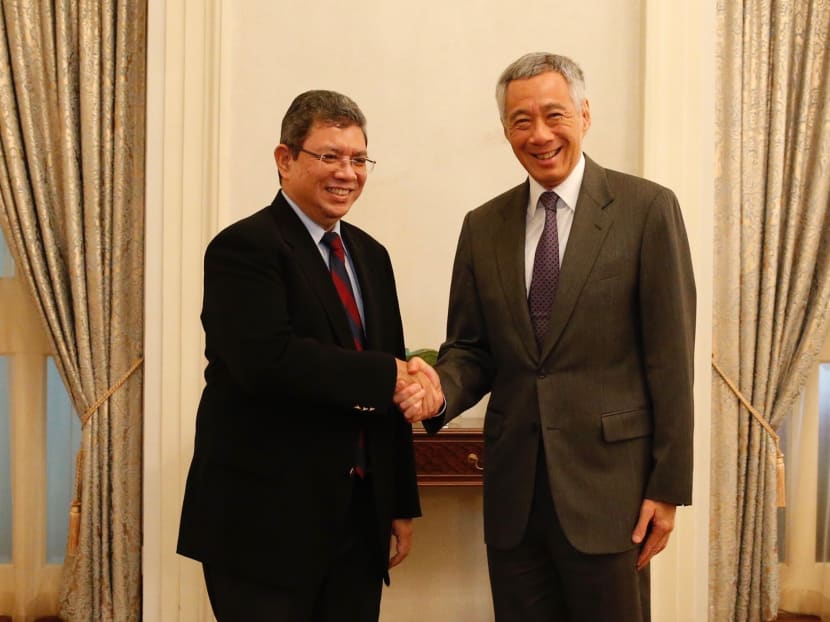 SINGAPORE — Singapore has been clear and consistent in its position that Malaysia lost its right to review the price of water under the 1962 Water Agreement in 1987, said Singapore's Ministry of Foreign Affairs (MFA) on Tuesday evening (July 31).
The statement, issued on the second and final day of Malaysian Foreign Minister Saifuddin Abdullah's introductory visit to the Republic, came after Mr Saifuddin said there is still scope for a review of the water deal between Singapore and Malaysia.
"There is a clause about review that surely we can look at," Mr Saifuddin was quoted saying by Malaysia's official news agency Bernama.
"The agreement says the content of the agreement can be reviewed after 25 years. It doesn't mean at 25 years... so we can continue talking."
However, the Malaysian minister acknowledged that Singapore "had its own perspective on the matter".
The MFA meanwhile reiterated in its statement that Singapore maintains its position on the Water Agreement, which was most recently set out by Foreign Minister Vivian Balakrishnan in Parliament on July 9.
Dr Balakrishnan said in a speech in Parliament that the 1962 pact was guaranteed by both Singapore and Malaysia in the Separation Agreement that established Singapore as a sovereign state in 1965, which was in turn registered with the United Nations.
He added that any breach would question the agreement, "which is the basis for Singapore's very existence as an independent sovereign state".
Dr Balakrishnan noted Malaysia had itself acknowledged previously that it had consciously chosen not to ask for a review in 1987 "because they benefitted from the pricing arrangement". 
Dr Mahathir, in his previous term as prime minister, had in 2002 said Malaysia did not seek a review when it was due as it knew that any revision would also affect the price of treated water sold by Singapore to Malaysia.
Johor currently buys treated water at 50 sen (S$0.17) per 1,000 gallons, which is a fraction of the cost to Singapore of treating the water.
In a Bernama report, Mr Saifuddin had reportedly said: "(Singapore) brought up the issue of water treatment. I think proposals and counter proposals can be brought to the table when we have a proper discussion...surely we can continue the discussion."
The price of raw water imported by Singapore from Malaysia has become a hot topic after Malaysian Prime Minister Mahathir Mohamad reportedly said that the current prices are excessive and should be reviewed.
Singapore buys water from Malaysia under water agreements signed in 1961 and 1962. The first expired in 2011 and the second will expire in 2061.
As part of his first official visit to Singapore, Mr Saifuddin met with President Halimah Yacob, Prime Minister Lee Hsien Loong and Dr Balakrishnan on Monday.
He also called on Deputy Prime Minister and Coordinating Minister for National Security Teo Chee Hean on Tuesday. 
During Mr Saifuddin's visit, "both sides reaffirmed our commitment to work closely together to build on our strong bilateral relations for mutual benefit", MFA added in the statement.
"Discussions covered a range of regional developments and bilateral issues, including the Kuala Lumpur-Singapore High Speed Rail (HSR) and the 1962 Water Agreement. Singapore's leaders emphasised the importance of abiding strictly by the agreements and contracts related to these matters, whilst exploring potential new areas of collaboration," it said.
On the HSR issue, Mr Saifuddin told Bernama he had informed Singapore's leaders that Malaysian Economic Affairs Minister Mohamed Azmin Ali had written to his counterpart on July 23, saying that he will be travelling to Singapore to discuss the matter.
"(The meeting) will take place very soon...we want to sit down and discuss," Mr Saifuddin was quoted as saying, without giving a specific date for the bilateral meeting.
Putrajaya is seeking to either halt or delay the project but has yet to officially convey its intent to Singapore.
Even after Transport Minister Khaw Boon Wan told Parliament on July 9 that Singapore continues to incur cost on the project, with expenditure expected to hit some S$300 million by year-end, Dr Mahathir said the next day that Singapore would "know what we want to do".
Mr Azmin said subsequently that Malaysia had not excluded the possibility that the HSR project could go ahead, pending a meeting with Mr Khaw.
Mr Saifuddin also noted that the water and HSR issues "needed to be tackled", but said that they should not be an obstacle to bilateral relations.
"I tried my level best to explain the situation. We are looking at the big picture. As far as our bilateral relations (are concerned)... our ties are strong and we want to work hard to bring it to greater heights," he told Bernama. AGENCIES
Sign up for TODAY's WhatsApp service. Click here: