What the changes to the Employment Act mean for you
SINGAPORE — Parliament passed major amendments to the Employment Act on Tuesday (Nov 20) to cover all employees, signalling a "watershed" moment for efforts to protect workers.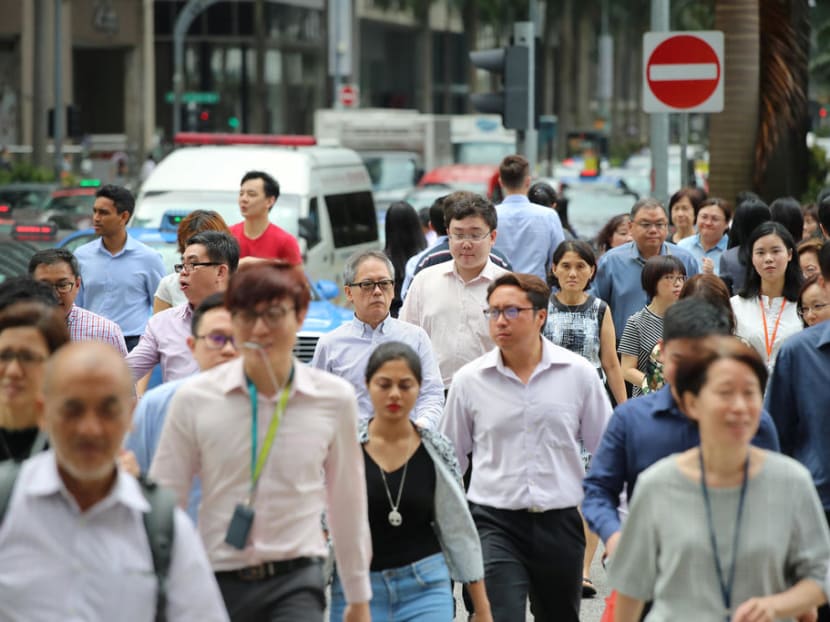 SINGAPORE — Parliament passed major amendments to the Employment Act on Tuesday (Nov 20) to cover all employees, signalling a "watershed" moment for efforts to protect workers.
Here's what the latest changes — which take effect from April 1 next year — mean for you:
MANAGERS AND EXECUTIVES
All managers and executives, regardless of their salary levels, will be protected under the Act.
They will be entitled to a minimum of seven to 14 days of paid annual leave, 11 paid public holidays, 14 days of paid sick leave, maternity protection, childcare leave, and protection against wrongful dismissal, among other provisions.
Right now, coverage applies only to workers earning S$4,500 a month or less. The changes will benefit 430,000 more workers who are managers and executives.
WHITE-COLLAR WORKERS EARNING UP TO S$2,600
Employees in white-collar jobs, such as retail sales assistants and clerks — classified as "non-workmen" under the law and earning up to S$2,600 monthly — will be protected in terms of time-based provisions. These include provisions for hours of work, overtime payments and rest days.
This is a S$100 increase in the salary threshold. Before the change, it was those earning up to S$2,500 a month who received protection.
The present S$2,250 wage cap for calculating overtime pay will also be raised to S$2,600, to keep in step with the new wage threshold.
The change means that 100,000 more workers will benefit from the coverage, including pay for working overtime, with protection widened to half the workforce.
MANUAL WORKERS EARNING UP TO S$4,500
Manual workers — otherwise known as "workmen", such as cleaners, construction workers and machine operators — earning up to S$4,500 a month are accorded extra protection for overtime pay, rest days and other conditions of service.
This remains unchanged and they will continue to receive the same protection. Manpower Minister Josephine Teo said that the S$4,500 threshold covers nearly all manual workers right now.
FREELANCE WORKERS
The relationship between freelancers — such as estate agents, private-hire car drivers and food-delivery riders — and the companies engaging them is not regulated under the Employment Act.
This emerged as a bone of contention during Tuesday's marathon debate in Parliament, with several Members of Parliament urging the Government to ensure labour laws keep pace with the rise of the gig economy.
Mrs Teo, in response, said freelancers do not have the same relationship with their service buyers as that between employers and employees. The Government is, however, making "good progress" rolling out the recommendations laid out by a tripartite workgroup that studied the challenges faced by freelancers, she said.
These include having voluntary standards for written contracts, and a model where service buyers pay a portion of the freelancers' wage into the workers' Medisave accounts.
THOSE NOT COVERED UNDER THE ACT
Public servants, foreign domestic workers and seafarers, who are protected under industry-specific legislation.
CAN YOUR EMPLOYER DEDUCT YOUR WAGE?
Employers will be allowed to make salary deductions, if their employees consent in writing to specific deductions. Employees may withdraw their consent at any time without penalty.
This pertains, for instance, to employers making wage deductions for voluntary group hospital and surgical insurance premiums.
The Employment Act now limits the type of salary deductions employers can make, such as when staff members damage or lose goods entrusted to them.
RESOLVING EMPLOYMENT DISPUTES
The Employment Claims Tribunals will become a "one-stop" avenue to resolve employment disputes, taking on wrongful-dismissal claims presently under the purview of the Ministry of Manpower.
This is in addition to salary-related claims, which are already in the tribunals' remit.
ABOUT THE EMPLOYMENT ACT
The Act, enacted by the late Cabinet Minister S Rajaratnam, came into force in 1968. Before the latest round of changes, it was reviewed in 2012, with the most recent amendments taking effect in 2016. These included making it mandatory for employers to give their workers payslips, and making known key employment terms to workers within 14 days of hiring.
The Act covers both Singapore and foreign employees.
Since the review in 2012, the profile of Singapore's labour force, as well as local employment practices, have continued to evolve. The latest amendments are to ensure labour laws stay relevant, Mrs Teo said.