Where the Jobs Are: Sailing on despite Covid-19, cutting-edge maritime sector holds much promise for youth
SINGAPORE — After Mr Ho Jun De graduated with a degree in mechanical engineering in 2014, he joined the oil and gas industry for two years but left the job because he felt it to be monotonous and not suited to his personality.
As fresh graduates and other young Singaporeans face a challenging job market amid the economic downturn, TODAY is running an eight-part weekly Where the Jobs Are series, shining a spotlight on sectors that may be overlooked but are offering interesting opportunities.     
In the final instalment, we focus on the maritime sector, which has been doing well despite the disruption caused by Covid-19, and presents a slate of opportunities for youth, both inside and outside the office. 
The maritime sector has often been overlooked by jobseekers
Yet a number of maritime roles are lucrative, reflecting Singapore's vibrant trading hub status
Some youths look to join the cutting-edge sector not just for the salary, but to effect technological and environmental change
SINGAPORE — After Mr Ho Jun De graduated with a degree in mechanical engineering in 2014, he joined the oil and gas industry for two years but left the job because he felt it to be monotonous and not suited to his personality. 
The 31-year-old set sail in a different industry — maritime — as a technical executive at Eng Hup Shipping.
"My peers generally prefer to go after the lucrative industries like oil and gas and banking and finance," said the National University of Singapore graduate, who has been working at the firm for nearly five years. 
While the maritime sector may be viewed by his peers to be a "sunset industry" with harsh working conditions, Mr Ho sees great opportunity in the misunderstood sector. 
What he enjoys about his role is that it provides him with the chance to divide his time between the office and the shipyard, where he oversees repair work for about 70 vessels, including passenger ferries, tugboats and launch boats. 
His other roles include ensuring that these vessels comply with maritime regulations and managing the technical budget of the firm. 
"It's a dynamic environment — it requires you to be quick-thinking and to react quickly to all kinds of requests from customers, the management, basically all corners," said Mr Ho, who declined to state his salary. 
Ms Tan Li Qi, an electrical engineering graduate from Nanyang Technological University, had similar motivations when she joined the industry. 
Having been cooped up in lecture halls for most of her schooling years, the 29-year-old wanted a career that entailed working in the outdoors and braving the elements. 
After graduating in 2015, she joined port operator PSA Singapore as an electrical engineer, before rising to her present role of senior electrical engineer in 2018. 
She analyses the electrical systems of cranes at the PSA container terminal in Pasir Panjang for faults or irregularities, and fixes the systems with her team. 
She is the only woman in her department of about 60, but she is unperturbed.
"Physically, women may lose out a bit, but we can contribute in other ways, such as analytically," said Ms Tan. 
She oversees about 30 engineers and is also looking at ways to enhance the systems on the cranes by harnessing technology.
For instance, she is working on rolling out predictive maintenance on more cranes at the terminal. This data analytics tool pre-empts faults, so that they can be fixed before they happen. 
She is also involved in projects at a "living lab", an initiative by PSA enabling start-ups to develop cutting-edge technological solutions for its terminal operations. Her work explores how different systems, such as self-driving container trucks and automated cranes, can be integrated.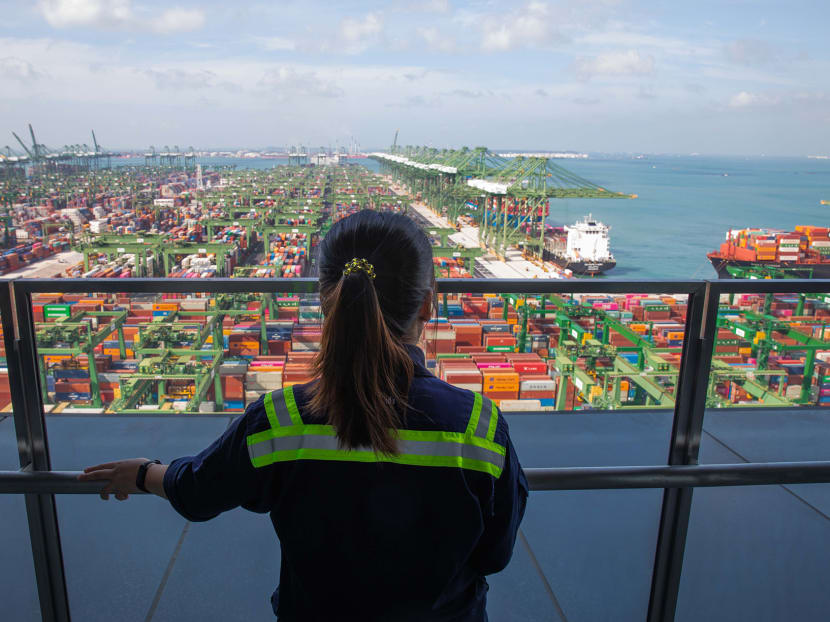 Mr Ho and Ms Tan are among a group of youths hoping to foster change in an industry teeming with opportunities, by tapping technological advancements and the steady global demand for maritime services. 
Responding to queries from TODAY, the Maritime and Port Authority of Singapore (MPA) pointed to a range of opportunities for youths keen to join the maritime sector, with various areas of growth. 
More than 1,400 students have been enrolled in myriad maritime-related courses at institutes of higher learning. In addition, over 1,000 maritime-related traineeships, company attachments and training opportunities have been created for Singaporeans and permanent residents under the SGUnited Jobs and Skills initiative to help jobseekers during the Covid-19 pandemic, it said. 
Young graduates starting out as office-based vessel operators can look forward to becoming vessel operations managers with experience, said MPA.
They can also build on their operational understanding and transit into commercial roles, such as ship charterers or brokers. 
Singapore's port is a key node in the global supply chain, a critical part of the Republic's international connectivity, and is the world's busiest container transshipment hub. 
"Singapore has grown to be a vibrant international maritime centre, home to a diverse group of shipping companies, and providing a wide spectrum of maritime services, such as ship management, ship agency, broking, finance, insurance, legal and arbitration, survey, and research and development," MPA said. 
"This thriving ecosystem explains the diverse range of maritime jobs available in Singapore." 
SECTOR KEEPING AFLOAT DESPITE PANDEMIC 
And even with the pandemic ravaging other industries, the maritime sector's growth has not waned. 
Singapore's maritime sector handled 36.9 million twenty-foot equivalent units — standard-sized shipping containers — in the midst of the pandemic last year. This was only a slight drop of 0.9 per cent from 2019.
Mr Chee Hong Tat, Senior Minister of State for Transport, told Parliament that the sector could expect S$20 billion in business spending from industry players by 2024. The number of maritime technology start-ups will also grow from 30 to 100 by 2025.
Notwithstanding the positive outlook for the sector, employers who spoke to TODAY said that their efforts at drawing youth to the industry have not been plain-sailing. 
Captain Harmeet Bhatia, director of shipping firm Heidmar Far East, said that searching for young talent has been tedious because the public has a warped impression of the maritime industry. 
"Shipping in general has a very low profile in the media. There are not many times when shipping is talked about or praised, or sold as a mainstream job," he said.
While other industries such as financial technology and banking have been attracting the younger crowd thanks to high salaries, Capt Bhatia said the compensation at his firm is also competitive. 
New roles that require two or three years of industry experience come with a salary of S$60,000 a year, and chartering employees with 10 years of experience can draw pay cheques of up to S$150,000 yearly. 
"The main reason (for the pay rises) is that Singapore has become an important shipping hub over the last decade," he said. 
Mr Ho's employer Tommy Phun, director of business development at Eng Hup Shipping, said that while only about 20 to 25 per cent of the company's staff members are 35 and below, it is the youth who are driving technological change. 
The firm started a digital core team about three years ago. It comprises five people, including Mr Ho and Mr Phun, who will spearhead the digital transformation of the company.
The young team has taken on several projects, such as the creation of an online application that the firms' clients can use to book vessels and a mobile ticket scanner that automatically ticks off a digital manifest when passengers board a vessel. 
Mr Phun said that starting salaries at the firm are between S$3,500 and S$4,500 a month. 
While Ms Tan from PSA declined to reveal her monthly income, a PSA Corporate spokesperson said that the starting gross salary for fresh engineering graduates ranges between S$3,400 and S$4,200. 
"As PSA expands its focus on automation, data analytics and cargo solutions in the port and supply chain sectors, we have been recruiting young graduates from local institutions of higher learning and the Institute of Technical Education," the spokesperson added. 
Another youth who is driving change is Mr Haruki Chua, a market manager at shipping company Klaveness Asia.
The 28-year-old graduated in 2018 from the Singapore Management University under the maritime economics track. Of the 18 people in his cohort, only a small number chose to work in the maritime industry. 
He started at the firm in 2018 as a chartering executive, where he would allocate cargo to vessels for international shipment.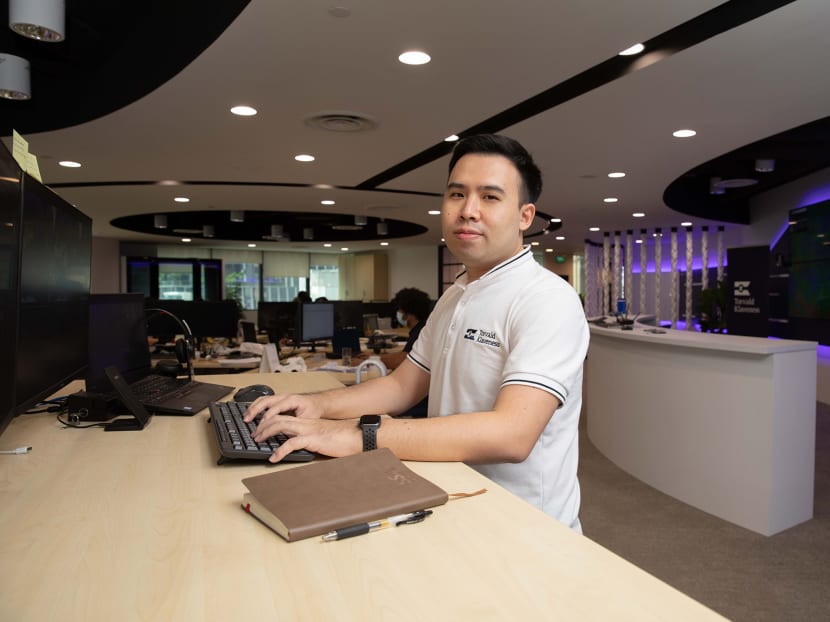 Since last year, he began managing a new team in his company called the market manager department, which focuses on improving efficiency through digitalisation and robotisation.
For instance, Mr Chua is developing a portfolio management tool that can help charterers and ship owners make better decisions on pricing and which services to choose. 
Mr Chua said perceptions that the maritime sector is not lucrative are false. 
His starting salary at the firm was in the range of S$4,000 to S$5,000. In three years, he has seen a 40 per cent jump in his pay. 
Mr Chua's employer, Klaveness Asia's senior vice-president Michael Jorgensen, said that aside from leveraging technology, the firm is setting its sights on longer-term goals, such as those relating to sustainability. 
It started a Norway-based team of four focusing on zero-emission solutions, and one of the team members is a Singaporean. 
"We are looking at helping the maritime sector visualise the emissions that each industry is responsible for," he said, adding that it is hard to grasp how much pollution is blighting the environment owing to the many stakeholders in shipping. 
For instance, the group is working with power plants around Asia to provide them with data on the shipping companies' emissions when they transport coal from around the world to the plants. 
This is so that the plants would be incentivised to optimise their intake of coal, said Mr Jorgensen. 
FROM CADET TO FLEET MANAGER
The maritime sector offers a slew of opportunities that are based in the comforts of an office, but it also depends heavily on those out at sea.
This is a role that Captain Jeevan Raj knows well.
The 35-year-old enrolled in a diploma course in nautical studies at the Singapore Maritime Academy of Singapore Polytechnic in 2003 at the age of 16, and spent 18 months at sea as a deck cadet under the programme. 
After graduating in 2006, he started sailing on various vessels transporting chemicals as a third officer. His starting pay was about S$4,000 a month, and when he became a chief officer several years later, his income was S$7,500 a month, excluding bonuses. 
He gradually scaled the ranks to become a ship captain by 2014, earning about S$10,000 a month, excluding bonuses.  
While he said that the wages were extremely attractive and his parents were supportive of his career choice despite his absence for months at a time, his voyages did not come without challenges. 
Communicating with crew members from various parts of the world was sometimes difficult. Braving storms and dealing with homesickness are also part and parcel of a seafarer's job.
He also had a close shave with a pirate speedboat on the South China Sea. 
"We increased our speed and let them know we were aware they were chasing us," he said. The pirates soon gave up.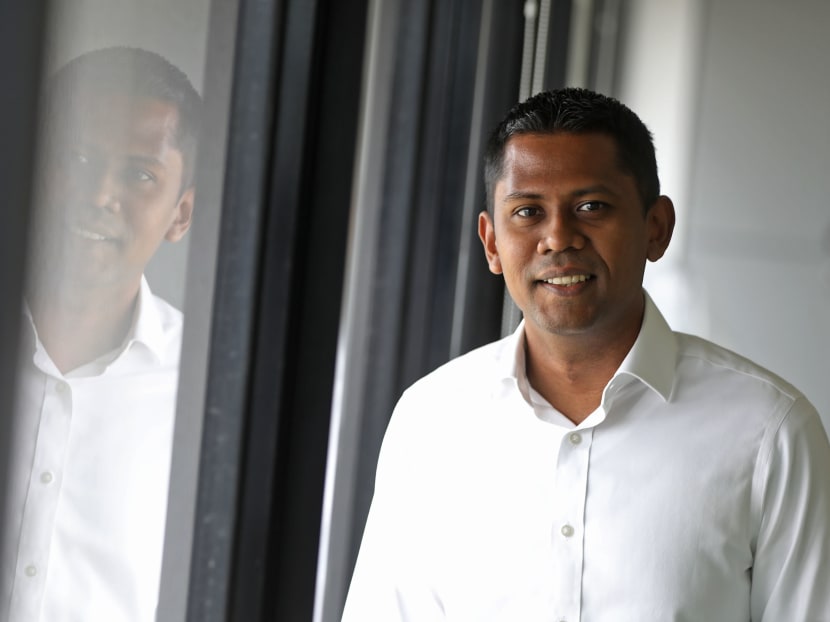 Amid the toil and dangers of a career at sea, he said that he has made meaningful friendships with seafarers from around the world in countries such as Indonesia and Myanmar.
In 2015, he made the switch to an on-shore role, working at Heidmar Far East as a vessel operator, so that he could spend more time with his family. His wife was pregnant with their first child at that time.
MPA said that after gaining experience at sea and attaining the required certification at each rank, young seafarers like Capt Jeevan can qualify for a transition to specialised shore-based roles, such as superintendents, marine surveyors or marine consultants.
The father of two young boys is now a fleet manager, planning the voyages of the company's fleet and ensuring that ship owners comply with regulations. His salary is comparable to what he received as a ship commander, he said.
Still, he misses the sea. 
"If I go to the beach with my family, I'll take a moment to just look at the ships, and it brings back old memories," he said. "It is something special."