Where the Jobs Are: Shedding image of 'shorts, boots, floppy hat', farming sector a pull for youths as S'pore bolsters food security
As fresh graduates and other young Singaporeans face a challenging job market amid the economic downturn, TODAY is running an eight-part weekly Where the Jobs Are series, shining a spotlight on sectors that may be overlooked but are offering interesting opportunities.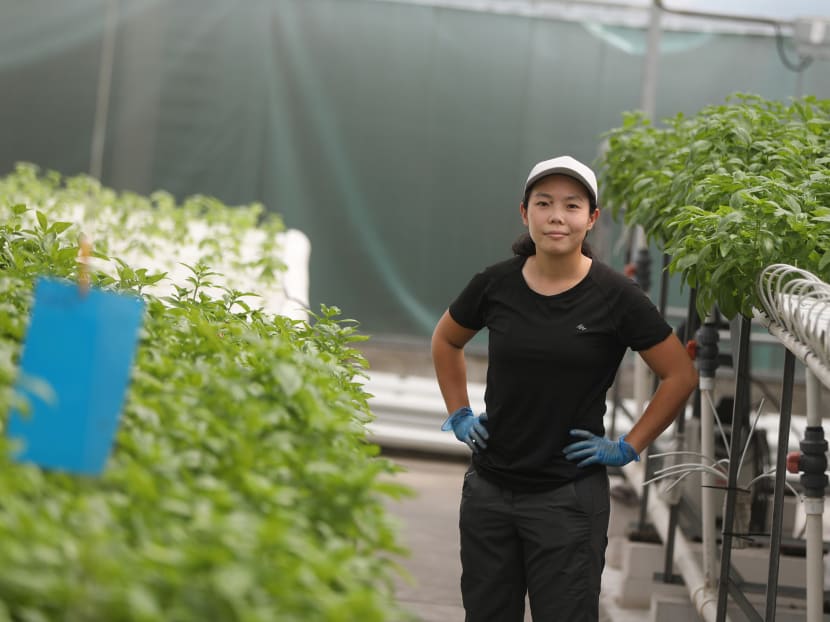 As fresh graduates and other young Singaporeans face a challenging job market amid the economic downturn, TODAY is running an eight-part weekly Where the Jobs Are series, shining a spotlight on sectors that may be overlooked but are offering interesting opportunities.   
In the fifth instalment, we focus on the agri-food sector, which is poised for change as it seeks to meet Singapore's "30 by 30" food goal, under which 30 per cent of Singapore's nutritional needs will be grown locally by 2030 — up from less than 10 per cent now.  
Employers said conventional ideas of farming need to be abandoned
Young employees said they find it rewarding being able to feed their customers
Others enjoy finding innovative ways of growing difficult crops in Singapore
SINGAPORE — Since she was young, Ms Samantha Chin had always wanted to learn how to cook, so she devoured television cooking shows and took up culinary-related courses at polytechnic and university.
When she started working as a chef, Ms Chin, now 33, developed a new appetite — this time, to understand the origin of the food she was serving her customers.
"I knew the cooking techniques, but not about the produce itself, like where and how it was grown or how it should taste," said Ms Chin.
Her quest saw her searching for farms both overseas and locally, and in 2013, she eventually found Comcrop, Singapore's first rooftop farm.
With no knowledge about agriculture, Ms Chin sought to educate herself by tending to hydroponically grown vegetables there as a volunteer, before she took on a part-time role and later committed herself full-time. Hydroponics involves skipping soil and growing plants in nutrient-rich water.
Eight years later, and through the sweat of her brow, Ms Chin has risen to the position of manager of the farm, of about 1,000 sqm, which sits atop an industrial building at 15 Woodlands Loop. 
Ms Chin leads a team of about five people to ensure that the four crops they grow — basil, rosemary, mint and Japanese cai xin, a green leafy vegetable — are thriving. They deliver about 50kg of produce a day. 
She said she sometimes gets an adrenaline rush ensuring they are able to meet their targets. This reminds her of the buzz of working as a chef. 
"It is similar to the rush you get when getting slammed with tickets in the kitchen on a busy night. At the end of the day, it feels very rewarding (fulfilling them)," said Ms Chin, who described her salary as "decent". 
Another young Singaporean working on the front lines of Singapore's growing push to produce more food locally is Mr Bertrand Chan at Blue Ocean Aquaculture Technology (Boat).
Mr Chan, 29, left his job at a biochemistry laboratory to follow his dream of working with fish.
"As a kid, I loved fishing. I also do a bit of scuba diving… I'm a fish person, if you will," he quipped, adding that friends and family were not surprised by his career move. 
To follow his dreams of working in a "fishy environment", Mr Chan enrolled in the part-time diploma course in applied science (aquaculture) at Temasek Polytechnic in 2018.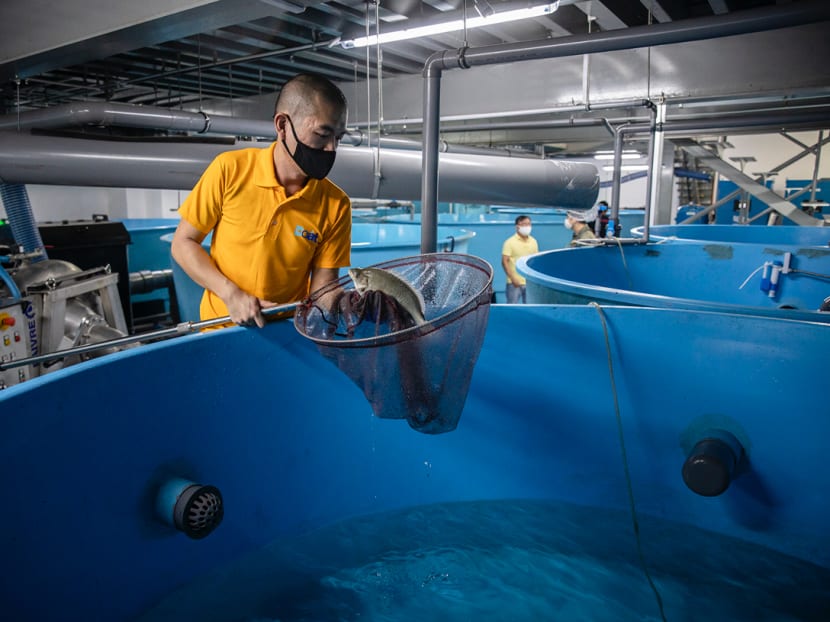 During the 2.5-year programme, Mr Chan met his present boss, 60-year-old Ng Yiak Say, who was a coursemate.
Mr Ng, a mechanical engineer by training, was similarly seeking out knowledge to build his indoor fish farm at The Westcom industrial building in Tuas.
Mr Chan joined Boat in December last year as a trainee assistant farm engineer and takes home a monthly salary in the mid-S$2,000 range. 
He is not only responsible for the health and quality of the farm's fish, mostly freshwater jade perch, but also processing orders for customers. 
Mr Chan said he was initially sceptical about the quality of freshwater fish owing to the perception that they have a "muddy taste", but the fish lover's views have changed since he tried the jade perch for himself and was won over by the flavour.
"Whenever I harvest fish for the customers, I know they are tasting the same thing," he said. "That to me is the most satisfying part of the job, and I know I'm delivering a good-quality product."
GROWING PROMINENCE
Ms Chin and Mr Chan are part of a sector that is gaining prominence, particularly after the outbreak of Covid-19 last year drove home the importance of minimising disruptions to Singapore's food supply.
The Ministry of Manpower said that as of June last year, 2,000 workers were in the agri-food sector, helping Singapore's efforts to meet its so-called "30 by 30" goal, which is to secure 30 per cent of the country's nutritional needs with food produced locally by 2030.
A Singapore Food Agency (SFA) spokesperson told TODAY there are 238 farms in Singapore. Nearly half (about 46 per cent) are coastal fish farms. 
About 37 per cent of the farms produce leafy vegetables, while the rest rear goats, frogs and shrimp, and produce chicken eggs and quail, among other foodstuff. 
Based on TODAY's checks on the government job portal MyCareersFuture.sg, at least 21 positions in the sector were on offer as of last Friday.
By 2030, SFA said it expects the creation of some 4,700 new and redesigned jobs in the agri and aqua-tech food industry.
"It will require a workforce with a good understanding of urban food production and multi-disciplinary expertise in science, engineering and info-communications," said the SFA spokesperson.
The roles set to be in demand include specialists and technicians, such as agronomists, agriculturists, aquaculturists, nutritionists and geneticists.
As the sector becomes more technologically sophisticated, other roles will require engineers with expertise in process control, automation and robotics, as well as info-communications technologists with knowledge of the Internet of Things and data or video analytics. The Internet of Things refers to the global network of internet-enabled sensors, devices and systems.
In Budget 2021 unveiled last Tuesday, Deputy Prime Minister Heng Swee Keat announced that a new S$60 million Agri-Food Cluster Transformation Fund will be set aside to support technological adoption in the agri-food sector.  
More information will be given during the upcoming Budget debates starting this week. 
Boat's Mr Ng said he welcomed the new fund, but he and other employers in the sector stressed the continuing challenge of attracting young blood to a sector poised for transformation. 
This is partly due to the hard work involved and a lack of talent with the right skills, they said.
While there will be no difficulty attracting passionate people like Mr Chan, Mr Ng said it is a different story when it comes to those less enthused. 
"Singapore's economy has been good for the past 20 to 30 years, so they are not so eager to look for a job unless it is comfortable," he said.
Mr Ng said this is understandable, which is why he believes the sector has to change. 
Apart from the adoption of technology, another way to draw youth is to make the working environment cleaner, drier and preferably indoors, Mr Ng said.
Located on the second storey of The Westcom and housed completely indoors, his odourless farm features 18 huge circular tanks that can hold up to 800 fish. 
It is also efficient, requiring 18 times less space to produce 18 tonnes of fish a year compared with a conventional aquaculture farming operation.
Equally important, said Mr Ng, is offering a career progression plan for employees to woo them to the sector. 
He hopes to replicate his experience running electronic manufacturing firms, where employees could aspire to work their way up the management ladder, at Boat.
He foresees a career path that will allow new hires to be trained, become managers and perhaps even directors. 
Meanwhile, Mr Peter Barber, co-owner and chief executive officer of Comcrop, said a shift in perception about the trade is needed.
"We need to get rid of that mental picture that a farmer is someone wearing shorts, boots and a big floppy hat," he said. "Because if that's what people think farming is, you're not going to have the rest of your conversation.  
"We are food factories. We are food scientists. We are creating nutrition for our community." 
Mr Barber added that there is no such thing as traditional farming, only what people can do with the best available technology at any point in time.
He said that agricultural technology has improved and moved to hydroponics, and a combination of greenhouses and indoor farms. 
This means ensuring avenues are available to equip people with the relevant skills to take the sector forward.
To that end, SFA said it is working with various institutes of higher learning and local farms on programmes, such as diploma courses and structured internships, to equip those aspiring to join the sector with the knowledge they need. 
To draw adult jobseekers into the agri-food sector, SFA said there are also SkillsFuture Continuing Education and Training courses, such as part-time diploma programmes in aquaculture and agriculture technology. 
Still, Mr Barber suggested that the fastest way to get into the sector is for a person to put their ego aside, roll up their sleeves and earn a basic wage while learning on the job. 
REVERSE MENTORING
Mr Jack Moy, general manager of indoor vegetable farm Sustenir Agriculture, said that as the agri-food sector has yet to mature, it will take time for institutes of higher learning to produce workers with the necessary skills.
"At the same time, it's the responsibility of companies like Sustenir to set these young jobseekers up for success with an attractive career development," he said.
"Our younger colleagues tend to bring fresh, new ways of working and we engage in reverse mentoring, so we, too, get a download of the latest that our younger peers learnt in school or through their network," said Mr Moy, who is in his 30s. 
He points to the firm's indoor farming researcher, Mr Cheong Jia Chin, as an example of someone who has brought fresh ideas to the table.
Mr Cheong, a 27-year-old life sciences graduate from the National University of Singapore (NUS), is part of the company's team that looks into ways to grow different crops more efficiently indoors.
One project he worked on in his own time involved finding ways to grow the morning dew ice plant, a crunchy and juicy vegetable eaten both raw and cooked, that Sustenir was not offering customers when he joined about three years ago. 
Mr Cheong said he was inspired to do his research after his interactions with "aunties" while out shopping, who would ask if he had tried the unique vegetable.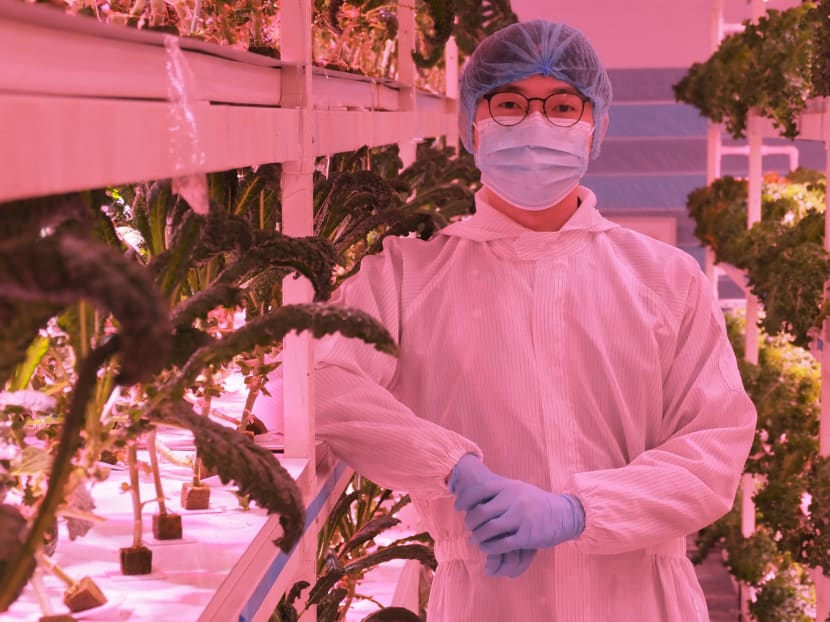 "My employer was willing to let us explore and learn more about the indoor farming scene, and that meant that I was able to look for ice plant seeds and find ways to grow them."
Trying to grow a non-native crop that usually thrives in dry conditions in a hydroponic system was not easy.
But Mr Cheong kept at it because he believed growing it effectively would mean a success story not just for his employer, but the farming industry.  
Mr Cheong would only say that his monthly remuneration was similar to what he previously earned as a research assistant at NUS.
Through his efforts, Sustenir has included the ice plant among a host of other crops it has on offer for Singaporean customers. 
Mr Cheong said what keeps him going is being able to see crops he has worked on being put into a shopper's grocery bag or someone retweeting recipes using his company's produce. 
"It makes me feel confident that I am doing the right thing, and that is very rewarding."