Why the allure of practising medicine remains strong
SINGAPORE — They are on the frontline of human drama in a way that few other professions are: Witnessing deaths, delivering babies, and managing injuries from horrific traffic accidents, just to name some of the challenges of a deeply rewarding career.
SINGAPORE — They are on the frontline of human drama in a way that few other professions are: Witnessing deaths, delivering babies, and managing injuries from horrific traffic accidents, just to name some of the challenges of a deeply rewarding career.
The allure of practising medicine remains strong, despite sobering news of data breaches and hefty penalties imposed in disciplinary cases in recent months.
That is the compelling message to would-be medicos from doctors and one medical student, who will be speaking at an upcoming seminar designed for prospective medical students.
The practice of medicine is getting more complex — but it's well worth it, they say.
"Although certain tasks may get more tedious, such as taking appropriate consent, most doctors feel worse if a patient suffered a poor clinical outcome," said Dr Ngiam Kee Yuan, a senior consultant in thyroid and endocrine surgery at the National University Hospital and group chief technology officer at the National University Health System (NUHS).
"For a person who is committed to helping people, these challenges would not be so overwhelming as to deter one from pursuing a medical career."   
At the So You Want To Be A Doctor? seminar on May 25, Dr Ngiam will be sharing his experiences and tips on how prospective medical students should approach their career choices.
Organised by science media company Wildtype Media for pre-university students, the inaugural seminar last year drew 300 participants and was sold out.
Recent cybersecurity incidents here affecting the medical sector include the major data breach at public healthcare cluster SingHealth last year, and the leak of confidential records of HIV-positive individuals by a fraudster.
Tribunal rulings in two high-profile disciplinary cases also caused an uproar among doctors and led to petitions.
Dr Ngiam and two other speakers tell TODAY how the profession is changing, and about paying it forward.
DEMANDING BUT SATISFYING, SAYS MEDICAL STUDENT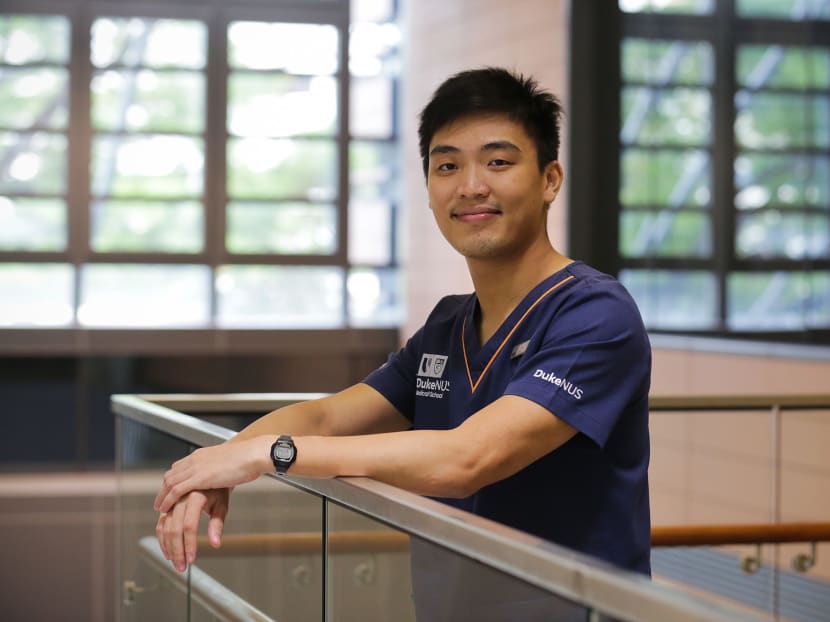 Mr Mark Goh, 27, received a kidney from his mother when he was 18.
When he was 12, he was diagnosed with focal segmental glomerulosclerosis, a serious condition in which scarring develops on parts of the kidneys that filter waste from the blood.
He decided to pursue medicine after graduating with a physics degree and is currently a second-year student at Duke-NUS Medical School.
Mr Goh said he wants to work with patients, especially children, "so that they become better people in spite of their illness and go on to become productive members of society".
In the short time he has been training to be a doctor, some encounters have already touched him deeply – the cries of help from a teenager who attempted suicide, and families dedicated to caring for their loved ones, for instance.
He and his peers have talked about almost every healthcare-related issue that made the news recently, and he is well aware that "doctors face the possibility of lawsuits".
But he added: "We also spoke about baby Hoai An, the 30-day miracle baby from Vietnam, which really warmed our hearts."
Baby Trieu Hoai An, who is about two months old, was abandoned in a plastic bag on a tree in Vietnam and later flown to Singapore for treatment.
Challenges faced by medical trainees include the "uphill battle" to secure an "increasingly smaller number of training spots in a programme of their desire", said Mr Goh.
The journey so far has been demanding but satisfying, he said.
"Medicine offers such rich and vast life experiences on a constant basis that can turn into profound personal development, when one becomes more in touch with life and death."
SURGEON FIXES BROKEN BONES, KEEPS MMA FIGHTERS SAFE
As a consultant orthopaedic surgeon at the International Orthopaedic Clinic at Mount Elizabeth Novena hospital, Dr Alan Cheung fixes broken bones, replaces worn-out joints using a robot, and helps athletes return to sports after ligament injuries.
After the Briton came to Singapore about five years ago, he found a way to combine his medical skills with his passion for martial arts and rugby.
Dr Cheung, 42, is also a ringside doctor for ONE Championship and the ONE Warrior series. He serves as a match-day doctor for events such as the HSBC Singapore Rugby Sevens.
ONE Championship is a Singapore-headquartered martial arts organisation, while the ONE Warrior series brings together up-and-coming athletes from the region to compete for a ONE Championship contract.
From training in Brazilian Jiu-Jitsu at the Evolve MMA gym, he realised that very few doctors cover amateur martial arts events organised by local gyms in Singapore. He stepped forward, built up experience, and eventually began working with ONE Championship nearly two years ago.
He is part of the medical team that screens athletes before an event for any existing injuries and makes sure they are well-hydrated and in the right weight category. During the event, the team assesses fighters for any injuries, removes them safely if they are not able to continue, and assesses them again afterwards for potential injuries, said Dr Cheung, who played rugby as a boy growing up in Cambridge.
The role of a ringside doctor is very different from the "calm and predictable" environment of his usual work, and he enjoys seeing emerging athletes overcome adversities to do well on the big stage.
Dr Cheung declined to comment on specific events relating to the medical community, but said: "There has to be trust between a doctor and someone who has a problem, who's ill or unwell."
He added: "I think whatever technology is used day-to-day, the bottom line is, as a doctor, you have to be a good communicator, you have to be humble because we don't know everything. We have to basically use our knowledge and expertise to inspire confidence and trust within a patient."
Medicine is "spiritually rewarding" but involves hard work and sacrifice, said Dr Cheung, who is a Singapore permanent resident.
His advice to potential students? "Serve the local community by volunteering in a hospital, nursing or old folks' home, see what it is like for an average person to be unwell and gain perspective outside of their comfort zone".
DOING GOOD WITH THE HELP OF TECHNOLOGY
As someone at the forefront of healthcare technology, NUHS' Dr Ngiam is sure about one thing: The latest tools are not intended to replace doctors, but to improve the way they work.
Medicine draws many people who want to do good and Dr Ngiam, 41, hopes this will continue.
"That's a baseline requirement," he said. But doctors will have to adapt to rapid advances in technology, especially in the area of artificial intelligence (AI), he said.
NUHS, for instance, is testing an AI tool that can predict the readmission of patients within 30 days. Unlike older, static tools that predict by tabulating scores for various categories, AI tools have the ability to "learn" from new data and improve on their accuracy, said Dr Ngiam.
Another tool on trial can read doctor's notes in their natural language (without the need for the doctors to fill up a form). Called a free text diagnostic prediction tool, it can also read blood test results, patients' histories and make a prediction on a patient's disease. This allows the doctor to compare the prediction with his or her own diagnosis.  
The tool, dubbed Augurium, is currently being optimised for appendicitis and there are plans to train it to distinguish "all sorts of abdominal pain", chest pain and heart attack, said Dr Ngiam.
Technology could even aid in the process of documenting the informed consent of patients – which became a hotly discussed topic following the S$100,000 fine imposed on orthopaedic surgeon Lim Lian Arn by a disciplinary tribunal. The case is being appealed before the Court of Three Judges.
In general, doctors will do their best to ensure patients are adequately informed of the benefits and risks of any treatment, said Dr Ngiam.
"Any speech-to-text transcription technology would be useful but is not fully mature at this point for medical use. We're making some headway (in developing) this technology better to help doctors with documentation," he said.
Dr Ngiam reckons some clinical informatics modules will be part of the curriculum at medical schools in future.
Two weeks ago, more than 40 first- and second-year students on a school break signed up for a five-day course that offered a taste of informatics and how doctors use data. It was a pilot course and "the reception was pretty good", said Dr Ngiam.
He began delving into healthcare technology five to six years ago because data that could improve research and patient care was starting to become available.
These days, he spends about 60 per cent of his time on clinical and related work as a thyroid and endocrine surgeon, and the remainder on technology development.
As NUHS' group chief technology officer, Dr Ngiam oversees areas such as AI and telehealth – which are not traditionally defined as medical devices – that the healthcare cluster will adopt.
Even with the rise of technology, aspiring doctors must primarily want to make a difference in patients' lives, he said.