Winston Lee resigns as FAS general secretary
SINGAPORE — Football Association of Singapore (FAS) General Secretary Winston Lee has resigned from his post and will leave the FAS at the end of the month, the national sports association announced on Friday (Dec 1).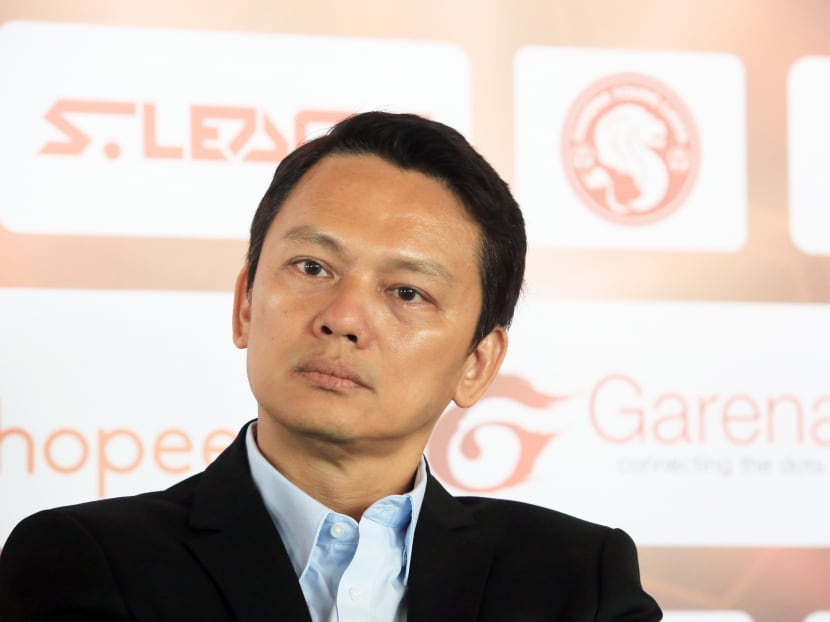 SINGAPORE — The hunt is on to fill Singapore football's biggest job, after the Football Association of Singapore (FAS) announced on Friday (Dec 1) that its General Secretary, Mr Winston Lee, had resigned and will be leaving the association at the end of the month.
His current deputy Yazeen Buhari will be Acting General Secretary while the FAS begins its search for Mr Lee's successor. The national sports association said on Friday that it will be conducting a "deliberate search process encompassing internal and external candidates".
Mr Lee, who has worked at FAS for 18 years, including over a decade as its General Secretary, said in a statement that he wanted to spend more time with his ageing mother and "commence the next chapter of my life journey".
"I have promised President Lim (Kia Tong) that I will continue to contribute to local football in any way possible," said the 52-year-old.
"Looking ahead, I am confident that the Executive Council (exco) and Council will achieve success in implementing the various new plans for Singapore football," he added.
"It will take some time before the results of these plans are visible and I hope all stakeholders and fans will fully support the Council throughout the journey."
In a media statement, FAS president Lim Kia Tong said: "We wish Winston well in his new endeavours and we will explore ways to utilise his expertise and experience which will only strengthen our ongoing journey towards becoming a strong football nation."
While Mr Lee drew praise from some senior football officials for his administrative and marketing know-how, his tenure at the FAS was also marked by one of Singapore football's biggest scandals.
Ahead of the FAS elections in April, Lee was embroiled in a dispute with Tiong Bahru Football Club (TBFC) chairman Bill Ng and former FAS president Zainudin Nordin over an S$500,000 donation made by TBFC to the Asean Football Federation via the FAS. This led to Sport Singapore filing a police report over suspected misuse of funds and a purported attempt by a senior officer of the club to obstruct the completion of audits into the S-League sit-out clubs.
The FAS and three football clubhouses linked to Mr Ng were subsequently raided by the police, and four individuals – Mr Ng and his wife Bonnie Wong, Mr Zainudin, and Mr Lee – were arrested and released on bail. TODAY understands that all four individuals are still assisting with police investigations.
While Mr Lee's future at the association had appeared uncertain at the time, the FAS' newly-elected council said after the April 29 elections that he would stay on as General Secretary.
With Mr Lee's resignation coming nearly seven months after the saga, football observers TODAY spoke to said they were not surprised to hear about his departure.
"I think most in the football community would have already known that Winston would be leaving the FAS sooner or later," said Mr Alim Omar, sports secretary of the National Football League's South Avenue Sports Club.
"But even with the recent saga, no one can take away all the accomplishments and contributions that Winston has made to local football over his time at the FAS, especially in bringing more sponsorship and marketing."
Others like veteran football official R Vengadasalam and ex-national coach Vincent Subramaniam also lauded Mr Lee for his contributions to Singapore football.
 "Many people felt that he was there too long, and the decline of football was because of him. I always ask them: 'how is he responsible?'" said Mr Vengadasalam.
"Maybe he was too loyal to the people who did not bring success to Singapore, and he was loyal to the coaches who failed football. A lot of people say he should step down but I know he has done a lot of things… I'm saddened by this, but the FAS will move on."
Mr Subramaniam added: "When he leaves the office, he will bring along with him experience from all these years…. He was the man responsible for bringing in (technical director) Michel Sablon. Together with John Koh, he was instrumental in initiating the Foreign Sports Talent Scheme, and we were successful in the AFF Suzuki Cup four times."
Mr Lee, however, also had his detractors, with some questioning why he had stayed in his post even with the police probe still ongoing.
"It's ridiculous that he was under police investigation, yet he continued as general secretary, in such a high position," said one former S-League official, who declined to be named.
"At most companies or organisations, a serious case like this would see someone at least suspended from his duties until the investigations are over."
With Mr Lee set to leave, Mr Yazeen, 39, who joined the FAS from the Asian Football Confederation (AFC) in August, has emerged as a leading candidate for the top post.
Mr Subramaniam, who is currently a technical consultant with AFC, gave the Deputy General Secretary his endorsement.
"In these last two months, he (Lee) would have passed on his experience and knowledge to Yazeen," said Mr Subramaniam.
"Yazeen is equally capable because he worked with the AFC at one time."