Woman given probation after shouting vulgarities at police who mistook her for e-scooter rider on-the-run
SINGAPORE — Three police officers wanted to stop a couple on an electric scooter around Hill Street, but eventually lost sight of them after a brief chase.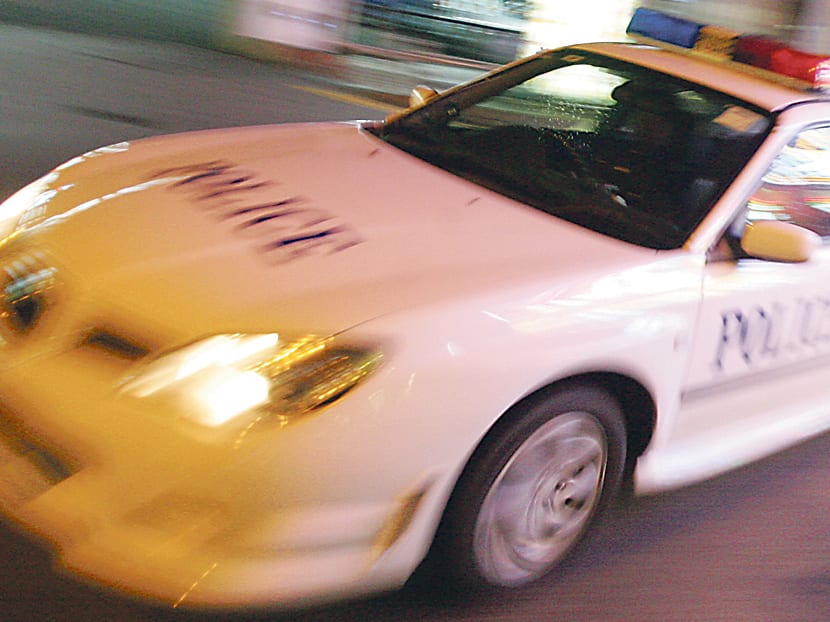 SINGAPORE — Three police officers wanted to stop a couple on an electric scooter around Hill Street, but eventually lost sight of them after a brief chase.
When one of the officers spotted Evonne Keak Yan Ting and approached her, she repeatedly tried to walk away. As another officer held onto her to stop her from crossing the road, Keak pushed the female officer on the chest, and also hurled vulgarities at them in the police car after she was arrested.
However, in the end, it turned out that the 24-year-old was not part of the couple whom the police were chasing.
Keak, a merchandising specialist, was handed one year of supervised probation on Tuesday (June 18), after she pleaded guilty last month to one charge of using criminal force to deter a public servant from discharging their duty, and another charge of verbally abusing a public servant.
District Judge Tan Jen Tse also ordered her to perform 80 hours of community service, and for her father to post a S$5,000 bond to ensure her good behaviour.
She will not begin serving her sentence immediately, because Deputy Public Prosecutor (DPP) Lim Ying Min asked for a two-week stay of execution to consider appealing against the sentence.
Her lawyer Josephus Tan, who represented her pro bono, called it a "very peculiar" case and sought probation or a high fine for her.
Mr Tan noted that the investigation officer said it was a one-off, out-of-character episode, and that "she deserved a chance at probation". He added that the reason why his client walked away from the officers was because she wanted to take a taxi "after drinking alone".
DPP Lim had asked for four weeks' jail, arguing that Keak was "of sufficient maturity and therefore fully able to understand the consequences of her actions".
Probation — a rehabilitative, community-based sentencing option — is usually offered to offenders aged below 21 years old, but it can be offered to older offenders as well.
DPP Lim told the court: "This is not a case where the accused is below 21 years; she was 23 years old when she committed the offence… To impose probation is a slippery slope. The question is, where should the line be drawn? Do we give 22-year-, 23-year-, 24-year-olds probation?"
In sentencing Keak to probation, District Judge Tan noted several distinguishing factors in the case.
Keak was "entitled to walk away" when the officer wanted to check her, he said, as "both the legal and factual basis" for the officer to stop or arrest her was not set out in the accepted facts.
The judge also added it was "most unfortunate" that one of the officers told his colleague to stop Keak from crossing the road, as "there was no sense that she was in any imminent danger".
"The police were not even trying to place her under arrest. The action of the push by the accused was precipitated by the officer holding her. And from a reading of the harassment charges, her actions were directed at the officers' acts of arresting her and less so at them personally," he noted.
WHAT HAPPENED
The court previously heard that the incident happened on July 4 last year.
Staff Sergeant Mohamed Rosli Mohamed and two other police officers were conducting a mobile patrol in the vicinity of Hill Street at about 1am, when they spotted a couple riding on an e-scooter.
They decided to stop their patrol car to do a routine check, but the couple fled when they noticed the officers.
They then chased the couple on foot till they lost sight of them in the vicinity of Li Ka Shing Library, located in the Singapore Management University (SMU) campus.
Staff Sergeant Rosli told his colleague to continue patrolling on foot, while he went back to get the car.
On the way back, he noticed Keak was leaning against a pillar and looking at her phone. He approached to check her, as she looked very flushed and appeared to have just finished running.
In reality, she had been drinking alcohol then.
When Keak ignored the officer and tried to walk away, Staff Sergeant Rosli and his colleagues tried to stop her from doing so. He then told Sergeant Siti Nurdiana Khairuddin to hold on to Keak, as she was trying to cross the road with incoming traffic.
At this point, Keak turned and used her hands to push Sergeant Nurdiana once on her chest.
The officers then arrested her and escorted her into the police car. On the way to a police lock-up, she hurled several vulgarities at Sergeant Tammy Tan.