Women in photography put focus on the 'female perspective'
SINGAPORE — With a team of seven, this all-female photography studio is on a mission to highlight the importance of having women behind the lens, and having a female perspective in the photographs they shoot.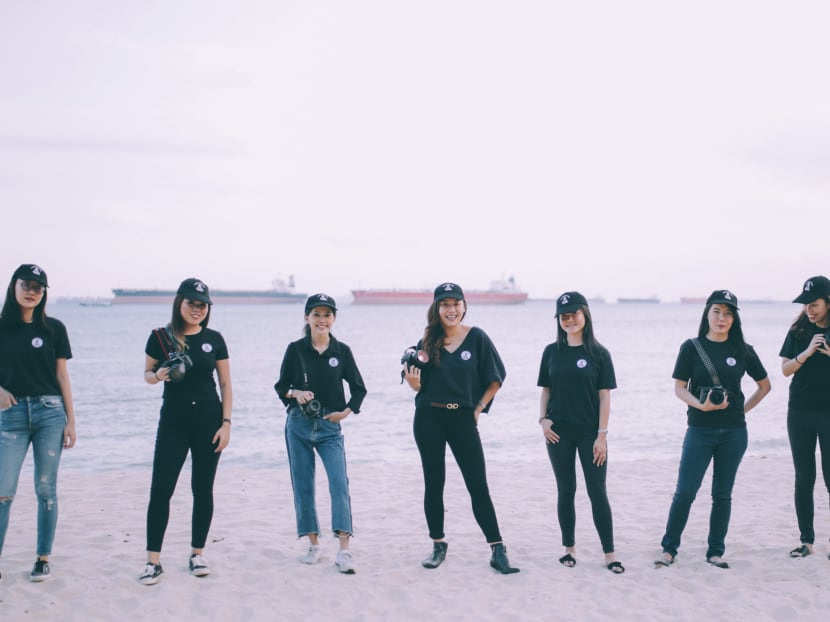 SINGAPORE — With a team of seven, this all-female photography studio is on a mission to highlight the importance of having women behind the lens, and having a female perspective in the photographs they shoot.
From mainly wedding photoshoots to other projects such as "boudoir" and documentary photography, or family, birthday and corporate events, Annabel Law Productions (ALP) has one common focus in their shoots: Women.
"We do many things, but ultimately our focus is always the woman's point of view," said founder and chief executive Annabel Law, 27.
CAPTURING THE FEMALE PERSPECTIVE
On what sets ALP's photographers apart from others, Ms Law said that it was "understanding the psychology behind why photos are taken, and zooming in on certain perspectives".
"Everyone can take nice photos. But... we aim to understand them on a deeper level," she added.
"What are the unique features of your face? What angle is best for you? How should you move your body? Especially for women, you have to combine how they view themselves and how we can portray an image of them."
The female perspective is especially crucial as ALP does more "boudoir" photography — which is a style featuring intimate, romantic and sometimes erotic images of its subjects. It also is involved in an ongoing project documenting female cancer patients and their journey.
"From female to female, it's easier to communicate and make them feel more comfortable. It's the most important that your subject is at ease," said Ms Law.
WHY SHE SET UP ALP
Ms Law said that when she first became a photographer at the age of 17, she faced numerous difficulties in securing clients due to gender and age bias.
"People didn't treat me with respect, and they just didn't see me as a professional because of how I looked, no matter how I presented myself," she said.
Her worst experience was when a fellow photographer told her: "Oh, you wore a miniskirt, that's why you got the job right?"
But she did not back down. "I told him, 'Take back what you just said.' There are people who say nasty things, but you stand up for yourself," Ms Law said.
Amid the lack of opportunities, Ms Law thus set up her photography studio in 2012. "To be honest, I became an entrepreneur because I didn't have a choice."
However, the "landscape has evolved since, and it's definitely more equal now for us females," Ms Law noted. She capitalised on what used to be gender bias to turn it into her team's niche.
Ms Law now hires, trains and mentors aspiring young female photographers.
In seven years since the studio's founding, ALP has amassed about 700 shoots, pulling off 200 just last year alone. It plans to venture into Indonesia and China in 2020.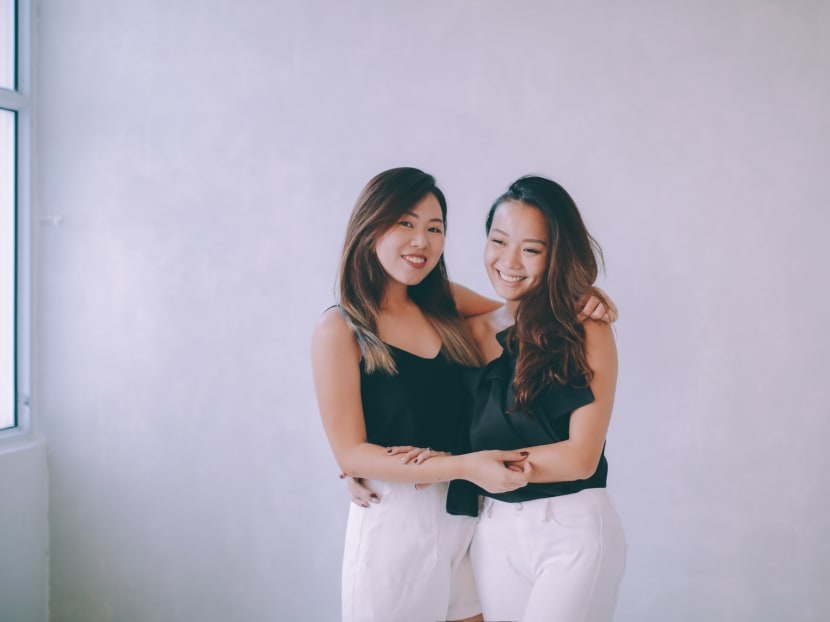 TEAM OF SISTERS
Although there are cons to having all seven females in a team as "everyone gets emotional", the sense of sisterhood is what makes them thrive.
"We talk about clothes, beauty, movies, everything. At the same time in terms of work, we have a common theme — a certain feminine essence," said Ms Law.
It is also easier to connect with clients, especially the brides, said Ms Pez Teo, 25, who has worked at ALP for two years. "That's also the most memorable part, when the clients become our friends."
One such client is human resource executive Isabelle Chew, who worked with Ms Teo in South Korea for a pre-wedding shoot.
"We were nervous because we were going overseas for the shoot and (afraid of) how it would turn out, but we met before, set up a group chat, and ended up talking just like friends more than discussing the work," said Ms Chew, 27.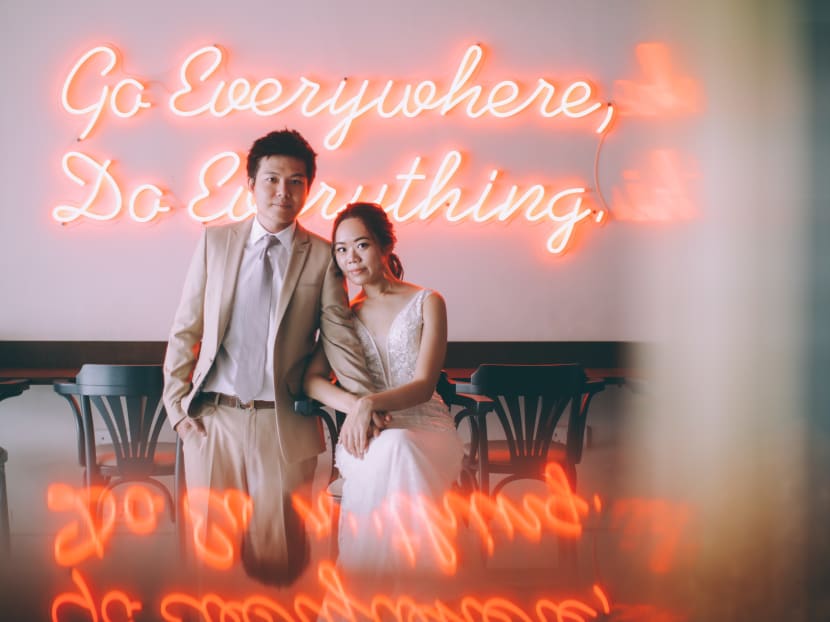 CREATING MOMENTS
As a photographer, creating moments are as important, if not more so, as capturing them, added Ms Teo.
For example, couples and families might be nervous or stressed on their big day, and there may not be many "strong moments" happening.
"So sometimes when we see the uncles and aunties, we tell them they look very handsome or pretty. Then they're happy and laugh, and we capture that moment," said Ms Teo.
"You cannot just wait for a moment to happen, you need to direct your subjects sometimes to really capture the best of them."
One of the team's clients, civil servant Jazzy Wong, said she was grateful for Ms Law who helped made her feel comfortable during her pre-wedding photoshoot.
"My husband and I are not the most outgoing type, so we were not very good at posing. But Annabel asked us something to draw the attention away, and so we were chatting like normal. Next thing we knew, she already took the photo," said the 29-year-old.
"She manages to capture the magic in moments. And that's the thing about female photographers, they can capture certain moments, vulnerable moments you don't expect them to," she added.